Bolton v West Brom Championship betting preview and tips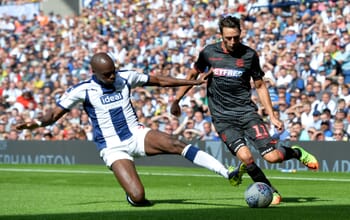 21:00 Mon 21 Jan
Football
West Brom are three points off the automatic places in the Championship and this is now the time to be winning matches if the Baggies are to secure a return to the Premier League without needing to go up through the play-offs.
Darren Moore has done a respectable job at The Hawthorns and Albion are the top scorers in the division, with fifty-five goals racked up in twenty-seven matches and it's likely that they'll continue their two-goal average at the Macron Stadium.
West Brom have been solid away from home recently, claiming four victories on the road at Ipswich, Swansea, Sheffield United and Rotherham. They then came a cropper at Blackburn although the odds defeat on the road is hardly a surprise.
Unsurprisingly, Dwight Gayle has been scoring plenty of goals since making the move from Newcastle on loan, with the forward on fourteen goals for the campaign and he might enjoy himself against a Bolton side who are struggling against relegation again.
Wanderers sit 23rd in the Championship table, with just twenty-two points on the board and it's been an issue finding the net which means Phil Parkinson's side are averaging less than a goal per game.
Bolton have lost seven home matches already this season, with just three goals scored in their previous eight home games and we can't read too much into a 5-2 thrashing of Walsall in the FA Cup which saw the home side take the shackles off.
It will be back to a defensive shape in this clash, with Wanderers having off-field issues which recently saw Christian Doidge return to Forest Green after failing to agree terms and there's a lot of reliance on Josh Magennis who did bag a hat-trick against the Saddlers.
We're going to keep our bet simple and wager on West Brom to win this match, with the Midlands side largely superior player for player.
BETTING TIP
West Brom to win @ 1.72 with bet365

All odds are correct at time of publishing and are subject to change
Published Jan 17, 2019, 15:48 by
Tony Thomas
Team News
Bolton: 4-5-1 (Confirmed Line-ups)
West Brom: 4-3-3 (Confirmed Line-ups)
Championship
| # | Team | G | W | D | L | +/- | P |
| --- | --- | --- | --- | --- | --- | --- | --- |
| 1 | Norwich | 42 | 25 | 11 | 6 | 85:51 | 86 |
| 2 | Sheffield Unite | 42 | 23 | 10 | 9 | 69:39 | 79 |
| 3 | Leeds | 42 | 23 | 9 | 10 | 65:40 | 78 |
| 4 | West Bromwich A | 42 | 21 | 10 | 11 | 80:55 | 73 |
| 5 | Aston Villa | 42 | 18 | 15 | 9 | 77:58 | 69 |
| 6 | Bristol City | 41 | 18 | 11 | 12 | 55:46 | 65 |
| 7 | Middlesbrough | 42 | 17 | 13 | 12 | 44:36 | 64 |
| 8 | Derby | 41 | 17 | 12 | 12 | 59:50 | 63 |
| 9 | Hull | 42 | 17 | 9 | 16 | 61:59 | 60 |
| 10 | Sheffield Wedne | 42 | 15 | 15 | 12 | 52:54 | 60 |
| 11 | Nottingham Fore | 42 | 14 | 15 | 13 | 56:52 | 57 |
| 12 | Preston | 42 | 15 | 12 | 15 | 60:59 | 57 |
| 13 | Swansea | 41 | 16 | 8 | 17 | 55:54 | 56 |
| 14 | Birmingham | 42 | 13 | 16 | 13 | 58:54 | 55 |
| 15 | Brentford | 42 | 14 | 12 | 16 | 66:58 | 54 |
| 16 | Blackburn | 42 | 14 | 11 | 17 | 57:64 | 53 |
| 17 | Stoke | 42 | 11 | 19 | 12 | 41:47 | 52 |
| 18 | Queens Park Ran | 42 | 13 | 9 | 20 | 50:65 | 48 |
| 19 | Reading | 42 | 10 | 14 | 18 | 47:63 | 44 |
| 20 | Millwall | 41 | 10 | 13 | 18 | 44:56 | 43 |
| 21 | Wigan | 42 | 10 | 12 | 20 | 45:62 | 42 |
| 22 | Rotherham | 42 | 8 | 16 | 18 | 46:72 | 40 |
| 23 | Bolton | 42 | 8 | 8 | 26 | 29:72 | 32 |
| 24 | Ipswich | 42 | 4 | 16 | 22 | 32:67 | 28 |