Norwich
v

Birmingham Betting Tips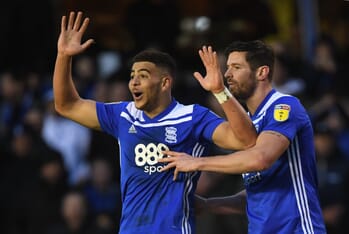 20:45 Fri 18 Jan
Football
Tip: Birmingham +0.5
Units: 1/5
Norwich City have dropped out of the Championship automatic promotion places after a run of four league games without a win.
Team news | League Table | Odds
Since winning at Blackburn on 22 December, the Canaries have drawn with Forest, Brentford and West Brom, while they let a lead slip at home to Derby County to lose the game by a 4-3 scoreline.
While Daniel Farke will remain optimistic that his City team can claim promotion to the Premier League, Sheffield United have leapfrogged them into second place and the likes of West Brom and Middlesbrough are within touching distance.
Norwich's big issue is conceding goals and that's especially the case at Carrow Road where their respective opponents have scored twenty-two times, something that will certainly give Birmingham City encouragement for this Friday night encounter.
The Blues are in eighth position and will feel as though they can finish up in the play-off places come the end of the season, with away stats of 4-5-4 illustrating that the Midlands side are a tough nut to crack on the road.
While Norwich like to play an expansive brand of football, the visitors will be keener to nullify their opponents and they are now unbeaten in their previous four away matches.
Che Adams has been in excellent scoring form for the season, bagging thirteen and he's managed five in his previous nine encounters, with the former Sheffield United man also scoring a hat-trick against Hull this season.
We feel as though this is a good time to be betting against Norwich who don't find clean sheets easy to come by and it should be noted that Birmingham came within a whisker of winning against the same opponents on the opening day of the season.
Forest and Derby scored a combined seven goals at Carrow Road and we might see another Midlands side have plenty of joy in this fixture.
BETTING TIP
Birmingham +0.5 @ 2.04 with bet365

Team News
Confirmed Line-up: Norwich - Birmingham
Norwich
: 4-2-3-1 (Confirmed Line-up)
Birmingham
: 4-4-2 (Confirmed Line-up)
04

Benjamin Matthew Godfrey
Norwich
4-2-3-1
Birmingham
4-4-2
Championship
- League Table
| # | Team | G | W | D | L | +/- | P |
| --- | --- | --- | --- | --- | --- | --- | --- |
| 1 | Birmingham | 0 | 0 | 0 | 0 | 0:0 | 0 |
| 2 | Blackburn | 0 | 0 | 0 | 0 | 0:0 | 0 |
| 3 | Derby | 0 | 0 | 0 | 0 | 0:0 | 0 |
| 4 | Fulham | 0 | 0 | 0 | 0 | 0:0 | 0 |
| 5 | Middlesbrough | 0 | 0 | 0 | 0 | 0:0 | 0 |
| 6 | Reading | 0 | 0 | 0 | 0 | 0:0 | 0 |
| 7 | Wigan | 0 | 0 | 0 | 0 | 0:0 | 0 |
| 8 | Barnsley | 0 | 0 | 0 | 0 | 0:0 | 0 |
| 9 | Bristol City | 0 | 0 | 0 | 0 | 0:0 | 0 |
| 10 | Cardiff | 0 | 0 | 0 | 0 | 0:0 | 0 |
| 11 | Charlton | 0 | 0 | 0 | 0 | 0:0 | 0 |
| 12 | Hull | 0 | 0 | 0 | 0 | 0:0 | 0 |
| 13 | Preston | 0 | 0 | 0 | 0 | 0:0 | 0 |
| 14 | Queens Park Ran | 0 | 0 | 0 | 0 | 0:0 | 0 |
| 15 | Sheffield Wedne | 0 | 0 | 0 | 0 | 0:0 | 0 |
| 16 | Stoke | 0 | 0 | 0 | 0 | 0:0 | 0 |
| 17 | West Bromwich A | 0 | 0 | 0 | 0 | 0:0 | 0 |
| 18 | Huddersfield | 0 | 0 | 0 | 0 | 0:0 | 0 |
| 19 | Leeds | 0 | 0 | 0 | 0 | 0:0 | 0 |
| 20 | Luton | 0 | 0 | 0 | 0 | 0:0 | 0 |
| 21 | Millwall | 0 | 0 | 0 | 0 | 0:0 | 0 |
| 22 | Nottingham Fore | 0 | 0 | 0 | 0 | 0:0 | 0 |
| 23 | Swansea | 0 | 0 | 0 | 0 | 0:0 | 0 |
| 24 | Brentford | 0 | 0 | 0 | 0 | 0:0 | 0 |