Preston v Derby Championship betting preview and tips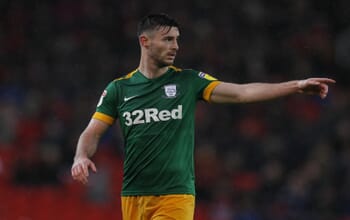 20:45 Fri 01 Feb
Football
Despite sitting sixteenth in the Championship table, Preston North End are one of the form teams in the division after picking up wins away to QPR and Stoke.
Alex Neil has previously steered Norwich City to the Premier League and his team have bagged six goals in those away matches which suggests that they could yet make a concerted push for the play-offs.
PNE are slight favourites to beat Derby on Friday night although the Rams are ten points better off in sixth place and fresh from their FA Cup exertions which saw them overcome Accrington to reach round five.
Frank Lampard's side have been a bit of a mixed bag on the road this season although six wins and four draws is a respectable enough return and the only teams to have beaten the Rams since the end of November have been Leeds and Sheffield United.
Derby will be missing the influential Mason Mount who picked up a hamstring injury in the FA Cup clash, although they have a solid central defensive partnership in Richard Keogh and Fikayo Tomori, while Tom Huddlestone is likely to return and add some steel to the midfield area.
Preston's home form of 5-6-3 means that we can't be too confident that they'll beat a top six side at fairly short odds and we'll instead back the game to finish all square.
It's an outcome which would please County in their quest to remain in the play-off spots and the plain fact is that North End haven't won any of their previous four matches at Deepdale.
Striker Sean Maguire hasn't yet started firing for his team this season, while new signing Jayden Stockley will be looking for his first home goal since completing a move from Exeter City earlier in January.
BETTING TIP
Draw @ 3.40 with bet365

All odds are correct at time of publishing and are subject to change
Published Jan 29, 2019, 08:20 by
Tony Thomas
Team News
Preston: 4-2-3-1 (Confirmed Line-ups)
Derby: 4-3-3 (Confirmed Line-ups)
Championship
| # | Team | G | W | D | L | +/- | P |
| --- | --- | --- | --- | --- | --- | --- | --- |
| 1 | Norwich | 42 | 25 | 11 | 6 | 85:51 | 86 |
| 2 | Sheffield Unite | 42 | 23 | 10 | 9 | 69:39 | 79 |
| 3 | Leeds | 42 | 23 | 9 | 10 | 65:40 | 78 |
| 4 | West Bromwich A | 42 | 21 | 10 | 11 | 80:55 | 73 |
| 5 | Aston Villa | 42 | 18 | 15 | 9 | 77:58 | 69 |
| 6 | Bristol City | 41 | 18 | 11 | 12 | 55:46 | 65 |
| 7 | Middlesbrough | 42 | 17 | 13 | 12 | 44:36 | 64 |
| 8 | Derby | 41 | 17 | 12 | 12 | 59:50 | 63 |
| 9 | Hull | 42 | 17 | 9 | 16 | 61:59 | 60 |
| 10 | Sheffield Wedne | 42 | 15 | 15 | 12 | 52:54 | 60 |
| 11 | Nottingham Fore | 42 | 14 | 15 | 13 | 56:52 | 57 |
| 12 | Preston | 42 | 15 | 12 | 15 | 60:59 | 57 |
| 13 | Swansea | 41 | 16 | 8 | 17 | 55:54 | 56 |
| 14 | Birmingham | 42 | 13 | 16 | 13 | 58:54 | 55 |
| 15 | Brentford | 42 | 14 | 12 | 16 | 66:58 | 54 |
| 16 | Blackburn | 42 | 14 | 11 | 17 | 57:64 | 53 |
| 17 | Stoke | 42 | 11 | 19 | 12 | 41:47 | 52 |
| 18 | Queens Park Ran | 42 | 13 | 9 | 20 | 50:65 | 48 |
| 19 | Reading | 42 | 10 | 14 | 18 | 47:63 | 44 |
| 20 | Millwall | 41 | 10 | 13 | 18 | 44:56 | 43 |
| 21 | Wigan | 42 | 10 | 12 | 20 | 45:62 | 42 |
| 22 | Rotherham | 42 | 8 | 16 | 18 | 46:72 | 40 |
| 23 | Bolton | 42 | 8 | 8 | 26 | 29:72 | 32 |
| 24 | Ipswich | 42 | 4 | 16 | 22 | 32:67 | 28 |