West Brom v Brentford Championship betting preview and tips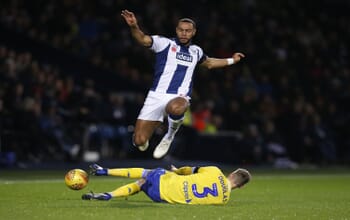 21:00 Mon 03 Dec
Football
West Bromwich Albion are clearly one of the automatic promotion contenders in the Championship, with the Midlands side having accrued 31 points from the 18 matches played thus far.
Darren Moore appears determined to play attacking football and it means that the Baggies are firmly in the mix after recording nine wins thus far, with six of those coming at The Hawthorns.
Indeed, since losing at home to Bolton on the opening day of the season, things have largely gone swimmingly in front of their own fans, with twenty six goals and thirteen conceded.
Most recently was a 4-1 victory over Leeds where Albion ran riot in the second half, scoring four times before the visitors nabbed a late consolation and they've got goals coming from several departments.
Harvey Barnes is on loan from Leicester and he's been lighting up the division all season, with Dwight Gayle proven quality at this level as he demonstrated in a Newcastle shirt when top scoring in the Championship.
You also have Matt Phillips and Jay Rodriguez chipping in with goals and it's hard to see how Brentford are going to cope considering they have been struggling badly since Dean Smith left the club.
Smith has taken charge at Aston Villa, leaving the Bees sliding down the table and it's plausible that they can be relegated this season unless the rot is stopped over December.
Six of the past seven games have ended in defeat, with the latest a 3-2 reverse at the hands of Sheffield United on Tuesday and it's clear that defensive issues are costing the team dear at the moment.
Thomas Frank wants to continue playing an expansive style of football although it's hard to see this working against an Albion side hungry for goals.
BETTING TIP
West Brom to win @ 1.95 with bet365

All odds are correct at time of publishing and are subject to change
Published Nov 28, 2018, 14:32 by
Tony Thomas
Team News
West Brom: 4-4-2 (Confirmed Line-ups)
Brentford: 4-2-3-1 (Confirmed Line-ups)
17

Emiliano Marcondes Hansen
Championship
| # | Team | G | W | D | L | +/- | P |
| --- | --- | --- | --- | --- | --- | --- | --- |
| 1 | Norwich | 42 | 25 | 11 | 6 | 85:51 | 86 |
| 2 | Sheffield Unite | 42 | 23 | 10 | 9 | 69:39 | 79 |
| 3 | Leeds | 42 | 23 | 9 | 10 | 65:40 | 78 |
| 4 | West Bromwich A | 42 | 21 | 10 | 11 | 80:55 | 73 |
| 5 | Aston Villa | 42 | 18 | 15 | 9 | 77:58 | 69 |
| 6 | Bristol City | 41 | 18 | 11 | 12 | 55:46 | 65 |
| 7 | Middlesbrough | 42 | 17 | 13 | 12 | 44:36 | 64 |
| 8 | Derby | 41 | 17 | 12 | 12 | 59:50 | 63 |
| 9 | Hull | 42 | 17 | 9 | 16 | 61:59 | 60 |
| 10 | Sheffield Wedne | 42 | 15 | 15 | 12 | 52:54 | 60 |
| 11 | Nottingham Fore | 42 | 14 | 15 | 13 | 56:52 | 57 |
| 12 | Preston | 42 | 15 | 12 | 15 | 60:59 | 57 |
| 13 | Swansea | 41 | 16 | 8 | 17 | 55:54 | 56 |
| 14 | Birmingham | 42 | 13 | 16 | 13 | 58:54 | 55 |
| 15 | Brentford | 42 | 14 | 12 | 16 | 66:58 | 54 |
| 16 | Blackburn | 42 | 14 | 11 | 17 | 57:64 | 53 |
| 17 | Stoke | 42 | 11 | 19 | 12 | 41:47 | 52 |
| 18 | Queens Park Ran | 42 | 13 | 9 | 20 | 50:65 | 48 |
| 19 | Reading | 42 | 10 | 14 | 18 | 47:63 | 44 |
| 20 | Millwall | 41 | 10 | 13 | 18 | 44:56 | 43 |
| 21 | Wigan | 42 | 10 | 12 | 20 | 45:62 | 42 |
| 22 | Rotherham | 42 | 8 | 16 | 18 | 46:72 | 40 |
| 23 | Bolton | 42 | 8 | 8 | 26 | 29:72 | 32 |
| 24 | Ipswich | 42 | 4 | 16 | 22 | 32:67 | 28 |