Arsenal v Leicester Premier League betting preview and tips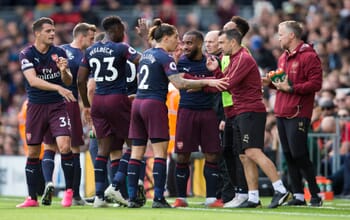 21:00 Mon 22 Oct
Football
Arsenal are laughing at the moment after a string of wins that nobody saw coming after opening the season with a home reverse against Manchester City and an away defeat at Chelsea.
Since then, the Gunners have pulled up their socks and embarked on a run of victories which have propelled them to fourth in the Premier League table and breathing down the neck of the leaders.
Unai Emery clearly wants his team to play fast and flowing football, with Alexandre Lacazette looking sharp as a tack in the centre forward position and he tormented the Fulham defence as part of a 5-1 win recently, while Pierre-Emerick Aubameyang also staked a claim for a place in the team after bagging a brace.
Emery has lots of exciting options going forward, with Henrikh Mkhitaryan, Mesut Ozil and Aaron Ramsey all competing for places, while Lucas Torreira and Granit Xhaka offer defensive cover for this team and all looks rosy.
We're expecting their winning run to continue against Leicester after the international break, with the Foxes looking defensively porous in recent matches including a 2-1 defeat at home to Everton.
There's also no getting away from the mauling they received at the hands of Bournemouth and it's probably a blessing in disguise that Wes Morgan is suspended considering that he's been a liability next to Harry Maguire this season.
Leicester are nice and bright going forward and we can see them scoring a goal or two, although whether they will be able to avoid being outscored by the Gunners is another matter and the winning run looks set to continue.

BETTING TIP
Arsenal + BTTS @ 2.62 with bet365

All odds are correct at time of publishing and are subject to change
Published Oct 12, 2018, 08:17 by
Tony Thomas
Team News
Arsenal: 4-2-3-1 (Confirmed Line-ups)
Leicester: 4-2-3-1 (Confirmed Line-ups)
Premier League
| # | Team | G | W | D | L | +/- | P |
| --- | --- | --- | --- | --- | --- | --- | --- |
| 1 | Liverpool | 31 | 23 | 7 | 1 | 70:18 | 76 |
| 2 | Manchester City | 30 | 23 | 3 | 4 | 76:20 | 72 |
| 3 | Tottenham | 30 | 20 | 1 | 9 | 57:32 | 61 |
| 4 | Arsenal | 30 | 18 | 6 | 6 | 63:39 | 60 |
| 5 | Manchester Unit | 30 | 17 | 7 | 6 | 58:40 | 58 |
| 6 | Chelsea | 30 | 17 | 6 | 7 | 50:33 | 57 |
| 7 | Wolverhampton W | 30 | 12 | 8 | 10 | 38:36 | 44 |
| 8 | Watford | 30 | 12 | 7 | 11 | 42:44 | 43 |
| 9 | West Ham | 31 | 12 | 6 | 13 | 41:46 | 42 |
| 10 | Everton | 31 | 11 | 8 | 12 | 42:39 | 41 |
| 11 | Leicester | 31 | 12 | 5 | 14 | 40:43 | 41 |
| 12 | Bournemouth | 31 | 11 | 5 | 15 | 43:56 | 38 |
| 13 | Newcastle Unite | 31 | 9 | 8 | 14 | 31:40 | 35 |
| 14 | Crystal Palace | 30 | 9 | 6 | 15 | 36:41 | 33 |
| 15 | Brighton | 29 | 9 | 6 | 14 | 32:42 | 33 |
| 16 | Southampton | 30 | 7 | 9 | 14 | 34:50 | 30 |
| 17 | Burnley | 31 | 8 | 6 | 17 | 35:59 | 30 |
| 18 | Cardiff | 30 | 8 | 4 | 18 | 27:57 | 28 |
| 19 | Fulham | 31 | 4 | 5 | 22 | 29:70 | 17 |
| 20 | Huddersfield | 31 | 3 | 5 | 23 | 18:57 | 14 |