Arsenal v Liverpool Premier League betting preview and tips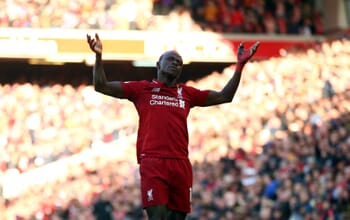 18:30 Sat 03 Nov
Football
When Arsenal play Liverpool in the Premier League, it practically rains goals. Last season, we saw the Reds run riot and win 4-0 at Anfield before a pulsating 3-3 draw take place at the Emirates around Christmas time.
This time around, both teams are in a good situation and looking upon this encounter as a clash which is there to be won. This is especially the case with Liverpool who know that the only way to keep pace with Manchester City is by landing the spoils in these sort of fixtures.
City have already left the Emirates with three points this term thanks to some stout defending and it will be the Reds' turn to try and tame the likes of Alexandre Lacazette, Pierre-Emerick Aubameyang and Mesut Ozil en route to winning the game.
The Reds defence have proved hard to breach for other teams this term. Aside from a smart Eden Hazard goal, the only other times of concession were an Alisson howler that led to a Leicester consolation and there was a similar story at Tottenham when Erik Lamela nabbed a late effort.
We also need to talk about the Liverpool attack. Mohamed Salah's form hasn't really dipped considering he's been getting on the end of chances since the season began, although Sadio Mane is the player who has shown big improvement recently and took his two goals against Cardiff exquisitely.
Fabinho is also blossoming after a stilted start for the Merseyside team and we will also see Joe Gomez and Andy Robertson coming back into the team after a timely rest for the Bluebirds encounter.
With this in mind, we will back Liverpool to beat an Arsenal side who looked defensively open against Crystal Palace when drawing 2-2.
BETTING TIP
Liverpool win @ 2.14 with bet365

All odds are correct at time of publishing and are subject to change
Published Oct 30, 2018, 11:56 by
Tony Thomas
Team News
Arsenal: 4-2-3-1 (Confirmed Line-ups)
Liverpool: 4-3-3 (Confirmed Line-ups)
14

Pierre Emerick Aubameyang
66

Trent Alexander-Arnold
Premier League
| # | Team | G | W | D | L | +/- | P |
| --- | --- | --- | --- | --- | --- | --- | --- |
| 1 | Liverpool | 31 | 23 | 7 | 1 | 70:18 | 76 |
| 2 | Manchester City | 30 | 23 | 3 | 4 | 76:20 | 72 |
| 3 | Tottenham | 30 | 20 | 1 | 9 | 57:32 | 61 |
| 4 | Arsenal | 30 | 18 | 6 | 6 | 63:39 | 60 |
| 5 | Manchester Unit | 30 | 17 | 7 | 6 | 58:40 | 58 |
| 6 | Chelsea | 30 | 17 | 6 | 7 | 50:33 | 57 |
| 7 | Wolverhampton W | 30 | 12 | 8 | 10 | 38:36 | 44 |
| 8 | Watford | 30 | 12 | 7 | 11 | 42:44 | 43 |
| 9 | West Ham | 31 | 12 | 6 | 13 | 41:46 | 42 |
| 10 | Everton | 31 | 11 | 8 | 12 | 42:39 | 41 |
| 11 | Leicester | 31 | 12 | 5 | 14 | 40:43 | 41 |
| 12 | Bournemouth | 31 | 11 | 5 | 15 | 43:56 | 38 |
| 13 | Newcastle Unite | 31 | 9 | 8 | 14 | 31:40 | 35 |
| 14 | Crystal Palace | 30 | 9 | 6 | 15 | 36:41 | 33 |
| 15 | Brighton | 29 | 9 | 6 | 14 | 32:42 | 33 |
| 16 | Southampton | 30 | 7 | 9 | 14 | 34:50 | 30 |
| 17 | Burnley | 31 | 8 | 6 | 17 | 35:59 | 30 |
| 18 | Cardiff | 30 | 8 | 4 | 18 | 27:57 | 28 |
| 19 | Fulham | 31 | 4 | 5 | 22 | 29:70 | 17 |
| 20 | Huddersfield | 31 | 3 | 5 | 23 | 18:57 | 14 |