Arsenal
v

Tottenham Betting Tips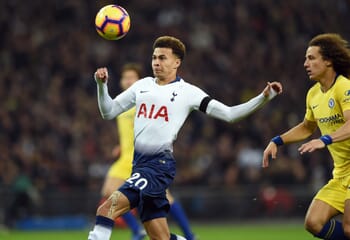 15:05 Sun 02 Dec
Football
Tip: Over 3.5 Goals
Units: 1/5
This is a tough match to call. For starters, it's a London derby and both teams are proving hard to beat in the Premier League this season.
Team news | League Table | Odds
Since losing their opening two matches, Arsenal have embarked on an unbeaten run which has now stretched to eleven games in the top flight and that includes a 1-1 draw with Liverpool where Unai Emery's side gave as good as they got.
Last weekend, the Gunners managed a 2-1 win at Bournemouth to return to winning ways, with Pierre-Emerick Aubameyang looking sharp as a tack and Arsenal playing some flowing football which suggests they can challenge for a top four spot.
Tottenham also fit into that bracket and they make the short journey to the Emirates off the back of a 3-1 win over Chelsea although there has also been a Champions League clash with Inter before this one.
Even so, Spurs have won seven of their eight away games this term and seem adept at finding ways to win matches on the road, while Dele Alli, Christian Eriksen and Son Heung-Min have returned to the starting line-up.
All three players were highly influential in that Wembley win over Chelsea and it's easy to see them helping the visitors to goals in this game, although Arsenal are also likely to play on the front foot.
It should be an entertaining encounter and we're reluctant to try and pick a winner when it seems more logical to go for a high goal count. It's easy enough to see the net bulging four times or more which will be entertaining for the neutral.
BETTING TIP
Over 3.5 Goals @ 2.30 with bet365

Team News
Confirmed Line-up: Arsenal - Tottenham
Arsenal
: 3-4-3 (Confirmed Line-up)
Tottenham
: 4-1-2-1-2 (Confirmed Line-up)
05

Sokratis Papastathopoulos
14

Pierre Emerick Aubameyang
Arsenal
3-4-3
Tottenham
4-1-2-1-2
Premier League
- League Table
| # | Team | G | W | D | L | +/- | P |
| --- | --- | --- | --- | --- | --- | --- | --- |
| 1 | Arsenal | 0 | 0 | 0 | 0 | 0:0 | 0 |
| 2 | Aston Villa | 0 | 0 | 0 | 0 | 0:0 | 0 |
| 3 | Chelsea | 0 | 0 | 0 | 0 | 0:0 | 0 |
| 4 | Everton | 0 | 0 | 0 | 0 | 0:0 | 0 |
| 5 | Liverpool | 0 | 0 | 0 | 0 | 0:0 | 0 |
| 6 | Manchester City | 0 | 0 | 0 | 0 | 0:0 | 0 |
| 7 | Manchester Unit | 0 | 0 | 0 | 0 | 0:0 | 0 |
| 8 | Newcastle Unite | 0 | 0 | 0 | 0 | 0:0 | 0 |
| 9 | Tottenham | 0 | 0 | 0 | 0 | 0:0 | 0 |
| 10 | West Ham | 0 | 0 | 0 | 0 | 0:0 | 0 |
| 11 | Burnley | 0 | 0 | 0 | 0 | 0:0 | 0 |
| 12 | Crystal Palace | 0 | 0 | 0 | 0 | 0:0 | 0 |
| 13 | Leicester | 0 | 0 | 0 | 0 | 0:0 | 0 |
| 14 | Norwich | 0 | 0 | 0 | 0 | 0:0 | 0 |
| 15 | Sheffield Unite | 0 | 0 | 0 | 0 | 0:0 | 0 |
| 16 | Southampton | 0 | 0 | 0 | 0 | 0:0 | 0 |
| 17 | Watford | 0 | 0 | 0 | 0 | 0:0 | 0 |
| 18 | Wolverhampton W | 0 | 0 | 0 | 0 | 0:0 | 0 |
| 19 | Bournemouth | 0 | 0 | 0 | 0 | 0:0 | 0 |
| 20 | Brighton | 0 | 0 | 0 | 0 | 0:0 | 0 |