Arsenal v Watford Premier League betting preview and tips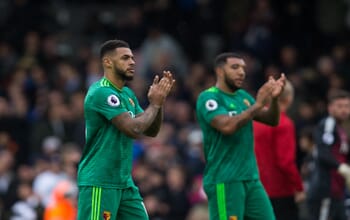 16:00 Sat 29 Sep
Football
We're amazed that you can get with Watford at a decent price giving them a 1.5 goal start on the Asian Handicap
The Hornets were very impressive at Craven Cottage when drawing 1-1 on Saturday, with the only thing letting them down being their finishing when leading the game. A second goal would have surely killed the game dead.
In the first half, there was only one side in the game, with Abdoulaye Doucoure and Etienne Capoue having won the ball in central midfield and then seeing Will Hughes and Roberto Peyreyra carve open the defence and create chances for Troy Deeney and Andre Gray.
Javi Gracia has a nice settled team and will be looking forward to Saturday's challenge at the Emirates to face an Arsenal side who have won their past four Premier League encounters.
We've been keen to oppose the Gunners recently and they weren't massively convincing when winning any of their previous four matches despite coming out on top for each one.
The previous encounter saw them beat Everton by a 2-0 scoreline and the fact that Petr Cech won man of the match tells you everything you need to know about the way the game panned out.
Pierre-Emerick Aubameyang has been shoved out wide and it's not ideal for someone who has prospered as the central striker, while there are clearly defensive issues that Watford will look to exploit.
Deeney and Gray are both having strong seasons in front of goal and we're not likely to see the visitors playing for a point in this clash, with a fast start potentially leaving Arsenal on the back foot.
One thing in the home team's favour is the return to form for Mesut Ozil although the German can be sidelined from the game.
BETTING TIP
Watford +1.5 @ 1.75 with bet365

All odds are correct at time of publishing and are subject to change
Published Sep 24, 2018, 17:43 by
Carl Dowling
Team News
Arsenal: 4-2-3-1 (Confirmed Line-ups)
Watford: 4-4-2 (Confirmed Line-ups)
14

Pierre Emerick Aubameyang
Premier League
| # | Team | G | W | D | L | +/- | P |
| --- | --- | --- | --- | --- | --- | --- | --- |
| 1 | Liverpool | 31 | 23 | 7 | 1 | 70:18 | 76 |
| 2 | Manchester City | 30 | 23 | 3 | 4 | 76:20 | 72 |
| 3 | Tottenham | 30 | 20 | 1 | 9 | 57:32 | 61 |
| 4 | Arsenal | 30 | 18 | 6 | 6 | 63:39 | 60 |
| 5 | Manchester Unit | 30 | 17 | 7 | 6 | 58:40 | 58 |
| 6 | Chelsea | 30 | 17 | 6 | 7 | 50:33 | 57 |
| 7 | Wolverhampton W | 30 | 12 | 8 | 10 | 38:36 | 44 |
| 8 | Watford | 30 | 12 | 7 | 11 | 42:44 | 43 |
| 9 | West Ham | 31 | 12 | 6 | 13 | 41:46 | 42 |
| 10 | Everton | 31 | 11 | 8 | 12 | 42:39 | 41 |
| 11 | Leicester | 31 | 12 | 5 | 14 | 40:43 | 41 |
| 12 | Bournemouth | 31 | 11 | 5 | 15 | 43:56 | 38 |
| 13 | Newcastle Unite | 31 | 9 | 8 | 14 | 31:40 | 35 |
| 14 | Crystal Palace | 30 | 9 | 6 | 15 | 36:41 | 33 |
| 15 | Brighton | 29 | 9 | 6 | 14 | 32:42 | 33 |
| 16 | Southampton | 30 | 7 | 9 | 14 | 34:50 | 30 |
| 17 | Burnley | 31 | 8 | 6 | 17 | 35:59 | 30 |
| 18 | Cardiff | 30 | 8 | 4 | 18 | 27:57 | 28 |
| 19 | Fulham | 31 | 4 | 5 | 22 | 29:70 | 17 |
| 20 | Huddersfield | 31 | 3 | 5 | 23 | 18:57 | 14 |