Arsenal v Wolverhampton Premier League betting preview and tips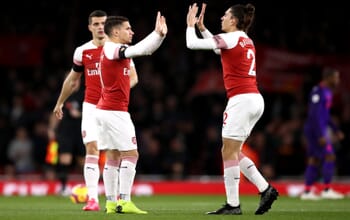 17:30 Sun 11 Nov
Football
It gets to a stage where you have to hold your hands up and admit that Arsenal are a class side showing lots of quality under Unai Emery.
The Spaniard has quickly adjusted to taking over the reins from Arsene Wenger and he didn't really have a tough act to follow in the end considering the Frenchman was well past his sell-by date before effectively being pushed out of the exit door.
Lucas Torreira has been recruited and has already made himself indispensible in the middle of the park, with Alex Iwobi showing plenty of aggression in an attacking situation and there's the excellent scoring form of Alexandre Lacazette and Pierre-Emerick Aubameyang.
The defence is clearly an issue although Rob Holding isn't as bad as some are making out and the 1-1 draw with Liverpool was richly deserved, with a late equaliser from Lacazette the least that the Gunners deserved.
Arsenal remain unbeaten since losing their opening matches against Manchester City and Chelsea, with Emery galvanising his troops and there's been some sumptuous football been played and a lot goes through Mesut Ozil.
As for Wolves, they have been fairly strong this season although things have slipped in recent weeks and they are facing a fourth defeat on the bounce.
The way in which Wanderers battled back to push Tottenham close was impressive last weekend although the defensive stoutness which has served them well to date disappeared and Nuno will be keen to address this during the international break.
We're going to plump for an Arsenal win although the opposition have regularly scored against them during matches and the big odds about both teams scoring make that the bet to have.
BETTING TIP
Arsenal win + BTTS @ 3.00 with bet365

All odds are correct at time of publishing and are subject to change
Published Nov 06, 2018, 13:50 by
Tony Thomas
Team News
Arsenal: 4-2-3-1 (Confirmed Line-ups)
Wolverhampton: 3-4-3 (Confirmed Line-ups)
14

Pierre Emerick Aubameyang
Premier League
| # | Team | G | W | D | L | +/- | P |
| --- | --- | --- | --- | --- | --- | --- | --- |
| 1 | Liverpool | 31 | 23 | 7 | 1 | 70:18 | 76 |
| 2 | Manchester City | 30 | 23 | 3 | 4 | 76:20 | 72 |
| 3 | Tottenham | 30 | 20 | 1 | 9 | 57:32 | 61 |
| 4 | Arsenal | 30 | 18 | 6 | 6 | 63:39 | 60 |
| 5 | Manchester Unit | 30 | 17 | 7 | 6 | 58:40 | 58 |
| 6 | Chelsea | 30 | 17 | 6 | 7 | 50:33 | 57 |
| 7 | Wolverhampton W | 30 | 12 | 8 | 10 | 38:36 | 44 |
| 8 | Watford | 30 | 12 | 7 | 11 | 42:44 | 43 |
| 9 | West Ham | 31 | 12 | 6 | 13 | 41:46 | 42 |
| 10 | Everton | 31 | 11 | 8 | 12 | 42:39 | 41 |
| 11 | Leicester | 31 | 12 | 5 | 14 | 40:43 | 41 |
| 12 | Bournemouth | 31 | 11 | 5 | 15 | 43:56 | 38 |
| 13 | Newcastle Unite | 31 | 9 | 8 | 14 | 31:40 | 35 |
| 14 | Crystal Palace | 30 | 9 | 6 | 15 | 36:41 | 33 |
| 15 | Brighton | 29 | 9 | 6 | 14 | 32:42 | 33 |
| 16 | Southampton | 30 | 7 | 9 | 14 | 34:50 | 30 |
| 17 | Burnley | 31 | 8 | 6 | 17 | 35:59 | 30 |
| 18 | Cardiff | 30 | 8 | 4 | 18 | 27:57 | 28 |
| 19 | Fulham | 31 | 4 | 5 | 22 | 29:70 | 17 |
| 20 | Huddersfield | 31 | 3 | 5 | 23 | 18:57 | 14 |