Brighton
v

West Ham Betting Tips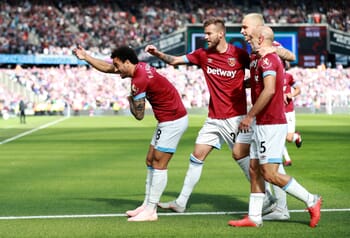 21:00 Fri 05 Oct
Football
Tip: West Ham 0
Units: 1/5
Manuel Pellegrini was among the favourites in the Sack Race market after a run of defeats at the beginning of the season, although the Chilean's stock has risen sharply after winning against Everton and Manchester United.
Team news | League Table | Odds
In between, there was a home draw against Chelsea and they look like a good price to get something at the AMEX Stadium, with confidence levels rising at the London Stadium and the visitors have a settled team.
Marko Arnautovic came back into the side for last weekend's 3-1 triumph over the Red Devils and, while there was much focus on United's shortcomings, the Austrian is proving himself to be a brilliant centre forward.
He's flanked by Andriy Yarmolenko and Felipe Anderson and there's the exciting prospect of Declan Rice who screens a defence which is starting to look a good deal more solid, especially with Lucasz Fabianski between the sticks.
Brighton are no mugs at home and will look to be defensively stout, although these are the sort of games where the Seagulls need to go out and make it happen, with five points returned after seven games.
Chris Hughton's side continue to labour on the road (admittedly against some difficult opposition), with the team having won just once all season and that was something of a smash and grab raid against Manchester United which saw them hanging on at the end.
While there have been super comebacks against Southampton and Fulham, the fact that they found themselves in losing positions suggests a lack of quality and it could be a real struggle to stay in the top flight for the Sussex team.
West Ham are odds-against on the Asian Handicap market which means you will get your money back if they draw the game and win the bet if they win the game which looks quite likely.
BETTING TIP
West Ham 0 @ 2.08 with bet365

Team News
Confirmed Line-up: Brighton - West Ham
Brighton
: 4-4-1-1 (Confirmed Line-up)
West Ham
: 4-1-4-1 (Confirmed Line-up)
Brighton
4-4-1-1
West Ham
4-1-4-1
Premier League
- League Table
| # | Team | G | W | D | L | +/- | P |
| --- | --- | --- | --- | --- | --- | --- | --- |
| 1 | Arsenal | 0 | 0 | 0 | 0 | 0:0 | 0 |
| 2 | Aston Villa | 0 | 0 | 0 | 0 | 0:0 | 0 |
| 3 | Chelsea | 0 | 0 | 0 | 0 | 0:0 | 0 |
| 4 | Everton | 0 | 0 | 0 | 0 | 0:0 | 0 |
| 5 | Liverpool | 0 | 0 | 0 | 0 | 0:0 | 0 |
| 6 | Manchester City | 0 | 0 | 0 | 0 | 0:0 | 0 |
| 7 | Manchester Unit | 0 | 0 | 0 | 0 | 0:0 | 0 |
| 8 | Newcastle Unite | 0 | 0 | 0 | 0 | 0:0 | 0 |
| 9 | Tottenham | 0 | 0 | 0 | 0 | 0:0 | 0 |
| 10 | West Ham | 0 | 0 | 0 | 0 | 0:0 | 0 |
| 11 | Burnley | 0 | 0 | 0 | 0 | 0:0 | 0 |
| 12 | Crystal Palace | 0 | 0 | 0 | 0 | 0:0 | 0 |
| 13 | Leicester | 0 | 0 | 0 | 0 | 0:0 | 0 |
| 14 | Norwich | 0 | 0 | 0 | 0 | 0:0 | 0 |
| 15 | Sheffield Unite | 0 | 0 | 0 | 0 | 0:0 | 0 |
| 16 | Southampton | 0 | 0 | 0 | 0 | 0:0 | 0 |
| 17 | Watford | 0 | 0 | 0 | 0 | 0:0 | 0 |
| 18 | Wolverhampton W | 0 | 0 | 0 | 0 | 0:0 | 0 |
| 19 | Bournemouth | 0 | 0 | 0 | 0 | 0:0 | 0 |
| 20 | Brighton | 0 | 0 | 0 | 0 | 0:0 | 0 |