Burnley v Man City Premier League betting preview and tips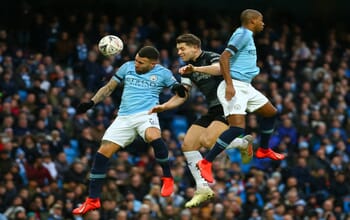 15:05 Sun 28 Apr
Football
Sean Dyche has done it again. After experiencing a woeful start to their Premier League campaign, Burnley have picked up as the season has worn on.
A return of thirty-nine points from thirty-four games played means that the Lancashire side are nearly over the line, with Dyche insisting that his team continue to focus on the job in hand.
However, this is nothing more than a bonus game against a team who are determined to retain their Premier League crown and are likely to arrive at Turf Moor off the back of a fantastic winning run.
There has been no stopping Pep Guardiola's side on a domestic front since losing at Newcastle and that means that City have been able to keep Liverpool at arm's length.
It might be that Manchester City need to keep winning in order to make sure the Reds don't overhaul them, although this is a fixture unlikely to cause many problems considering that Burnley have lost eight times at Turf Moor.
Most of the leading teams have left with a maximum haul, with twenty-eight goals conceded in seventeen matches on home soil for Burnley and it's been a fairly long campaign considering that the home team were competing in the Europa League at the beginning.
City will arrive looking to shut out their opponents and get the job done and Pep's side have only shipped ten goals away from home, with thirty-one goals scored.
Raheem Sterling has been in sparkling form whenever he's been on the field recently, while Sergio Aguero should be back for this one and there's some midfield solidity to protect the defence thanks to Fernandinho.
The star turn in recent weeks has been Kevin de Bruyne who has finally managed to get to peak fitness and produce a level of performance which should see Manchester City ahead by half-time in this clash.
BETTING TIP
Man City HT FT @ 1.53 with bet365

All odds are correct at time of publishing and are subject to change
Published Apr 17, 2019, 15:58 by
Tony Thomas
Team News
bet

365

Match Odds
Full Time Result
Burnley

: +1600

Draw

: +650

Man City

: -714

+1600
+650
-714
Total Goals
Under 2.5 Goals

: +200

Over 2.5 Goals

: -250

+200
-250
Both teams to score
Yes

: +105

No

: -143

+105
-143
Asian-Hcp
Burnley 2.00

: +108.9

Man City -2

: -123

+108.9
-123
bet

365
Premier League
| # | Team | G | W | D | L | +/- | P |
| --- | --- | --- | --- | --- | --- | --- | --- |
| 1 | Liverpool | 34 | 26 | 7 | 1 | 77:20 | 85 |
| 2 | Manchester City | 33 | 27 | 2 | 4 | 86:22 | 83 |
| 3 | Tottenham | 33 | 22 | 1 | 10 | 64:34 | 67 |
| 4 | Arsenal | 33 | 20 | 6 | 7 | 66:40 | 66 |
| 5 | Chelsea | 34 | 20 | 6 | 8 | 57:36 | 66 |
| 6 | Manchester Unit | 33 | 19 | 7 | 7 | 63:44 | 64 |
| 7 | Leicester | 34 | 14 | 5 | 15 | 46:45 | 47 |
| 8 | Wolverhampton W | 33 | 13 | 8 | 12 | 41:42 | 47 |
| 9 | Everton | 34 | 13 | 7 | 14 | 46:44 | 46 |
| 10 | Watford | 33 | 13 | 7 | 13 | 47:48 | 46 |
| 11 | West Ham | 34 | 12 | 6 | 16 | 42:52 | 42 |
| 12 | Bournemouth | 34 | 12 | 5 | 17 | 49:61 | 41 |
| 13 | Crystal Palace | 34 | 11 | 6 | 17 | 40:46 | 39 |
| 14 | Burnley | 34 | 11 | 6 | 17 | 42:60 | 39 |
| 15 | Newcastle Unite | 34 | 10 | 8 | 16 | 32:43 | 38 |
| 16 | Southampton | 33 | 9 | 9 | 15 | 39:54 | 36 |
| 17 | Brighton | 33 | 9 | 6 | 18 | 32:53 | 33 |
| 18 | Cardiff | 34 | 9 | 4 | 21 | 30:63 | 31 |
| 19 | Fulham | 34 | 5 | 5 | 24 | 32:76 | 20 |
| 20 | Huddersfield | 34 | 3 | 5 | 26 | 19:67 | 14 |