Burnley v Newcastle Premier League betting preview and tips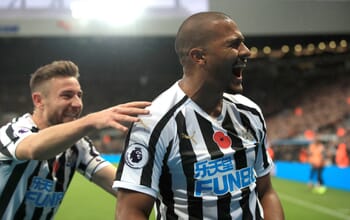 21:00 Mon 26 Nov
Football
It's strange to consider that Sean Dyche and Rafael Benitez are two of the longest-serving managers in the Premier League and they'll probably share a bottle of wine after this match and reflect on the daily pressures of taking charge of a Premier League team where the odds are regularly stacked against them.
Burnley are particularly adept at punching above their weight and a goal difference of -13 tells its own story after just twelve games played, with the Clarets managing to somehow solidify and hold on at the King Power Stadium despite intense pressure from Leicester.
The Lancashire side will look upon this Monday night clash as an opportunity to register three points and go above their opponents in the table, with a current return of nine from twelve played only enough to keep them from the drop zone by virtue of Palace, Southampton, Cardiff, Huddersfield and Fulham floundering.
Benitez will arrive at Turf Moor feeling fairly content with how the past few weeks have been working out and the Magpies played with a vibrancy against Bournemouth which hadn't been seen all season.
Jose Salomon Rondon finally pitched up and illustrated why the Tyneside club took a punt on the former West Brom striker and the performance of Kenedy was also eye-catching, with the Cherries struggling to cope with the attack.
Ultimately, Newcastle look like a better team and that is reflected in the fact that Benitez's side had a very trappy start to the season which saw them play all of the Premier League guns with the exception of Liverpool.
A draw for the visitors would keep the garden looking rosy for the visitors, especially with West Ham, Everton, Wolves, Huddersfield and Fulham lying in wait and we never like betting too hard against Rafa in the Premier League.
BETTING TIP
Draw @ 3.20 with bet365

All odds are correct at time of publishing and are subject to change
Published Nov 12, 2018, 16:37 by
Tony Thomas
Team News
Burnley: 4-4-2 (Confirmed Line-ups)
Newcastle: 4-4-1-1 (Confirmed Line-ups)
Premier League
| # | Team | G | W | D | L | +/- | P |
| --- | --- | --- | --- | --- | --- | --- | --- |
| 1 | Liverpool | 34 | 26 | 7 | 1 | 77:20 | 85 |
| 2 | Manchester City | 33 | 27 | 2 | 4 | 86:22 | 83 |
| 3 | Tottenham | 33 | 22 | 1 | 10 | 64:34 | 67 |
| 4 | Arsenal | 33 | 20 | 6 | 7 | 66:40 | 66 |
| 5 | Chelsea | 34 | 20 | 6 | 8 | 57:36 | 66 |
| 6 | Manchester Unit | 33 | 19 | 7 | 7 | 63:44 | 64 |
| 7 | Leicester | 34 | 14 | 5 | 15 | 46:45 | 47 |
| 8 | Wolverhampton W | 33 | 13 | 8 | 12 | 41:42 | 47 |
| 9 | Everton | 34 | 13 | 7 | 14 | 46:44 | 46 |
| 10 | Watford | 33 | 13 | 7 | 13 | 47:48 | 46 |
| 11 | West Ham | 34 | 12 | 6 | 16 | 42:52 | 42 |
| 12 | Bournemouth | 34 | 12 | 5 | 17 | 49:61 | 41 |
| 13 | Crystal Palace | 34 | 11 | 6 | 17 | 40:46 | 39 |
| 14 | Burnley | 34 | 11 | 6 | 17 | 42:60 | 39 |
| 15 | Newcastle Unite | 34 | 10 | 8 | 16 | 32:43 | 38 |
| 16 | Southampton | 33 | 9 | 9 | 15 | 39:54 | 36 |
| 17 | Brighton | 33 | 9 | 6 | 18 | 32:53 | 33 |
| 18 | Cardiff | 34 | 9 | 4 | 21 | 30:63 | 31 |
| 19 | Fulham | 34 | 5 | 5 | 24 | 32:76 | 20 |
| 20 | Huddersfield | 34 | 3 | 5 | 26 | 19:67 | 14 |