Cardiff
v

Chelsea Betting Tips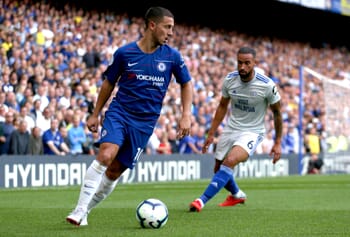 15:05 Sun 31 Mar
Football
Tip: Cardiff +1.5
Units: 1/5
Chelsea are a strange sort of team this season, with the Blues in the chasing pack behind Manchester City and Liverpool. It's fair to say that Maurizio Sarri's side could finish as high as third in the Premier League table but as low as sixth.
Team news | League Table | Odds
It's also clear that Sarri might not last more than one season at the London club, with managers regularly coming and going under owner Roman Abramovich who doesn't seem to realise that other top clubs are taking a longer-term view.
Chelsea have won eight of their fourteen matches on the road this season which is a decent enough effort, although we do wonder about their reliance on a player who seems destined to join Real Madrid this summer.
Eden Hazard's motivational levels might have started to wane by the time this clash is played and Chelsea are not a side who have blown many teams away this term, especially on the road.
Their recent 2-1 win at Fulham was a case in hand, while you have to go back to a clash at Turf Moor in October to see the last time that Chelsea won by more than one goal away from home.
Cardiff are still alive and kicking, with the Bluebirds landing a victory just as they're in danger of being caught adrift at the foot of the table and they're within touching distance of Burnley and Southampton right now.
Neil Warnock's side have won six times at the Cardiff City Stadium and can put up a decent fight in this clash, with a recent 2-0 win over West Ham illustrating that they can still be a tough proposition in front of their own fans.
Warnock will look for his team to shackle Hazard and hope to eventually grind down opponents who have lapsed on a couple of recent occasions, with Bournemouth putting four past Chelsea before Manchester City scored six.
BETTING TIP
Cardiff +1.5 @ 1.62 with bet365

Team News
Confirmed Line-up: Cardiff - Chelsea
Cardiff
: 4-1-4-1 (Confirmed Line-up)
Chelsea
: 4-3-3 (Confirmed Line-up)
Cardiff
4-1-4-1
Chelsea
4-3-3
Premier League
- League Table
| # | Team | G | W | D | L | +/- | P |
| --- | --- | --- | --- | --- | --- | --- | --- |
| 1 | Arsenal | 0 | 0 | 0 | 0 | 0:0 | 0 |
| 2 | Aston Villa | 0 | 0 | 0 | 0 | 0:0 | 0 |
| 3 | Chelsea | 0 | 0 | 0 | 0 | 0:0 | 0 |
| 4 | Everton | 0 | 0 | 0 | 0 | 0:0 | 0 |
| 5 | Liverpool | 0 | 0 | 0 | 0 | 0:0 | 0 |
| 6 | Manchester City | 0 | 0 | 0 | 0 | 0:0 | 0 |
| 7 | Manchester Unit | 0 | 0 | 0 | 0 | 0:0 | 0 |
| 8 | Newcastle Unite | 0 | 0 | 0 | 0 | 0:0 | 0 |
| 9 | Tottenham | 0 | 0 | 0 | 0 | 0:0 | 0 |
| 10 | West Ham | 0 | 0 | 0 | 0 | 0:0 | 0 |
| 11 | Burnley | 0 | 0 | 0 | 0 | 0:0 | 0 |
| 12 | Crystal Palace | 0 | 0 | 0 | 0 | 0:0 | 0 |
| 13 | Leicester | 0 | 0 | 0 | 0 | 0:0 | 0 |
| 14 | Norwich | 0 | 0 | 0 | 0 | 0:0 | 0 |
| 15 | Sheffield Unite | 0 | 0 | 0 | 0 | 0:0 | 0 |
| 16 | Southampton | 0 | 0 | 0 | 0 | 0:0 | 0 |
| 17 | Watford | 0 | 0 | 0 | 0 | 0:0 | 0 |
| 18 | Wolverhampton W | 0 | 0 | 0 | 0 | 0:0 | 0 |
| 19 | Bournemouth | 0 | 0 | 0 | 0 | 0:0 | 0 |
| 20 | Brighton | 0 | 0 | 0 | 0 | 0:0 | 0 |