Cardiff
v

Tottenham Betting Tips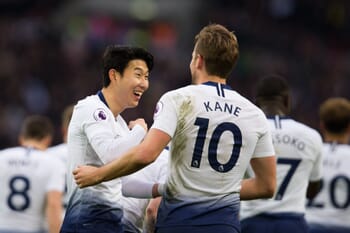 18:30 Tue 01 Jan
Football
Tip: Spurs + BTTS
Units: 1/5
Tottenham had the chance to remain in the Premier League title hunt when they entertained Wolves on Saturday, although a 3-1 defeat at the hands of the Midlands team means that Spurs will not be crowned champions this term.
Team news | League Table | Odds
Mauricio Pochettino's side are still in an excellent position, sitting third in the table and seven points clear of fifth-placed Arsenal, with Tottenham heading to Wales on New Year's Day and they are strong favourites to win this clash.
Spurs are excellent on the road as nine wins from eleven games testifies, with the London side averaging more than two goals per away game and they are likely to profit in this clash against a Cardiff side scrapping against the drop.
Neil Warnock's team have eighteen points on the board. Despite this being an average of less than a point per match, the Bluebirds are sixteenth in the table and currently keeping their heads above water.
The late winner at Leicester was an enormous boost to this team of scrappers and they also got a point at Selhurst Park although Manchester United's 5-1 win at the Cardiff City Stadium illustrates the shortcomings of the team.
Surely Spurs can achieve a similar scoreline although they do tend to concede on the road, with a recent 6-2 triumph over Everton proving to be a case in hand.
Harry Kane has scored four goals in his previous three matches, with Dele Alli now back in the fold and the players know that they can enjoy a big rest after this game, meaning they're more likely to leave it all on the pitch.
Neil Warnock's team have found the net in six of their previous matches so it makes more sense to get with Spurs and both teams to find the net, rather than back the visitors to win to nil in this one.
BETTING TIP
Tottenham + BTTS @ 3.00 with bet365

Team News
Cardiff
: 4-1-4-1 (Confirmed Line-up)
Tottenham
: 4-2-3-1 (Confirmed Line-up)
Premier League
- League Table
| # | Team | G | W | D | L | +/- | P |
| --- | --- | --- | --- | --- | --- | --- | --- |
| 1 | Manchester City | 38 | 32 | 2 | 4 | 95:23 | 98 |
| 2 | Liverpool | 38 | 30 | 7 | 1 | 89:22 | 97 |
| 3 | Chelsea | 38 | 21 | 9 | 8 | 63:39 | 72 |
| 4 | Tottenham | 38 | 23 | 2 | 13 | 67:39 | 71 |
| 5 | Arsenal | 38 | 21 | 7 | 10 | 73:51 | 70 |
| 6 | Manchester Unit | 38 | 19 | 9 | 10 | 65:54 | 66 |
| 7 | Wolverhampton W | 38 | 16 | 9 | 13 | 47:46 | 57 |
| 8 | Everton | 38 | 15 | 9 | 14 | 54:46 | 54 |
| 9 | Leicester | 38 | 15 | 7 | 16 | 51:48 | 52 |
| 10 | West Ham | 38 | 15 | 7 | 16 | 52:55 | 52 |
| 11 | Watford | 38 | 14 | 8 | 16 | 52:59 | 50 |
| 12 | Crystal Palace | 38 | 14 | 7 | 17 | 51:53 | 49 |
| 13 | Newcastle Unite | 38 | 12 | 9 | 17 | 42:48 | 45 |
| 14 | Bournemouth | 38 | 13 | 6 | 19 | 56:70 | 45 |
| 15 | Burnley | 38 | 11 | 7 | 20 | 45:68 | 40 |
| 16 | Southampton | 38 | 9 | 12 | 17 | 45:65 | 39 |
| 17 | Brighton | 38 | 9 | 9 | 20 | 35:60 | 36 |
| 18 | Cardiff | 38 | 10 | 4 | 24 | 34:69 | 34 |
| 19 | Fulham | 38 | 7 | 5 | 26 | 34:81 | 26 |
| 20 | Huddersfield | 38 | 3 | 7 | 28 | 22:76 | 16 |