Cardiff v Wolverhampton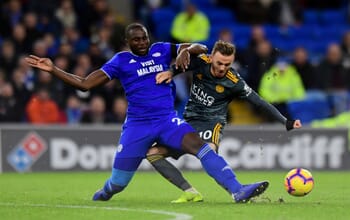 21:00 Fri 30 Nov
Football
Tip: Under 2.5 Goals
Units: 1/5
Cardiff City are not really looking out of their depth in the Premier League despite the fact that they sit nineteenth in the table, with the Bluebirds acquitting themselves particularly well at home.
There has been a 4-2 victory against Fulham and a 2-1 victory against Brighton, both of which came in the past five games, while Neil Warnock's side also pushed Arsenal close and were heavily dominant when losing against Burnley a few weeks ago.
This City team work hard for each other and will have been boosted by a recent trip to Everton which saw them narrowly beaten by a single goal, with this match representing an opportunity to pull out of the drop zone.
It's also a chance to pull their opponents into the relegation mix. It might sound implausible that Wolves will be troubled by the drop this season although they sit eleventh and it's now been one point from five games since that victory at Selhurst Park.
Scoring goals is proving problematic for the Midlands side who have found the net three times in the previous five encounters, with Nuno struggling to find the right blend up front and Raul Jimenez has scored just three times as their top scorer.
It's fair to say that Wanderers are defensively stout although they were found wanting when losing 2-0 at home to Huddersfield and the manager will want them to land a clean sheet in this match which guarantees at least a point.
It might be a case of back to basics and possibly even a change of formation seeing as the three centre-halves isn't working out for Wolves at the moment, although this is a match where it's easy enough to see defences being on top.
BETTING TIP
Under 2.5 Goals @ 1.61 with bet365

All odds are correct at time of publishing and are subject to change
Published Nov 26, 2018, 22:25 by
Kelly Collins
Team News
Cardiff: 3-4-2-1 (Confirmed Line-up)
Wolverhampton: 3-4-3 (Confirmed Line-up)
Premier League
| # | Team | G | W | D | L | +/- | P |
| --- | --- | --- | --- | --- | --- | --- | --- |
| 1 | Arsenal | 0 | 0 | 0 | 0 | 0 | 0 |
| 2 | Bournemouth | 0 | 0 | 0 | 0 | 0 | 0 |
| 3 | Brighton | 0 | 0 | 0 | 0 | 0 | 0 |
| 4 | Burnley | 0 | 0 | 0 | 0 | 0 | 0 |
| 5 | Cardiff | 0 | 0 | 0 | 0 | 0 | 0 |
| 6 | Chelsea | 0 | 0 | 0 | 0 | 0 | 0 |
| 7 | Crystal Palace | 0 | 0 | 0 | 0 | 0 | 0 |
| 8 | Everton | 0 | 0 | 0 | 0 | 0 | 0 |
| 9 | Fulham | 0 | 0 | 0 | 0 | 0 | 0 |
| 10 | Huddersfield | 0 | 0 | 0 | 0 | 0 | 0 |
| 11 | Leicester | 0 | 0 | 0 | 0 | 0 | 0 |
| 12 | Liverpool | 0 | 0 | 0 | 0 | 0 | 0 |
| 13 | Manchester City | 0 | 0 | 0 | 0 | 0 | 0 |
| 14 | Manchester Unit | 0 | 0 | 0 | 0 | 0 | 0 |
| 15 | Newcastle Unite | 0 | 0 | 0 | 0 | 0 | 0 |
| 16 | Southampton | 0 | 0 | 0 | 0 | 0 | 0 |
| 17 | Tottenham | 0 | 0 | 0 | 0 | 0 | 0 |
| 18 | Watford | 0 | 0 | 0 | 0 | 0 | 0 |
| 19 | West Ham | 0 | 0 | 0 | 0 | 0 | 0 |
| 20 | Wolverhampton W | 0 | 0 | 0 | 0 | 0 | 0 |