Chelsea
v

Man Utd Betting Tips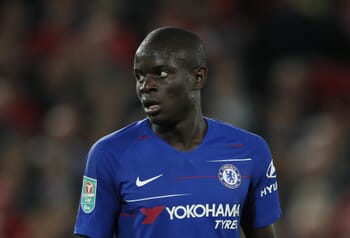 13:30 Sat 20 Oct
Football
Tip: Chelsea win to nil
Units: 1/5
Chelsea are in a good situation after a solid return of twenty points from their opening eight matches even if their run of Premier League matches have generally been favourable
Team news | League Table | Odds
Maurizio Sarri continues to maintain that his Blues team are a step behind the leading lights that are Liverpool and Manchester City, although the London side have managed to stay the pace with the so-called big two thus far and perhaps they are going to stay challenging.
Chelsea have won three and drawn one at Stamford Bridge, with Daniel Sturridge's late equaliser denying them a maximum haul against Liverpool although it's notable how close they managed to get to beating the Reds.
The fact that the Blues managed to nearly stop such a vibrant opponent scoring bodes pretty well for a team who are looking defensively robust despite having an attack-minded manager.
New goalkeeper Kepa has been very strong so far, with Cesar Azpilicueta dropping in as a makeshift centre back alongside David Luiz and Antonio Rudiger, something which allows Marcos Alonso to bomb forward.
We should obviously mention Eden Hazard who continues to shorten to be Player of the Year with each passing game week and he will be out to shine in a big match such as this one against suspect opponents.
Manchester United have lurched from one crisis to another although Jose Mourinho will hope that the comeback against Newcastle to win 3-2 will help the Red Devils get some momentum despite the international break.
Defensively there are clear issues and whether Chris Smalling and Victor Lindelof can provide the right level of cover remains to be seen, with Mourinho hoping to avoid a defeat on a return to a club where he won three titles.
Even so, we're happy to get with Chelsea and think that they can get the job done without conceding, with United likely to spend plenty of time trying to put out fires at the back and stop that man Hazard.
BETTING TIP
Chelsea win to nil @ 2.87 with bet365

Team News
Confirmed Line-up: Chelsea - Manchester United
Chelsea
: 4-3-3 (Confirmed Line-up)
Manchester United
: 4-2-3-1 (Confirmed Line-up)
02

Victor Nilsson-Lindelof
Chelsea
4-3-3
Manchester United
4-2-3-1
Premier League
- League Table
| # | Team | G | W | D | L | +/- | P |
| --- | --- | --- | --- | --- | --- | --- | --- |
| 1 | Arsenal | 0 | 0 | 0 | 0 | 0:0 | 0 |
| 2 | Aston Villa | 0 | 0 | 0 | 0 | 0:0 | 0 |
| 3 | Chelsea | 0 | 0 | 0 | 0 | 0:0 | 0 |
| 4 | Everton | 0 | 0 | 0 | 0 | 0:0 | 0 |
| 5 | Liverpool | 0 | 0 | 0 | 0 | 0:0 | 0 |
| 6 | Manchester City | 0 | 0 | 0 | 0 | 0:0 | 0 |
| 7 | Manchester Unit | 0 | 0 | 0 | 0 | 0:0 | 0 |
| 8 | Newcastle Unite | 0 | 0 | 0 | 0 | 0:0 | 0 |
| 9 | Tottenham | 0 | 0 | 0 | 0 | 0:0 | 0 |
| 10 | West Ham | 0 | 0 | 0 | 0 | 0:0 | 0 |
| 11 | Burnley | 0 | 0 | 0 | 0 | 0:0 | 0 |
| 12 | Crystal Palace | 0 | 0 | 0 | 0 | 0:0 | 0 |
| 13 | Leicester | 0 | 0 | 0 | 0 | 0:0 | 0 |
| 14 | Norwich | 0 | 0 | 0 | 0 | 0:0 | 0 |
| 15 | Sheffield Unite | 0 | 0 | 0 | 0 | 0:0 | 0 |
| 16 | Southampton | 0 | 0 | 0 | 0 | 0:0 | 0 |
| 17 | Watford | 0 | 0 | 0 | 0 | 0:0 | 0 |
| 18 | Wolverhampton W | 0 | 0 | 0 | 0 | 0:0 | 0 |
| 19 | Bournemouth | 0 | 0 | 0 | 0 | 0:0 | 0 |
| 20 | Brighton | 0 | 0 | 0 | 0 | 0:0 | 0 |