Chelsea
v

Newcastle Betting Tips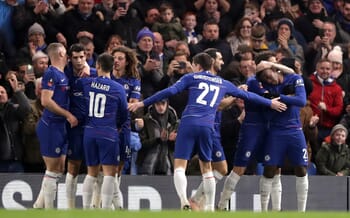 18:30 Sat 12 Jan
Football
Tip: Newcastle +2
Units: 1/5
Chelsea have a three-point advantage over Arsenal in their quest to land a top-four finish in the Premier League this season, although Maurizio Sarri will have one eye on Manchester United who are coming up fast along the rails.
Team news | League Table | Odds
Sarri can ill-afford to miss out on qualifying for the Champions League after the Blues missed out last year under Antonio Conte, with club owner Roman Abramovich not renowned for being the most patient of men and it's clear that Chelsea are heavily reliant on Eden Hazard.
Unfortunately, the Belgian can't do it all on his own and the bottom line is that Chelsea have only won 55% of their matches at Stamford Bridge this season, with Southampton the latest team to deny them thanks to some stubborn defending.
Newcastle are scrapping for their lives near the foot of the division, with the Magpies mustering eighteen points from their twenty-one games played, something that has them just two points above the drop zone.
Rafael Benitez's team will feel confident they can get something from this clash after a fairly spirited showing against Manchester United where they were truly in the game.
Newcastle have avoided defeat in seven of their ten away games this season, with defeats only occurring at Liverpool, Manchester City and Manchester United, suggesting that they are tough nuts to crack.
You can draw a line through that FA Cup draw against Blackburn when you see that Benitez made wholesale changes for this clash and the biggest worry for the Magpies is the distinct lack of goals that they are able to score.
On the plus side, the trip to Anfield was the only time where Newcastle have lost by more than one goal and it's for this reason that we can get with the visitors on the Asian Handicap market.
Back Newcastle +2 and it means that Chelsea would need to win by three goals or more in order for this bet to become a loser. We imagine the home side will simply be happy to get the job done.
BETTING TIP
Newcastle +2 @ 1.60 with bet365

Team News
Confirmed Line-up: Chelsea - Newcastle United
Chelsea
: 4-3-3 (Confirmed Line-up)
Newcastle United
: 5-4-1 (Confirmed Line-up)
Chelsea
4-3-3
Newcastle United
5-4-1
Premier League
- League Table
| # | Team | G | W | D | L | +/- | P |
| --- | --- | --- | --- | --- | --- | --- | --- |
| 1 | Arsenal | 0 | 0 | 0 | 0 | 0:0 | 0 |
| 2 | Aston Villa | 0 | 0 | 0 | 0 | 0:0 | 0 |
| 3 | Chelsea | 0 | 0 | 0 | 0 | 0:0 | 0 |
| 4 | Everton | 0 | 0 | 0 | 0 | 0:0 | 0 |
| 5 | Liverpool | 0 | 0 | 0 | 0 | 0:0 | 0 |
| 6 | Manchester City | 0 | 0 | 0 | 0 | 0:0 | 0 |
| 7 | Manchester Unit | 0 | 0 | 0 | 0 | 0:0 | 0 |
| 8 | Newcastle Unite | 0 | 0 | 0 | 0 | 0:0 | 0 |
| 9 | Tottenham | 0 | 0 | 0 | 0 | 0:0 | 0 |
| 10 | West Ham | 0 | 0 | 0 | 0 | 0:0 | 0 |
| 11 | Burnley | 0 | 0 | 0 | 0 | 0:0 | 0 |
| 12 | Crystal Palace | 0 | 0 | 0 | 0 | 0:0 | 0 |
| 13 | Leicester | 0 | 0 | 0 | 0 | 0:0 | 0 |
| 14 | Norwich | 0 | 0 | 0 | 0 | 0:0 | 0 |
| 15 | Sheffield Unite | 0 | 0 | 0 | 0 | 0:0 | 0 |
| 16 | Southampton | 0 | 0 | 0 | 0 | 0:0 | 0 |
| 17 | Watford | 0 | 0 | 0 | 0 | 0:0 | 0 |
| 18 | Wolverhampton W | 0 | 0 | 0 | 0 | 0:0 | 0 |
| 19 | Bournemouth | 0 | 0 | 0 | 0 | 0:0 | 0 |
| 20 | Brighton | 0 | 0 | 0 | 0 | 0:0 | 0 |