Crystal Palace v Man Utd Premier League betting preview and tips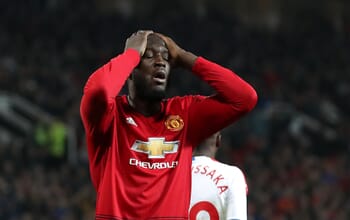 21:00 Wed 27 Feb
Football
Roy Hodgson must be scratching his head at the thought of his team being just three points ahead of eighteenth-placed Southampton (albeit with a superior goal difference) considering that Crystal Palace have had a pretty good season.
It's true that the Eagles have been over-reliant on Wilfried Zaha once again this term, although they have served up some excellent performances and that included a 3-2 win at Manchester City and a narrow 4-3 defeat at Anfield where they served it up to the best teams in the land.
Palace have actually earned more points on the road than Selhurst Park this season, although they will be confident of getting something against a Manchester United side who were recently beaten in the Champions League by Paris Saint-Germain.
That defeat at Old Trafford came at a cost considering that Jesse Lingard and Anthony Martial have been sidelined, with United now focusing on trying to land a top four spot under Ole Gunnar Solskjaer and qualify for the Champions League next season.
Solskjaer has seen his team enjoy a glut of wins although United could get some stubborn resistance from Palace in this clash, with the Eagles very solid from a defensive point-of-view and they have conceded an average of less than one goal per home match.
We're going to back the game to be level at the break as Crystal Palace look to defend deep and set about trying to exploit gaps on the counter-attack. Christian Benteke provides a focal attacking point, with Andros Townsend and Zaha looking to get forward in support.
David de Gea continues to be the safe pair of hands for United between the sticks and this game being goalless at the break would suit both sides. Palace would look to continue in the same vein and be glad of the point, while the visitors would look to kick on and get a second-half victory.
BETTING TIP
Half-Time Draw @ 2.30 with bet365

All odds are correct at time of publishing and are subject to change
Published Feb 13, 2019, 15:37 by
Tony Thomas
Team News
Crystal Palace: 4-3-3 (Confirmed Line-ups)
Man Utd: 4-1-2-1-2 (Confirmed Line-ups)
02

Victor Nilsson-Lindelof
Premier League
| # | Team | G | W | D | L | +/- | P |
| --- | --- | --- | --- | --- | --- | --- | --- |
| 1 | Liverpool | 34 | 26 | 7 | 1 | 77:20 | 85 |
| 2 | Manchester City | 33 | 27 | 2 | 4 | 86:22 | 83 |
| 3 | Tottenham | 33 | 22 | 1 | 10 | 64:34 | 67 |
| 4 | Arsenal | 33 | 20 | 6 | 7 | 66:40 | 66 |
| 5 | Chelsea | 34 | 20 | 6 | 8 | 57:36 | 66 |
| 6 | Manchester Unit | 33 | 19 | 7 | 7 | 63:44 | 64 |
| 7 | Leicester | 34 | 14 | 5 | 15 | 46:45 | 47 |
| 8 | Wolverhampton W | 33 | 13 | 8 | 12 | 41:42 | 47 |
| 9 | Everton | 34 | 13 | 7 | 14 | 46:44 | 46 |
| 10 | Watford | 33 | 13 | 7 | 13 | 47:48 | 46 |
| 11 | West Ham | 34 | 12 | 6 | 16 | 42:52 | 42 |
| 12 | Bournemouth | 34 | 12 | 5 | 17 | 49:61 | 41 |
| 13 | Crystal Palace | 34 | 11 | 6 | 17 | 40:46 | 39 |
| 14 | Burnley | 34 | 11 | 6 | 17 | 42:60 | 39 |
| 15 | Newcastle Unite | 34 | 10 | 8 | 16 | 32:43 | 38 |
| 16 | Southampton | 33 | 9 | 9 | 15 | 39:54 | 36 |
| 17 | Brighton | 33 | 9 | 6 | 18 | 32:53 | 33 |
| 18 | Cardiff | 34 | 9 | 4 | 21 | 30:63 | 31 |
| 19 | Fulham | 34 | 5 | 5 | 24 | 32:76 | 20 |
| 20 | Huddersfield | 34 | 3 | 5 | 26 | 19:67 | 14 |