Crystal Palace v Wolverhampton Premier League betting preview and tips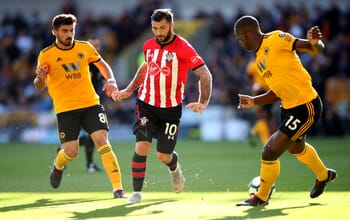 16:00 Sat 06 Oct
Football
Wolverhampton Wanderers are looking the part in the Premier League this season and they will head to Selhurst Park feeling confident of adding to their tally of twelve points this season.
Since losing at Leicester in their second game, Wolves haven't tasted defeat and we don't think they will be beaten at Selhurst Park, with the Midlands side having recently landed a 1-1 draw at Old Trafford.
Nuno's team served it up to Manchester United and created a lot of chances, with the visitors likely to have some joy against a side who will have less recovery time following Monday's clash at Bournemouth.
Roy Hodgson did a marvellous job of picking up the pieces last season and keeping the Eagles alive in the top flight, although he hasn't resolved the clear issue of the team relying on Wilfried Zaha for goals and inspiration.
With Zaha likely to be heavily marked by the Wolves defence, it means that the home side could be stymied against a side who are likely to be dangerous on the break, especially with the flying wing-backs who are Matt Doherty and Jonny.
Defensively, Wanderers are looking very good, with Rui Patricio clearly a safe pair of hands and that three-man central defence of Conor Coady, Ryan Bennett and Willy Boly having kept clean sheets against Southampton, Burnley and West Ham recently.
With Raul Jimenez acting as a fantastic foil in attack and also capable of scoring goals, we're expecting Wolves to get really close to a victory in this game and the odds look fairly attractive.
It's worth noting that Palace are struggling to get results at home. They have been beaten at home to Liverpool and Southampton, while Newcastle were capable of thwarting the London side.
BETTING TIP
Wolves to win @ 2.75 with bet365

All odds are correct at time of publishing and are subject to change
Published Oct 01, 2018, 09:20 by
Kelly Collins
Team News
Crystal Palace: 4-4-2 (Confirmed Line-ups)
Wolverhampton: 3-4-3 (Confirmed Line-ups)
Premier League
| # | Team | G | W | D | L | +/- | P |
| --- | --- | --- | --- | --- | --- | --- | --- |
| 1 | Liverpool | 31 | 23 | 7 | 1 | 70:18 | 76 |
| 2 | Manchester City | 30 | 23 | 3 | 4 | 76:20 | 72 |
| 3 | Tottenham | 30 | 20 | 1 | 9 | 57:32 | 61 |
| 4 | Arsenal | 30 | 18 | 6 | 6 | 63:39 | 60 |
| 5 | Manchester Unit | 30 | 17 | 7 | 6 | 58:40 | 58 |
| 6 | Chelsea | 30 | 17 | 6 | 7 | 50:33 | 57 |
| 7 | Wolverhampton W | 30 | 12 | 8 | 10 | 38:36 | 44 |
| 8 | Watford | 30 | 12 | 7 | 11 | 42:44 | 43 |
| 9 | West Ham | 31 | 12 | 6 | 13 | 41:46 | 42 |
| 10 | Everton | 31 | 11 | 8 | 12 | 42:39 | 41 |
| 11 | Leicester | 31 | 12 | 5 | 14 | 40:43 | 41 |
| 12 | Bournemouth | 31 | 11 | 5 | 15 | 43:56 | 38 |
| 13 | Newcastle Unite | 31 | 9 | 8 | 14 | 31:40 | 35 |
| 14 | Crystal Palace | 30 | 9 | 6 | 15 | 36:41 | 33 |
| 15 | Brighton | 29 | 9 | 6 | 14 | 32:42 | 33 |
| 16 | Southampton | 30 | 7 | 9 | 14 | 34:50 | 30 |
| 17 | Burnley | 31 | 8 | 6 | 17 | 35:59 | 30 |
| 18 | Cardiff | 30 | 8 | 4 | 18 | 27:57 | 28 |
| 19 | Fulham | 31 | 4 | 5 | 22 | 29:70 | 17 |
| 20 | Huddersfield | 31 | 3 | 5 | 23 | 18:57 | 14 |