Everton
v

Bournemouth Betting Tips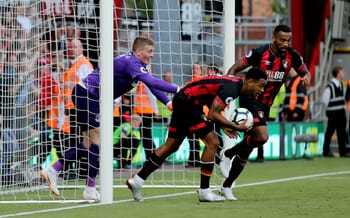 15:15 Sun 13 Jan
Football
Tip: Over 2.5 Goals
Units: 1/5
Bournemouth have lost ten of their previous thirteen games and their previous five matches on the road have seen them lose by an aggregate score of 16-3.
Team news | League Table | Odds
Therefore, it won't be a surprise if Everton are well supported to win Sunday's Premier League clash, although the Toffees have hardly been pulling up any trees of their own this season and odds-on doesn't look the most appetising of bets.
Marco Silva is under a bit of pressure at Goodison Park considering that the Merseyside team have not kicked on from what looked like a promising start and they have now won less than 50% of their home matches.
A 1-0 reverse against Leicester on New Year's Day saw Everton serve up one of their worst performances of the campaign and a 2-1 FA Cup win over League Two Lincoln won't exactly excite the Evertonians who were hoping to see their team challenge for a top six spot this season.
Everton have lost four of their past six matches and that has included a 6-2 mauling at the hands of Tottenham, with Yerry Mina now back on the bench after previously appearing to be the answer alongside Michael Keane.
Bournemouth are an attack-minded teams who rarely pitch up looking to keep things tight and this is likely to lead to an open game on Sunday afternoon, with the goals market one to explore as a result.
Don't forget that these teams played out a 2-2 draw at the Vitality Stadium when the weather was hot and perhaps we will see a similar number of goals, with four of those recent Cherries defeats featuring three goals or more.
Callum Wilson is having an excellent season in front of goal and will be ably supported by Ryan Fraser and David Brooks, while Everton have their own attacking threats in the form of Gylfi Sigurdsson and Richarlison.

BETTING TIP
Over 2.5 Goals @ 1.66 with bet365

Team News
Confirmed Line-up: Everton - Bournemouth
Everton
: 4-2-3-1 (Confirmed Line-up)
Bournemouth
: 4-3-3 (Confirmed Line-up)
20

Bernard Anicio Caldeira Duarte
Everton
4-2-3-1
Bournemouth
4-3-3
Premier League
- League Table
| # | Team | G | W | D | L | +/- | P |
| --- | --- | --- | --- | --- | --- | --- | --- |
| 1 | Arsenal | 0 | 0 | 0 | 0 | 0:0 | 0 |
| 2 | Aston Villa | 0 | 0 | 0 | 0 | 0:0 | 0 |
| 3 | Chelsea | 0 | 0 | 0 | 0 | 0:0 | 0 |
| 4 | Everton | 0 | 0 | 0 | 0 | 0:0 | 0 |
| 5 | Liverpool | 0 | 0 | 0 | 0 | 0:0 | 0 |
| 6 | Manchester City | 0 | 0 | 0 | 0 | 0:0 | 0 |
| 7 | Manchester Unit | 0 | 0 | 0 | 0 | 0:0 | 0 |
| 8 | Newcastle Unite | 0 | 0 | 0 | 0 | 0:0 | 0 |
| 9 | Tottenham | 0 | 0 | 0 | 0 | 0:0 | 0 |
| 10 | West Ham | 0 | 0 | 0 | 0 | 0:0 | 0 |
| 11 | Burnley | 0 | 0 | 0 | 0 | 0:0 | 0 |
| 12 | Crystal Palace | 0 | 0 | 0 | 0 | 0:0 | 0 |
| 13 | Leicester | 0 | 0 | 0 | 0 | 0:0 | 0 |
| 14 | Norwich | 0 | 0 | 0 | 0 | 0:0 | 0 |
| 15 | Sheffield Unite | 0 | 0 | 0 | 0 | 0:0 | 0 |
| 16 | Southampton | 0 | 0 | 0 | 0 | 0:0 | 0 |
| 17 | Watford | 0 | 0 | 0 | 0 | 0:0 | 0 |
| 18 | Wolverhampton W | 0 | 0 | 0 | 0 | 0:0 | 0 |
| 19 | Bournemouth | 0 | 0 | 0 | 0 | 0:0 | 0 |
| 20 | Brighton | 0 | 0 | 0 | 0 | 0:0 | 0 |