Everton v Tottenham Premier League betting preview and tips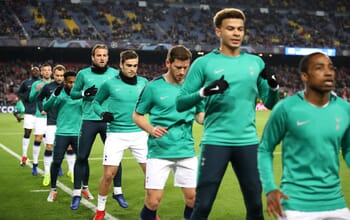 17:00 Sun 23 Dec
Football
There's a trend developing as far as Everton's season is concerned, with Marco Silva's side recently failing to put Newcastle and Watford away at Goodison Park and the Toffees nearly lost at home to the Hornets.
It appears that the Merseyside team's best performances are occurring against the so-called better sides and Tottenham certainly fall into this bracket considering that Mauricio Pochettino's side are once again challenging for a Champions League spot.
At the time of writing, Spurs have a very credible eight wins from ten matches on the road, with victories taking place at grounds such as Old Trafford and Molineux. It's a fantastic achievement for a team who continue to wait for Wembley to be available.
The biggest downside for Tottenham is that they've played a lot of football already this season. Pochettino is ready to throw the game at Arsenal in the EFL Cup, or at least field a weakened side considering that these sort of matches are clearly the priority for a club who have to pay for an expensive new stadium.
Everton might have had a couple of wobbles on home soil recently although they have only lost once in front of their own supporters, with West Ham landing a richly-deserved 3-1 victory although the Toffees have stepped up a level since then.
Silva might deploy his troops in an away-style seeing as his team seem to relish the big matches and there is certainly the pace to trouble the visitors through Richarlison and Theo Walcott, with the team just needing to be calmer with the ball.
Yerry Mina will reacquaint himself with Harry Kane in a repeat of that World Cup clash between Colombia and England, with Andre Gomes and Idrissa Gueye hoping to nullify the attacking impetus of Christian Eriksen and Son Heung-Min.
We think the draw represents a more attractive proposition compared to Spurs' price, with the home team likely to give as good as they get.
BETTING TIP
Draw @ 3.25 with bet365

All odds are correct at time of publishing and are subject to change
Published Dec 13, 2018, 16:11 by
Tony Thomas
Team News
Everton: 4-2-3-1 (Confirmed Line-ups)
Tottenham: 4-2-3-1 (Confirmed Line-ups)
Premier League
| # | Team | G | W | D | L | +/- | P |
| --- | --- | --- | --- | --- | --- | --- | --- |
| 1 | Liverpool | 31 | 23 | 7 | 1 | 70:18 | 76 |
| 2 | Manchester City | 30 | 23 | 3 | 4 | 76:20 | 72 |
| 3 | Tottenham | 30 | 20 | 1 | 9 | 57:32 | 61 |
| 4 | Arsenal | 30 | 18 | 6 | 6 | 63:39 | 60 |
| 5 | Manchester Unit | 30 | 17 | 7 | 6 | 58:40 | 58 |
| 6 | Chelsea | 30 | 17 | 6 | 7 | 50:33 | 57 |
| 7 | Wolverhampton W | 30 | 12 | 8 | 10 | 38:36 | 44 |
| 8 | Watford | 30 | 12 | 7 | 11 | 42:44 | 43 |
| 9 | West Ham | 31 | 12 | 6 | 13 | 41:46 | 42 |
| 10 | Everton | 31 | 11 | 8 | 12 | 42:39 | 41 |
| 11 | Leicester | 31 | 12 | 5 | 14 | 40:43 | 41 |
| 12 | Bournemouth | 31 | 11 | 5 | 15 | 43:56 | 38 |
| 13 | Newcastle Unite | 31 | 9 | 8 | 14 | 31:40 | 35 |
| 14 | Crystal Palace | 30 | 9 | 6 | 15 | 36:41 | 33 |
| 15 | Brighton | 29 | 9 | 6 | 14 | 32:42 | 33 |
| 16 | Southampton | 30 | 7 | 9 | 14 | 34:50 | 30 |
| 17 | Burnley | 31 | 8 | 6 | 17 | 35:59 | 30 |
| 18 | Cardiff | 30 | 8 | 4 | 18 | 27:57 | 28 |
| 19 | Fulham | 31 | 4 | 5 | 22 | 29:70 | 17 |
| 20 | Huddersfield | 31 | 3 | 5 | 23 | 18:57 | 14 |