Fulham v Arsenal Premier League betting preview and tips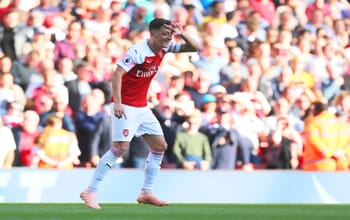 13:00 Sun 07 Oct
Football
Fulham enjoyed promotion from the Championship last season, with the Cottagers beating Aston Villa in the play-offs and they're determined to continue with the flowing football which was the hallmark of their performances last term.
Slavisa Jokanovic has seen his team deliver some excellent attacking displays so far, notably against Burnley and Brighton, although there are clearly defensive issues and they haven't been arrested going into the eighth game.
Perhaps the manager doesn't have the personnel to stop the opposition scoring so frequently, although sixteen goals shipped so far tells its own story, with goalkeeper Marcus Bettinelli actually drawing praise between the sticks despite picking the ball out of his net so frequently.
The manager will be looking for more compactness against Arsenal and perhaps they will have Alfie Mawson back after a back problem kept him out of the previous game, with Everton putting three goals past them at Goodison Park.
It's a situation where you can see Arsenal taking advantage, with the Gunners in a good moment right now and enjoying a winning run which seemed scarcely believable after opening the campaign with two defeats.
The north London side have scored at least two goals in every game since losing at home to Manchester City in their opening game, with Alexandre Lacazette the central striking option at the moment, although Granit Xhaka, Mesut Ozil, Aaron Ramsey and Pierre-Emerick Aubameyang are all capable of chipping in.
Fulham certainly aren't weak from an attacking point-of-view and there's no stopping Aleksandar Mitrovic who has already bagged seven goals this season and might score as part of a Fulham defeat.
BETTING TIP
Arsenal + BTTS @ 2.75 with bet365

All odds are correct at time of publishing and are subject to change
Published Oct 01, 2018, 09:22 by
Tony Thomas
Team News
Fulham: 4-2-3-1 (Confirmed Line-up)
Arsenal: 4-2-3-1 (Confirmed Line-up)
Premier League
| # | Team | G | W | D | L | +/- | P |
| --- | --- | --- | --- | --- | --- | --- | --- |
| 1 | Arsenal | 0 | 0 | 0 | 0 | 0 | 0 |
| 2 | Bournemouth | 0 | 0 | 0 | 0 | 0 | 0 |
| 3 | Brighton | 0 | 0 | 0 | 0 | 0 | 0 |
| 4 | Burnley | 0 | 0 | 0 | 0 | 0 | 0 |
| 5 | Cardiff | 0 | 0 | 0 | 0 | 0 | 0 |
| 6 | Chelsea | 0 | 0 | 0 | 0 | 0 | 0 |
| 7 | Crystal Palace | 0 | 0 | 0 | 0 | 0 | 0 |
| 8 | Everton | 0 | 0 | 0 | 0 | 0 | 0 |
| 9 | Fulham | 0 | 0 | 0 | 0 | 0 | 0 |
| 10 | Huddersfield | 0 | 0 | 0 | 0 | 0 | 0 |
| 11 | Leicester | 0 | 0 | 0 | 0 | 0 | 0 |
| 12 | Liverpool | 0 | 0 | 0 | 0 | 0 | 0 |
| 13 | Manchester City | 0 | 0 | 0 | 0 | 0 | 0 |
| 14 | Manchester Unit | 0 | 0 | 0 | 0 | 0 | 0 |
| 15 | Newcastle Unite | 0 | 0 | 0 | 0 | 0 | 0 |
| 16 | Southampton | 0 | 0 | 0 | 0 | 0 | 0 |
| 17 | Tottenham | 0 | 0 | 0 | 0 | 0 | 0 |
| 18 | Watford | 0 | 0 | 0 | 0 | 0 | 0 |
| 19 | West Ham | 0 | 0 | 0 | 0 | 0 | 0 |
| 20 | Wolverhampton W | 0 | 0 | 0 | 0 | 0 | 0 |