Fulham v Wolverhampton Premier League betting tips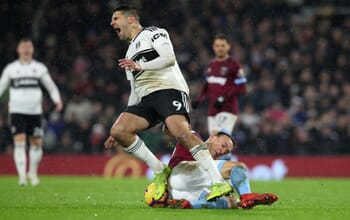 13:30 Wed 26 Dec
Football
Sometimes a new manager helps a Premier League club get out of trouble when they're near the foot of the division, although sometimes nothing really changes and the team continue to struggle and eventually go down.
In the case of Fulham, it appears that the latter scenario is the most likely right now, with Claudio Ranieri enjoying an initial win over Southampton although points have since been harder to come by.
At the time of writing, the Cottagers have a return of just nine points from seventeen matches and that ratio clearly won't be enough to keep the London side in the top flight unless results improve.
While Fulham played attractive football en route to enjoying promotion last season, they have been unable to prosper with a similar style at a higher level and don't appear to have enough players in the squad prepared to roll up their sleeves and dig out the results.
Wolves definitely have a few scrappers in their team and have twenty-five points on the board from seventeen games played, with Wanderers having enjoyed seven top flight wins already and very much looking the part in the top flight.
Away from home, the Midlands side have won three of their eight away matches and we'd rather be betting on both sides finding the net in this clash rather than backing the visitors to win.
Fulham need to rack up a few wins to get out of trouble and are likely to play on front foot, while Wolves offer a decent attacking threat of their own and will be playing on the front foot, while their fitness levels often see them pinch matches at the death.
Raul Jimenez has prospered in a centre forward position and there are goals from other departments, while Aleksandar Mitrovic will hope to benefit from decent service and quality crosses in particular.
BETTING TIP
BTTS @ 1.66 with bet365

All odds are correct at time of publishing and are subject to change
Published Dec 19, 2018, 08:57 by
Tony Thomas
Team News
Fulham: 3-4-3 (Confirmed Line-ups)
Wolverhampton: 3-5-2 (Confirmed Line-ups)
Premier League
| # | Team | G | W | D | L | +/- | P |
| --- | --- | --- | --- | --- | --- | --- | --- |
| 1 | Liverpool | 31 | 23 | 7 | 1 | 70:18 | 76 |
| 2 | Manchester City | 30 | 23 | 3 | 4 | 76:20 | 72 |
| 3 | Tottenham | 30 | 20 | 1 | 9 | 57:32 | 61 |
| 4 | Arsenal | 30 | 18 | 6 | 6 | 63:39 | 60 |
| 5 | Manchester Unit | 30 | 17 | 7 | 6 | 58:40 | 58 |
| 6 | Chelsea | 30 | 17 | 6 | 7 | 50:33 | 57 |
| 7 | Wolverhampton W | 30 | 12 | 8 | 10 | 38:36 | 44 |
| 8 | Watford | 30 | 12 | 7 | 11 | 42:44 | 43 |
| 9 | West Ham | 31 | 12 | 6 | 13 | 41:46 | 42 |
| 10 | Everton | 31 | 11 | 8 | 12 | 42:39 | 41 |
| 11 | Leicester | 31 | 12 | 5 | 14 | 40:43 | 41 |
| 12 | Bournemouth | 31 | 11 | 5 | 15 | 43:56 | 38 |
| 13 | Newcastle Unite | 31 | 9 | 8 | 14 | 31:40 | 35 |
| 14 | Crystal Palace | 30 | 9 | 6 | 15 | 36:41 | 33 |
| 15 | Brighton | 29 | 9 | 6 | 14 | 32:42 | 33 |
| 16 | Southampton | 30 | 7 | 9 | 14 | 34:50 | 30 |
| 17 | Burnley | 31 | 8 | 6 | 17 | 35:59 | 30 |
| 18 | Cardiff | 30 | 8 | 4 | 18 | 27:57 | 28 |
| 19 | Fulham | 31 | 4 | 5 | 22 | 29:70 | 17 |
| 20 | Huddersfield | 31 | 3 | 5 | 23 | 18:57 | 14 |