Huddersfield v Chelsea Premier League betting preview and tips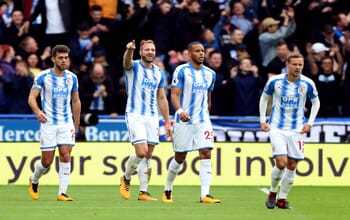 16:00 Sat 11 Aug
Football
Huddersfield clash with Chelsea in their first Premier League match of the season and the Terriers could provide a stern test for the Blues.
Huddersfield achieved a minor miracle by remaining in the Premier League last season and David Wagner will now be tasked with keeping the Yorkshire side in the top flight for a second campaign.
It's been a memorable couple of seasons for Town who have enjoyed promotion through the play-offs before staying in the Premier League and it's now time for a difficult second season where it will be tougher than ever to stay afloat.
There have been several new faces arriving at the John Smiths' Stadium this term, with Ben Hamer, Ramadan Sobhi and Erik Durm among the arrivals and Huddersfield will hope to finish above three other teams in the division.
The presence of Wolves, Fulham and Cardiff gives them a fighting chance and the team spirit within the ranks is unrivalled, with Chelsea arriving and expecting a tough challenge from their opponents.
The Blues are in their usual state of upheaval thanks to Roman Abramovich's hire and fire policy, with Antonio Conte the latest manager to fall by the wayside.
Maurizio Sarri is now in charge of the team and has immediately recruited Jorginho to play for the Blues, although the future of Eden Hazard remains unclear considering his latest comments.
Alvaro Morata also had a difficult first season in London and might yet be moved on, with Chelsea lacking a long-term vision which means their squad often look like a group of mercenaries.
We're happy to take on Chelsea for this first match and they could be missing some of their World Cup participants, with N'Golo Kante and Olivier Giroud likely to have an extended break.
BETTING TIP
Huddersfield +1 @ 1.98 with BetVictor

All odds are correct at time of publishing and are subject to change
Published Jul 16, 2018, 23:23 by
Tony Thomas
Team News
Huddersfield: 3-5-1-1 (Confirmed Line-ups)
Chelsea: 4-3-3 (Confirmed Line-ups)
Premier League
| # | Team | G | W | D | L | +/- | P |
| --- | --- | --- | --- | --- | --- | --- | --- |
| 1 | Liverpool | 31 | 23 | 7 | 1 | 70:18 | 76 |
| 2 | Manchester City | 30 | 23 | 3 | 4 | 76:20 | 72 |
| 3 | Tottenham | 30 | 20 | 1 | 9 | 57:32 | 61 |
| 4 | Arsenal | 30 | 18 | 6 | 6 | 63:39 | 60 |
| 5 | Manchester Unit | 30 | 17 | 7 | 6 | 58:40 | 58 |
| 6 | Chelsea | 30 | 17 | 6 | 7 | 50:33 | 57 |
| 7 | Wolverhampton W | 30 | 12 | 8 | 10 | 38:36 | 44 |
| 8 | Watford | 30 | 12 | 7 | 11 | 42:44 | 43 |
| 9 | West Ham | 31 | 12 | 6 | 13 | 41:46 | 42 |
| 10 | Everton | 31 | 11 | 8 | 12 | 42:39 | 41 |
| 11 | Leicester | 31 | 12 | 5 | 14 | 40:43 | 41 |
| 12 | Bournemouth | 31 | 11 | 5 | 15 | 43:56 | 38 |
| 13 | Newcastle Unite | 31 | 9 | 8 | 14 | 31:40 | 35 |
| 14 | Crystal Palace | 30 | 9 | 6 | 15 | 36:41 | 33 |
| 15 | Brighton | 29 | 9 | 6 | 14 | 32:42 | 33 |
| 16 | Southampton | 30 | 7 | 9 | 14 | 34:50 | 30 |
| 17 | Burnley | 31 | 8 | 6 | 17 | 35:59 | 30 |
| 18 | Cardiff | 30 | 8 | 4 | 18 | 27:57 | 28 |
| 19 | Fulham | 31 | 4 | 5 | 22 | 29:70 | 17 |
| 20 | Huddersfield | 31 | 3 | 5 | 23 | 18:57 | 14 |