Leicester
v

Crystal Palace Betting Tips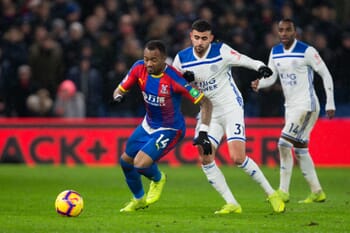 16:00 Sat 23 Feb
Football
Tip: Under 2.5 Goals
Units: 1/5
Leicester City actually have a decent team and it's surprising to see them languishing in twelfth place in the Premier League.
Team news | League Table | Odds
There appears to be some friction between Claude Puel and some of his players, most notably Jamie Vardy who came off the bench at Tottenham to miss a penalty before scoring a consolation goal.
However, Vardy is no longer as important for the Foxes due to the signing of James Maddison this season and the attacking midfielder looks destined for an amazing career after arriving last summer from Norwich.
Harvey Barnes is another player shining after a loan spell at West Brom, while Youri Tielemans has signed recently on loan from Monaco and the Belgian could help the Midlands side enjoy a strong finish to the season.
As for Crystal Palace, they sit just a place behind their opponents although they are five points worse off and continue to look over their shoulder after Cardiff City's win at Southampton made things congested near the foot of the league.
Roy Hodgson's team seem to create lots of chances in every match played, although the Eagles have won six of their previous twelve matches and appear to be on course to land a mid-table finish.
It's a difficult game to call the outcome considering that Leicester have only won four of their twelve home matches this term, while Palace have only managed to win four of their thirteen away matches.
Matches at the King Power have tended to be low-scoring affairs, with thirteen goals scored and thirteen conceded. Kasper Schmeichel is having a good season and the Leicester rearguard has a settled look about it, with Harry Maguire and Jonny Evans now starting every match in central defence.
Wilfred Ndidi is similarly robust and now that Tielemans has arrived, the home side should be capable of keeping things tight.
BETTING TIP
Under 2.5 Goals @ 1.66 with bet365

Team News
Confirmed Line-up: Leicester - Crystal Palace
Leicester
: 4-3-3 (Confirmed Line-up)
Crystal Palace
: 4-3-3 (Confirmed Line-up)
Leicester
4-3-3
Crystal Palace
4-3-3
Premier League
- League Table
| # | Team | G | W | D | L | +/- | P |
| --- | --- | --- | --- | --- | --- | --- | --- |
| 1 | Arsenal | 0 | 0 | 0 | 0 | 0:0 | 0 |
| 2 | Aston Villa | 0 | 0 | 0 | 0 | 0:0 | 0 |
| 3 | Chelsea | 0 | 0 | 0 | 0 | 0:0 | 0 |
| 4 | Everton | 0 | 0 | 0 | 0 | 0:0 | 0 |
| 5 | Liverpool | 0 | 0 | 0 | 0 | 0:0 | 0 |
| 6 | Manchester City | 0 | 0 | 0 | 0 | 0:0 | 0 |
| 7 | Manchester Unit | 0 | 0 | 0 | 0 | 0:0 | 0 |
| 8 | Newcastle Unite | 0 | 0 | 0 | 0 | 0:0 | 0 |
| 9 | Tottenham | 0 | 0 | 0 | 0 | 0:0 | 0 |
| 10 | West Ham | 0 | 0 | 0 | 0 | 0:0 | 0 |
| 11 | Burnley | 0 | 0 | 0 | 0 | 0:0 | 0 |
| 12 | Crystal Palace | 0 | 0 | 0 | 0 | 0:0 | 0 |
| 13 | Leicester | 0 | 0 | 0 | 0 | 0:0 | 0 |
| 14 | Norwich | 0 | 0 | 0 | 0 | 0:0 | 0 |
| 15 | Sheffield Unite | 0 | 0 | 0 | 0 | 0:0 | 0 |
| 16 | Southampton | 0 | 0 | 0 | 0 | 0:0 | 0 |
| 17 | Watford | 0 | 0 | 0 | 0 | 0:0 | 0 |
| 18 | Wolverhampton W | 0 | 0 | 0 | 0 | 0:0 | 0 |
| 19 | Bournemouth | 0 | 0 | 0 | 0 | 0:0 | 0 |
| 20 | Brighton | 0 | 0 | 0 | 0 | 0:0 | 0 |