Leicester v Man Utd Premier League betting preview and tips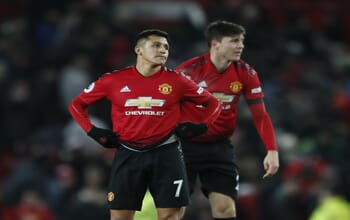 15:05 Sun 03 Feb
Football
Manchester United's eight-match winning run came to an end against Burnley, although the Red Devils have clearly been rejuvenated by the arrival of Ole Gunnar Solskjaer and they are firm favourites to win this clash at the King Power Stadium.
United will feel as though they can finish in the top four of the Premier League table this season, although there are clearly defensive issues within the team which has seen them concede thirty-five goals in twenty-four games.
They are clearly adept at scoring goals and Solskjaer is adopting offensive tactics which plays to the strengths of players such as Marcus Rashford, Jesse Lingard and Paul Pogba. However, perhaps the honeymoon period is coming to an end and this looks to be a tricky encounter.
Leicester are a tough team to predict and they sit mid-table after a massively mixed bag of results which includes victories over Chelsea and Manchester City, although they have also lost five times at home this season.
Claude Puel remains on the precipice according to some insiders, although the Frenchman will hope his side can create plenty of chances against a team not renowned for keeping clean sheets either under Mourinho or their new manager.
The Foxes recently scored three goals at Molineux and, while they found life tougher at Anfield, they have little to lose from having a crack at a Red Devils side who have conceded in their previous three matches.
We'd sooner go for both teams to score in this clash rather than back the odds-on about Manchester United, with Jamie Vardy relishing the chance to go up against this United back line which will surely be upgraded in the summer.
Harvey Barnes is back from a loan spell at West Brom and can add something extra attacking-wise, with James Maddison also waiting in the wings for his opportunity.
BETTING TIP
BTTS @ 1.66 (4/6) with bet365

All odds are correct at time of publishing and are subject to change
Published Jan 30, 2019, 11:48 by
Tony Thomas
Team News
Leicester: 4-2-3-1 (Confirmed Line-ups)
Man Utd: 4-2-3-1 (Confirmed Line-ups)
02

Victor Nilsson-Lindelof
Premier League
| # | Team | G | W | D | L | +/- | P |
| --- | --- | --- | --- | --- | --- | --- | --- |
| 1 | Liverpool | 34 | 26 | 7 | 1 | 77:20 | 85 |
| 2 | Manchester City | 33 | 27 | 2 | 4 | 86:22 | 83 |
| 3 | Tottenham | 33 | 22 | 1 | 10 | 64:34 | 67 |
| 4 | Arsenal | 33 | 20 | 6 | 7 | 66:40 | 66 |
| 5 | Chelsea | 34 | 20 | 6 | 8 | 57:36 | 66 |
| 6 | Manchester Unit | 33 | 19 | 7 | 7 | 63:44 | 64 |
| 7 | Leicester | 34 | 14 | 5 | 15 | 46:45 | 47 |
| 8 | Wolverhampton W | 33 | 13 | 8 | 12 | 41:42 | 47 |
| 9 | Everton | 34 | 13 | 7 | 14 | 46:44 | 46 |
| 10 | Watford | 33 | 13 | 7 | 13 | 47:48 | 46 |
| 11 | West Ham | 34 | 12 | 6 | 16 | 42:52 | 42 |
| 12 | Bournemouth | 34 | 12 | 5 | 17 | 49:61 | 41 |
| 13 | Crystal Palace | 34 | 11 | 6 | 17 | 40:46 | 39 |
| 14 | Burnley | 34 | 11 | 6 | 17 | 42:60 | 39 |
| 15 | Newcastle Unite | 34 | 10 | 8 | 16 | 32:43 | 38 |
| 16 | Southampton | 33 | 9 | 9 | 15 | 39:54 | 36 |
| 17 | Brighton | 33 | 9 | 6 | 18 | 32:53 | 33 |
| 18 | Cardiff | 34 | 9 | 4 | 21 | 30:63 | 31 |
| 19 | Fulham | 34 | 5 | 5 | 24 | 32:76 | 20 |
| 20 | Huddersfield | 34 | 3 | 5 | 26 | 19:67 | 14 |