Liverpool
v

Arsenal Betting Tips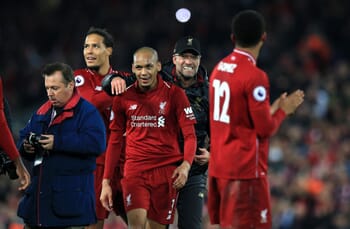 18:30 Sat 29 Dec
Football
Tip: Liverpool HT FT
Units: 1/5
Liverpool are on the verge of becoming Premier League title favourites, with the Reds looking to stay ahead of Manchester City in a bid to become champions of England for the first time since 1990.
Team news | League Table | Odds
Jurgen Klopp has certainly built a squad capable of challenging for this primary domestic honour, with the German having shored up a defence that previously looked flimsy thanks to the acquisition of goalkeeper Alisson and central defender Virgil van Dijk.
The unsung star of the Liverpool team is arguably Fabinho who experienced a slow start to life at Anfield but has now become the rock in central midfield, with Mohamed Salah shining brightly like a diamond once again.
The Reds have conceded a miserly seven goals in their eighteen top flight matches to date and it's possible that they will stop Arsenal scoring, although we prefer the nice odds about Klopp's side leading at half-time and full-time against the Gunners.
Unai Emery's side have notably not made the best of starts to games in the Premier League this season and it was only recently against Burnley where Arsenal actually led at the interval for the first time.
It was interesting in that match to see how the defence were often in chaos, with Granit Xhaka in an unfamiliar central defensive position, even if Arsenal have some exciting attacking options.
Pierre-Emerick Aubameyang is giving Salah a run for his money in the scoring charts, with Alexandre Lacazette scoring his team's equaliser in the reverse fixture which ended 1-1.
Emery has seen his team score away at Old Trafford and Stamford Bridge this season, with the Gunners scoring twice in both games although they could be chasing home a Liverpool side who have regularly led at the interval this season and come through with the three points.
BETTING TIP
Liverpool HT FT @ 2.37 with bet365

Team News
Confirmed Line-up: Liverpool - Arsenal
Liverpool
: 4-2-3-1 (Confirmed Line-up)
Arsenal
: 3-4-2-1 (Confirmed Line-up)
66

Trent Alexander-Arnold
05

Sokratis Papastathopoulos
15

Ainsley Maitland-Niles
14

Pierre Emerick Aubameyang
Liverpool
4-2-3-1
Arsenal
3-4-2-1
Premier League
- League Table
| # | Team | G | W | D | L | +/- | P |
| --- | --- | --- | --- | --- | --- | --- | --- |
| 1 | Arsenal | 0 | 0 | 0 | 0 | 0:0 | 0 |
| 2 | Aston Villa | 0 | 0 | 0 | 0 | 0:0 | 0 |
| 3 | Chelsea | 0 | 0 | 0 | 0 | 0:0 | 0 |
| 4 | Everton | 0 | 0 | 0 | 0 | 0:0 | 0 |
| 5 | Liverpool | 0 | 0 | 0 | 0 | 0:0 | 0 |
| 6 | Manchester City | 0 | 0 | 0 | 0 | 0:0 | 0 |
| 7 | Manchester Unit | 0 | 0 | 0 | 0 | 0:0 | 0 |
| 8 | Newcastle Unite | 0 | 0 | 0 | 0 | 0:0 | 0 |
| 9 | Tottenham | 0 | 0 | 0 | 0 | 0:0 | 0 |
| 10 | West Ham | 0 | 0 | 0 | 0 | 0:0 | 0 |
| 11 | Burnley | 0 | 0 | 0 | 0 | 0:0 | 0 |
| 12 | Crystal Palace | 0 | 0 | 0 | 0 | 0:0 | 0 |
| 13 | Leicester | 0 | 0 | 0 | 0 | 0:0 | 0 |
| 14 | Norwich | 0 | 0 | 0 | 0 | 0:0 | 0 |
| 15 | Sheffield Unite | 0 | 0 | 0 | 0 | 0:0 | 0 |
| 16 | Southampton | 0 | 0 | 0 | 0 | 0:0 | 0 |
| 17 | Watford | 0 | 0 | 0 | 0 | 0:0 | 0 |
| 18 | Wolverhampton W | 0 | 0 | 0 | 0 | 0:0 | 0 |
| 19 | Bournemouth | 0 | 0 | 0 | 0 | 0:0 | 0 |
| 20 | Brighton | 0 | 0 | 0 | 0 | 0:0 | 0 |