Liverpool
v

Everton Betting Tips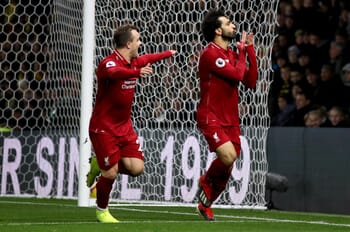 17:15 Sun 02 Dec
Football
Tip: Under 2.5 Goals
Units: 1/5
Jurgen Klopp has previously said that he wants his football teams to play "heavy metal football" although it's clear that the German has tempered Liverpool's style of play this season.
Team news | League Table | Odds
With a top flight title eluding the Merseyside club since 1990, the German senses the opportunity to be the manager to finally bring back the good times at Anfield although his key recent moves have been to shore up a defence that was conceding too many goals.
Virgil van Dijk is fast on his way to becoming one of the best centre backs in the world, with Alisson having barely put a foot wrong since arriving from Roma for a similarly large amount of cash, while Joe Gomez has slotted well into central defence.
Perhaps Fabinho isn't working out as well as Klopp might have hoped although it's clear that Xherdan Shaqiri isn't here to warm the bench this season and the front three speak for themselves as usual.
Not that Everton will be easily beaten on Sunday in the derby. The Toffees are packed with quality players of their own and they recently earned a 0-0 draw at Stamford Bridge to highlight their credentials.
Jordan Pickford could be called into action plenty of times on Sunday but the England stopper should relish the derby atmosphere, while Yerry Mina is now up to speed and partnering Michael Keane in central defence, with Seamus Coleman and Lucas Digne offering dynamism in the full-back areas.
Everton will look to contain the home side and frustrate the Anfield crowd, with the teams playing out a goalless draw at Goodison Park last April and it was similar in the reverse fixture where Wayne Rooney scored a late penalty equaliser after Mohamed Salah's opener.
Marco Silva has learnt to be more pragmatic during his time in England it wouldn't be a huge surprise if Everton left with a point again.
BETTING TIP
Under 2.5 Goals @ 2.37 with bet365

Team News
Confirmed Line-up: Liverpool - Everton
Liverpool
: 4-3-3 (Confirmed Line-up)
Everton
: 4-2-3-1 (Confirmed Line-up)
66

Trent Alexander-Arnold
20

Bernard Anicio Caldeira Duarte
Liverpool
4-3-3
Everton
4-2-3-1
Premier League
- League Table
| # | Team | G | W | D | L | +/- | P |
| --- | --- | --- | --- | --- | --- | --- | --- |
| 1 | Arsenal | 0 | 0 | 0 | 0 | 0:0 | 0 |
| 2 | Aston Villa | 0 | 0 | 0 | 0 | 0:0 | 0 |
| 3 | Chelsea | 0 | 0 | 0 | 0 | 0:0 | 0 |
| 4 | Everton | 0 | 0 | 0 | 0 | 0:0 | 0 |
| 5 | Liverpool | 0 | 0 | 0 | 0 | 0:0 | 0 |
| 6 | Manchester City | 0 | 0 | 0 | 0 | 0:0 | 0 |
| 7 | Manchester Unit | 0 | 0 | 0 | 0 | 0:0 | 0 |
| 8 | Newcastle Unite | 0 | 0 | 0 | 0 | 0:0 | 0 |
| 9 | Tottenham | 0 | 0 | 0 | 0 | 0:0 | 0 |
| 10 | West Ham | 0 | 0 | 0 | 0 | 0:0 | 0 |
| 11 | Burnley | 0 | 0 | 0 | 0 | 0:0 | 0 |
| 12 | Crystal Palace | 0 | 0 | 0 | 0 | 0:0 | 0 |
| 13 | Leicester | 0 | 0 | 0 | 0 | 0:0 | 0 |
| 14 | Norwich | 0 | 0 | 0 | 0 | 0:0 | 0 |
| 15 | Sheffield Unite | 0 | 0 | 0 | 0 | 0:0 | 0 |
| 16 | Southampton | 0 | 0 | 0 | 0 | 0:0 | 0 |
| 17 | Watford | 0 | 0 | 0 | 0 | 0:0 | 0 |
| 18 | Wolverhampton W | 0 | 0 | 0 | 0 | 0:0 | 0 |
| 19 | Bournemouth | 0 | 0 | 0 | 0 | 0:0 | 0 |
| 20 | Brighton | 0 | 0 | 0 | 0 | 0:0 | 0 |