Liverpool v Man City Premier League betting preview and tips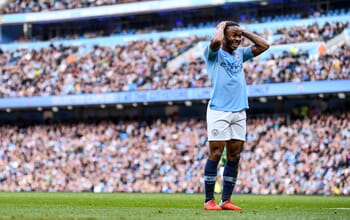 17:30 Sun 07 Oct
Football
We were treated to a 4-3 win for Liverpool when these sides met last season and it might be more of the same on Sunday, with both teams looking for that decisive victory which will send them clear at the top of the table.
Liverpool and City have only dropped two points this season and it's a trend that we're likely to see continue throughout the campaign, thus making this match even more significant in terms of the Premier League title race.
It's true that Jurgen Klopp has taken steps to arrest his team's defensive frailties, with Joe Gomez now playing centre half alongside Virgil van Dijk although it didn't stop the Reds conceding two goals against Paris Saint-Germain.
At Anfield, the home side will look to press high up the pitch and they were electric against PSG in that Champions League clash, with Mohamed Salah threatening to catch fire this season despite failing to get out of a middling gear so far.
We should expect Klopp to retain the faith in his Egyptian despite a series of being benched and it could also be the case that James Milner excels against his former club as he's done on so many occasions.
Manchester City were possibly the better team during that 4-3 defeat although the absence of Kevin de Bruyne is an issue despite the excellent form of Raheem Sterling and Leroy Sane out wide.
City are also proving to be defensively stout and Aymeric Laporte is one of the team's unsung stars this season, although it will surely be an attacking approach from them as they look to deliver a real hammer blow to a team who are likely to be one of their biggest title rivals.
BETTING TIP
Over 3.5 Goals @ 2.37 with bet365

All odds are correct at time of publishing and are subject to change
Published Oct 01, 2018, 09:28 by
Tony Thomas
Team News
Liverpool: 4-3-3 (Confirmed Line-ups)
Man City: 4-3-3 (Confirmed Line-ups)
Premier League
| # | Team | G | W | D | L | +/- | P |
| --- | --- | --- | --- | --- | --- | --- | --- |
| 1 | Liverpool | 31 | 23 | 7 | 1 | 70:18 | 76 |
| 2 | Manchester City | 30 | 23 | 3 | 4 | 76:20 | 72 |
| 3 | Tottenham | 30 | 20 | 1 | 9 | 57:32 | 61 |
| 4 | Arsenal | 30 | 18 | 6 | 6 | 63:39 | 60 |
| 5 | Manchester Unit | 30 | 17 | 7 | 6 | 58:40 | 58 |
| 6 | Chelsea | 30 | 17 | 6 | 7 | 50:33 | 57 |
| 7 | Wolverhampton W | 30 | 12 | 8 | 10 | 38:36 | 44 |
| 8 | Watford | 30 | 12 | 7 | 11 | 42:44 | 43 |
| 9 | West Ham | 31 | 12 | 6 | 13 | 41:46 | 42 |
| 10 | Everton | 31 | 11 | 8 | 12 | 42:39 | 41 |
| 11 | Leicester | 31 | 12 | 5 | 14 | 40:43 | 41 |
| 12 | Bournemouth | 31 | 11 | 5 | 15 | 43:56 | 38 |
| 13 | Newcastle Unite | 31 | 9 | 8 | 14 | 31:40 | 35 |
| 14 | Crystal Palace | 30 | 9 | 6 | 15 | 36:41 | 33 |
| 15 | Brighton | 29 | 9 | 6 | 14 | 32:42 | 33 |
| 16 | Southampton | 30 | 7 | 9 | 14 | 34:50 | 30 |
| 17 | Burnley | 31 | 8 | 6 | 17 | 35:59 | 30 |
| 18 | Cardiff | 30 | 8 | 4 | 18 | 27:57 | 28 |
| 19 | Fulham | 31 | 4 | 5 | 22 | 29:70 | 17 |
| 20 | Huddersfield | 31 | 3 | 5 | 23 | 18:57 | 14 |