Man City
v

Everton Betting Tips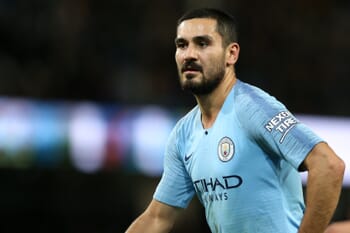 13:30 Sat 15 Dec
Football

Bet Now!
Incredibly, Everton were the only team to stop Manchester City winning in the Premier League until 31 December last season, with the Toffees managing to thwart Pep Guardiola's side in August after Kyle Walker had been sent off for the home side.
Team news | League Table | Odds
A lot has changed since that match, with Ronald Koeman and Sam Allardyce both standing down as Toffees manager since then and Marco Silva is now briefed with restoring some good times at Goodison Park.
There are reasons to think that Everton can acquit themselves well in this match. Some of the team's best performances this season have come against the better sides in the division, with the Merseyside team leaving Stamford Bridge with a goalless draw and the same thing nearly happened at Anfield.
However, Liverpool did have a few chances to score in that match and Everton remain a work in progress, with Manchester City having the capability to unpick the most difficult locks at the Etihad Stadium and they are usually destructive well before the interval in most games.
It's a busy time of the season fixtures-wise, although Guardiola has the beauty of being able to delve deep as far as squad depth is concerned, with the likes of Riyad Mahrez, David Silva, Bernardo Silva, Raheem Sterling, Ilkay Gundogan and Gabriel Jesus all being rotated and Sergio Aguero should also be back from injury.
It's more about the process rather than just the personnel at City, with the team blazing a relentless pace at the Etihad Stadium and it's now reached the stage of the season where the Champions League can become forgotten until February.
Everton's big issue is lack of quality attacking options. Richarlison seems to work better when foraging out on the left flank rather than the central focus, with Cenk Tosun perhaps out of his depth when it comes to being part of a side wanting to enter the top six this season.
BETTING TIP
Manchester City HT FT @ 1.66 with bet365

All odds are correct at time of publishing and are subject to change
Team News
Manchester City: 4-3-3 (Confirmed Line-up)
Everton: 5-4-1 (Confirmed Line-up)
20

Bernard Anicio Caldeira Duarte
Premier League - League Table
| # | Team | G | W | D | L | +/- | P |
| --- | --- | --- | --- | --- | --- | --- | --- |
| 1 | Manchester City | 38 | 32 | 2 | 4 | 95:23 | 98 |
| 2 | Liverpool | 38 | 30 | 7 | 1 | 89:22 | 97 |
| 3 | Chelsea | 38 | 21 | 9 | 8 | 63:39 | 72 |
| 4 | Tottenham | 38 | 23 | 2 | 13 | 67:39 | 71 |
| 5 | Arsenal | 38 | 21 | 7 | 10 | 73:51 | 70 |
| 6 | Manchester Unit | 38 | 19 | 9 | 10 | 65:54 | 66 |
| 7 | Wolverhampton W | 38 | 16 | 9 | 13 | 47:46 | 57 |
| 8 | Everton | 38 | 15 | 9 | 14 | 54:46 | 54 |
| 9 | Leicester | 38 | 15 | 7 | 16 | 51:48 | 52 |
| 10 | West Ham | 38 | 15 | 7 | 16 | 52:55 | 52 |
| 11 | Watford | 38 | 14 | 8 | 16 | 52:59 | 50 |
| 12 | Crystal Palace | 38 | 14 | 7 | 17 | 51:53 | 49 |
| 13 | Newcastle Unite | 38 | 12 | 9 | 17 | 42:48 | 45 |
| 14 | Bournemouth | 38 | 13 | 6 | 19 | 56:70 | 45 |
| 15 | Burnley | 38 | 11 | 7 | 20 | 45:68 | 40 |
| 16 | Southampton | 38 | 9 | 12 | 17 | 45:65 | 39 |
| 17 | Brighton | 38 | 9 | 9 | 20 | 35:60 | 36 |
| 18 | Cardiff | 38 | 10 | 4 | 24 | 34:69 | 34 |
| 19 | Fulham | 38 | 7 | 5 | 26 | 34:81 | 26 |
| 20 | Huddersfield | 38 | 3 | 7 | 28 | 22:76 | 16 |