Man Utd
v

Arsenal Betting Tips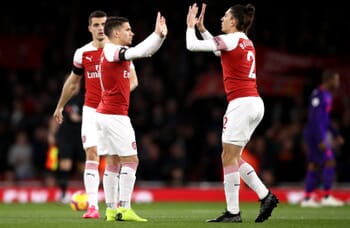 21:00 Wed 05 Dec
Football
Tip: Arsenal 0
Units: 1/5
Manchester United are clearly a dysfunctional team under Jose Mourinho who looks weary and ready to call it a day on his time at Old Trafford.
Team news | League Table | Odds
Mourinho knows he's leaving at the end of the season and the players are clearly demotivated under someone whose management techniques are starting to look outdated when set against the outlook of Pep Guardiola, Jurgen Klopp and Mauricio Pochettino.
The United manager used to relish meeting Arsenal when he was in charge of Chelsea, with some famous spats occurring between him and Arsene Wenger although the latter generally had little time for him and it's a view shared by an increasing number of the football world.
Considering that United laboured to a 1-0 win over Young Boys achieved late in the day, one can have little confidence in their ability to turn over an Arsenal team who (at the time of writing) are unbeaten in eleven Premier League games.
Unai Emery will have noted that Tottenham left Old Trafford with a 3-0 win and plot something similar, with the Gunners tending to improve as matches wear on and they look capable of picking off a team who are always close to a crisis.
Emery will have Pierre-Emerick Aubameyang and Alexandre Lacazette at his disposal, with Aaron Ramsey and Mesut Ozil pressing for a place in the team and there's some steel provided in the midfield department too.
Lucas Torreira and Granit Xhaka will look to outbattle Messrs Pogba and Fellaini in the engine room and we're happy to get with Arsenal on the Asian Handicap at 0 considering that we get money back if it's a draw.
At big odds-against, this looks like a bet to nothing against a set of players who have essentially stopped playing for their manager.
BETTING TIP
Arsenal 0 @ 2.42 with bet365

Team News
Confirmed Line-up: Manchester United - Arsenal
Manchester United
: 3-4-2-1 (Confirmed Line-up)
Arsenal
: 3-4-2-1 (Confirmed Line-up)
05

Sokratis Papastathopoulos
14

Pierre Emerick Aubameyang
Manchester United
3-4-2-1
Arsenal
3-4-2-1
Premier League
- League Table
| # | Team | G | W | D | L | +/- | P |
| --- | --- | --- | --- | --- | --- | --- | --- |
| 1 | Arsenal | 0 | 0 | 0 | 0 | 0:0 | 0 |
| 2 | Aston Villa | 0 | 0 | 0 | 0 | 0:0 | 0 |
| 3 | Chelsea | 0 | 0 | 0 | 0 | 0:0 | 0 |
| 4 | Everton | 0 | 0 | 0 | 0 | 0:0 | 0 |
| 5 | Liverpool | 0 | 0 | 0 | 0 | 0:0 | 0 |
| 6 | Manchester City | 0 | 0 | 0 | 0 | 0:0 | 0 |
| 7 | Manchester Unit | 0 | 0 | 0 | 0 | 0:0 | 0 |
| 8 | Newcastle Unite | 0 | 0 | 0 | 0 | 0:0 | 0 |
| 9 | Tottenham | 0 | 0 | 0 | 0 | 0:0 | 0 |
| 10 | West Ham | 0 | 0 | 0 | 0 | 0:0 | 0 |
| 11 | Burnley | 0 | 0 | 0 | 0 | 0:0 | 0 |
| 12 | Crystal Palace | 0 | 0 | 0 | 0 | 0:0 | 0 |
| 13 | Leicester | 0 | 0 | 0 | 0 | 0:0 | 0 |
| 14 | Norwich | 0 | 0 | 0 | 0 | 0:0 | 0 |
| 15 | Sheffield Unite | 0 | 0 | 0 | 0 | 0:0 | 0 |
| 16 | Southampton | 0 | 0 | 0 | 0 | 0:0 | 0 |
| 17 | Watford | 0 | 0 | 0 | 0 | 0:0 | 0 |
| 18 | Wolverhampton W | 0 | 0 | 0 | 0 | 0:0 | 0 |
| 19 | Bournemouth | 0 | 0 | 0 | 0 | 0:0 | 0 |
| 20 | Brighton | 0 | 0 | 0 | 0 | 0:0 | 0 |