Man Utd v Chelsea Premier League betting preview and tips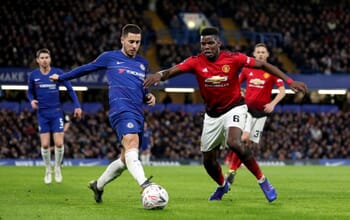 17:30 Sun 28 Apr
Football
If Manchester United are to land a top-four spot in the Premier League this season, it's likely that they will need to win this clash at Old Trafford, with the Red Devils regarded as the outsider of the quartet gunning for a Champions League spot.
Ole Gunnar Solskjaer was rewarded for a successful caretaker stint by being granted the permanent position at the north-west club, although United have lost five of their past seven games at the time of writing.
The only two victories were unconvincing home wins over West Ham and Watford, with United coming into this game off the back of tough clashes against Everton and Manchester City.
It's possible that the Red Devils won't have much to show for those two encounters and the match against City might have taken its toll on energy levels, although we should note that United have only lost one game at Old Trafford this term.
Chelsea arrive looking for a victory which is going to get them ahead of Spurs or Arsenal come the end of the campaign, with Maurizio Sarri potentially coming to the end of his short stint at Stamford Bridge.
The Blues have only drawn once away from home this season, while they have suffered seven defeats on the road although they recently played well at Anfield and might have come away with something on another day.
Eden Hazard appears to be finding superlative form just as Real Madrid come beckoning with pen and paper, while Callum Hudson-Odoi is finally getting the chance to shine for the first team and he can cause problems for a United defence who were recently schooled by Barcelona.
Ultimately, we think that there's little between these two teams and they can cancel each other out which largely means a satisfactory outcome for the two north London teams watching on.
BETTING TIP
Draw @ 3.30 with bet365

All odds are correct at time of publishing and are subject to change
Published Apr 17, 2019, 16:12 by
Tony Thomas
Team News
bet

365

Match Odds
Full Time Result
Man Utd

: +150

Draw

: +230

Chelsea

: +180

+150
+230
+180
Total Goals
Under 2.5 Goals

: -100

Over 2.5 Goals

: -125

-100
-125
Both teams to score
Yes

: -164

No

: +120

-164
+120
Asian-Hcp
Man Utd -0.25

: +112.5

Chelsea 0.25

: -128

+112.5
-128
bet

365
Premier League
| # | Team | G | W | D | L | +/- | P |
| --- | --- | --- | --- | --- | --- | --- | --- |
| 1 | Liverpool | 34 | 26 | 7 | 1 | 77:20 | 85 |
| 2 | Manchester City | 33 | 27 | 2 | 4 | 86:22 | 83 |
| 3 | Tottenham | 33 | 22 | 1 | 10 | 64:34 | 67 |
| 4 | Arsenal | 33 | 20 | 6 | 7 | 66:40 | 66 |
| 5 | Chelsea | 34 | 20 | 6 | 8 | 57:36 | 66 |
| 6 | Manchester Unit | 33 | 19 | 7 | 7 | 63:44 | 64 |
| 7 | Leicester | 34 | 14 | 5 | 15 | 46:45 | 47 |
| 8 | Wolverhampton W | 33 | 13 | 8 | 12 | 41:42 | 47 |
| 9 | Everton | 34 | 13 | 7 | 14 | 46:44 | 46 |
| 10 | Watford | 33 | 13 | 7 | 13 | 47:48 | 46 |
| 11 | West Ham | 34 | 12 | 6 | 16 | 42:52 | 42 |
| 12 | Bournemouth | 34 | 12 | 5 | 17 | 49:61 | 41 |
| 13 | Crystal Palace | 34 | 11 | 6 | 17 | 40:46 | 39 |
| 14 | Burnley | 34 | 11 | 6 | 17 | 42:60 | 39 |
| 15 | Newcastle Unite | 34 | 10 | 8 | 16 | 32:43 | 38 |
| 16 | Southampton | 33 | 9 | 9 | 15 | 39:54 | 36 |
| 17 | Brighton | 33 | 9 | 6 | 18 | 32:53 | 33 |
| 18 | Cardiff | 34 | 9 | 4 | 21 | 30:63 | 31 |
| 19 | Fulham | 34 | 5 | 5 | 24 | 32:76 | 20 |
| 20 | Huddersfield | 34 | 3 | 5 | 26 | 19:67 | 14 |