Man Utd v Everton Premier League betting preview and tips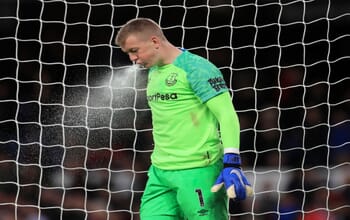 17:00 Sun 28 Oct
Football
Manchester United are clearly not the force of old, although Jose Mourinho has shown that there is life in the old dog after engineering a comeback against Newcastle and very nearly getting the game won at Stamford Bridge.
The Red Devils are a curious side who are often found parking the bus in big games although they look exceedingly lively moving forward when given the license to do so and we can't get away from the fact that Anthony Martial is capable of being a world-class talent.
Added to this is the fact that Marcus Rashford is getting game time, with Romelu Lukaku lining up against his former club and hoping to get back on the game trail, although there's a funny mix in the midfield where Nemanja Matic throws his weight around and Paul Pogba prances around like a show pony.
Everton are a strange team too, with Marco Silva attempting to build something at Goodison Park although they could easily have been beaten at home to Crystal Palace last week and they were indebted to Jordan Pickford in the end.
Pickford could have a busy afternoon in this clash, although Everton have plenty of attacking cut and thrust thanks to the presence of Richarlison and Gylfi Sigurdsson moving forward and the latter offers a cutting edge from dead ball situations.
It should be a high quality affair and we can't get with United at short odds considering that the Red Devils were close to being beaten at home to Newcastle in the first half of their clash before a rousing comeback.
Tottenham have also won at Old Trafford by a 3-0 scoreline and Wolves left with a 1-1 draw so this is a game where we would prefer to back this game to end all square considering the odds are so much bigger.
BETTING TIP
Draw @ 3.75 with bet365

All odds are correct at time of publishing and are subject to change
Published Oct 22, 2018, 11:04 by
Tony Thomas
Team News
Man Utd: 4-3-3 (Confirmed Line-ups)
Everton: 4-2-3-1 (Confirmed Line-ups)
02

Victor Nilsson-Lindelof
20

Bernard Anicio Caldeira Duarte
Premier League
| # | Team | G | W | D | L | +/- | P |
| --- | --- | --- | --- | --- | --- | --- | --- |
| 1 | Liverpool | 31 | 23 | 7 | 1 | 70:18 | 76 |
| 2 | Manchester City | 30 | 23 | 3 | 4 | 76:20 | 72 |
| 3 | Tottenham | 30 | 20 | 1 | 9 | 57:32 | 61 |
| 4 | Arsenal | 30 | 18 | 6 | 6 | 63:39 | 60 |
| 5 | Manchester Unit | 30 | 17 | 7 | 6 | 58:40 | 58 |
| 6 | Chelsea | 30 | 17 | 6 | 7 | 50:33 | 57 |
| 7 | Wolverhampton W | 30 | 12 | 8 | 10 | 38:36 | 44 |
| 8 | Watford | 30 | 12 | 7 | 11 | 42:44 | 43 |
| 9 | West Ham | 31 | 12 | 6 | 13 | 41:46 | 42 |
| 10 | Everton | 31 | 11 | 8 | 12 | 42:39 | 41 |
| 11 | Leicester | 31 | 12 | 5 | 14 | 40:43 | 41 |
| 12 | Bournemouth | 31 | 11 | 5 | 15 | 43:56 | 38 |
| 13 | Newcastle Unite | 31 | 9 | 8 | 14 | 31:40 | 35 |
| 14 | Crystal Palace | 30 | 9 | 6 | 15 | 36:41 | 33 |
| 15 | Brighton | 29 | 9 | 6 | 14 | 32:42 | 33 |
| 16 | Southampton | 30 | 7 | 9 | 14 | 34:50 | 30 |
| 17 | Burnley | 31 | 8 | 6 | 17 | 35:59 | 30 |
| 18 | Cardiff | 30 | 8 | 4 | 18 | 27:57 | 28 |
| 19 | Fulham | 31 | 4 | 5 | 22 | 29:70 | 17 |
| 20 | Huddersfield | 31 | 3 | 5 | 23 | 18:57 | 14 |