Newcastle v Wolverhampton Premier League betting preview and tips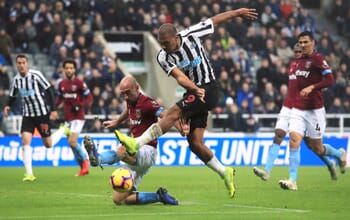 17:00 Sun 09 Dec
Football
Newcastle United go up against Wolverhampton Wanderers at St James' Park and it's hard to make a case for either of these similarly matched teams.
Newcastle might have enjoyed a mini-revival recently although they have still lost 75% of their matches at home this term, with West Ham, Brighton and Leicester among the teams who have claimed a maximum haul.
The other teams were Spurs, Arsenal and Chelsea, so it's hardly cause for concern, although the Magpies do only have a modest return of twelve points and that's enough for them to be peering over their shoulder.
Wolves have a few more points although it was a dismal October and November for Nuno Espirito Santo's team, with the 1-0 win away to Crystal Palace followed by a run of six games where just a point was garnered.
Perhaps things will improve for a side who got off to a flying start after enjoying promotion last term although the goals are proving hard to come by and the clean sheets have also started to dry up.
Having played Chelsea on Wednesday night, there is sure to be an element of fatigue setting in here, although it's similar for both sides and worth noting that a lot of these Wolves players were used to playing 46 games last season.
A draw would represent a good outcome for Wanderers and we can see this one ending all square, with both sides looking to bank points where they can and make sure they stay clear of the drop.
It appears that a low points total will be enough to stay in the top flight this season due to the large volume of teams scrapping away and that means draws are more valuable than ever before.
BETTING TIP
Draw @ 3.10 with bet365

All odds are correct at time of publishing and are subject to change
Published Dec 03, 2018, 16:18 by
Tony Thomas
Team News
Newcastle: 5-4-1 (Confirmed Line-ups)
Wolverhampton: 3-4-3 (Confirmed Line-ups)
Premier League
| # | Team | G | W | D | L | +/- | P |
| --- | --- | --- | --- | --- | --- | --- | --- |
| 1 | Liverpool | 34 | 26 | 7 | 1 | 77:20 | 85 |
| 2 | Manchester City | 33 | 27 | 2 | 4 | 86:22 | 83 |
| 3 | Tottenham | 33 | 22 | 1 | 10 | 64:34 | 67 |
| 4 | Arsenal | 33 | 20 | 6 | 7 | 66:40 | 66 |
| 5 | Chelsea | 34 | 20 | 6 | 8 | 57:36 | 66 |
| 6 | Manchester Unit | 33 | 19 | 7 | 7 | 63:44 | 64 |
| 7 | Leicester | 34 | 14 | 5 | 15 | 46:45 | 47 |
| 8 | Wolverhampton W | 33 | 13 | 8 | 12 | 41:42 | 47 |
| 9 | Everton | 34 | 13 | 7 | 14 | 46:44 | 46 |
| 10 | Watford | 33 | 13 | 7 | 13 | 47:48 | 46 |
| 11 | West Ham | 34 | 12 | 6 | 16 | 42:52 | 42 |
| 12 | Bournemouth | 34 | 12 | 5 | 17 | 49:61 | 41 |
| 13 | Crystal Palace | 34 | 11 | 6 | 17 | 40:46 | 39 |
| 14 | Burnley | 34 | 11 | 6 | 17 | 42:60 | 39 |
| 15 | Newcastle Unite | 34 | 10 | 8 | 16 | 32:43 | 38 |
| 16 | Southampton | 33 | 9 | 9 | 15 | 39:54 | 36 |
| 17 | Brighton | 33 | 9 | 6 | 18 | 32:53 | 33 |
| 18 | Cardiff | 34 | 9 | 4 | 21 | 30:63 | 31 |
| 19 | Fulham | 34 | 5 | 5 | 24 | 32:76 | 20 |
| 20 | Huddersfield | 34 | 3 | 5 | 26 | 19:67 | 14 |