Tottenham v Arsenal Premier League preview and tips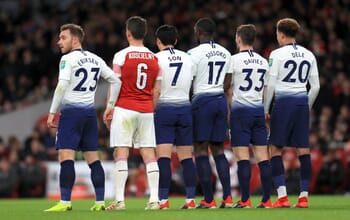 13:30 Sat 02 Mar
Football
Tottenham Hotspur can realistically no longer challenge for the Premier League title after a surprise 2-1 defeat at Burnley, with the Clarets stunning their London opponents and Spurs must now focus on making sure they remain in the top four.
Games don't come much bigger than north London derbies and Arsenal arrive at Wembley hoping to make sure of a Champions League place themselves, with Unai Emery's side having squeaked into the top four when beating Southampton last Sunday.
Arsenal's home form has been near flawless considering they have won eleven of fourteen matches at the Emirates including a 4-2 victory over Spurs where the Gunners produced arguably their finest performance of the campaign although they haven't always reached those highs.
Indeed, Emery's side have only won five times on the road and have actually conceded more goals away from home than they have scored, with the defence having creaked for most of the season.
Tottenham will feel confident that they can land revenge against their arch-rivals and it should be noted that Mauricio Pochettino's side did win at the Emirates in an EFL Cup clash since that previous defeat.
Spurs also have Harry Kane back at the helm and it was recently that the home team put Borussia Dortmund to the sword without him, with Kane looking to play a key role in this match and he was on the scoresheet at Turf Moor.
Dele Alli might not make this game in time although the form of Son Heung-Min has been outstanding and Spurs won't need to field their strongest team in Germany to make sure they get past Dortmund after establishing such a big first leg lead.
Arsenal have lost five times away from home in the Premier League and don't look like the sort of team who can shut up shop and execute a defensive game plan for ninety minutes.
BETTING TIP
Tottenham to win @ 1.95 with bet365

All odds are correct at time of publishing and are subject to change
Published Feb 25, 2019, 13:54 by
Tony Thomas
Team News
Tottenham: 3-5-2 (Confirmed Line-ups)
Arsenal: 4-2-3-1 (Confirmed Line-ups)
05

Sokratis Papastathopoulos
Premier League
| # | Team | G | W | D | L | +/- | P |
| --- | --- | --- | --- | --- | --- | --- | --- |
| 1 | Liverpool | 31 | 23 | 7 | 1 | 70:18 | 76 |
| 2 | Manchester City | 30 | 23 | 3 | 4 | 76:20 | 72 |
| 3 | Tottenham | 30 | 20 | 1 | 9 | 57:32 | 61 |
| 4 | Arsenal | 30 | 18 | 6 | 6 | 63:39 | 60 |
| 5 | Manchester Unit | 30 | 17 | 7 | 6 | 58:40 | 58 |
| 6 | Chelsea | 30 | 17 | 6 | 7 | 50:33 | 57 |
| 7 | Wolverhampton W | 30 | 12 | 8 | 10 | 38:36 | 44 |
| 8 | Watford | 30 | 12 | 7 | 11 | 42:44 | 43 |
| 9 | West Ham | 31 | 12 | 6 | 13 | 41:46 | 42 |
| 10 | Everton | 31 | 11 | 8 | 12 | 42:39 | 41 |
| 11 | Leicester | 31 | 12 | 5 | 14 | 40:43 | 41 |
| 12 | Bournemouth | 31 | 11 | 5 | 15 | 43:56 | 38 |
| 13 | Newcastle Unite | 31 | 9 | 8 | 14 | 31:40 | 35 |
| 14 | Crystal Palace | 30 | 9 | 6 | 15 | 36:41 | 33 |
| 15 | Brighton | 29 | 9 | 6 | 14 | 32:42 | 33 |
| 16 | Southampton | 30 | 7 | 9 | 14 | 34:50 | 30 |
| 17 | Burnley | 31 | 8 | 6 | 17 | 35:59 | 30 |
| 18 | Cardiff | 30 | 8 | 4 | 18 | 27:57 | 28 |
| 19 | Fulham | 31 | 4 | 5 | 22 | 29:70 | 17 |
| 20 | Huddersfield | 31 | 3 | 5 | 23 | 18:57 | 14 |