Tottenham v Chelsea Premier League betting preview and tips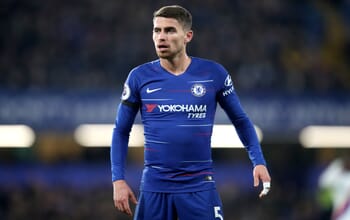 18:30 Sat 24 Nov
Football
It's hard to oppose Chelsea this season considering they will not be beaten in the Premier League and it's now twelve teams who have failed to claim a victory against them.
Maurizio Sarri's team are attack-minded but they're also capable of shutting down lively teams like Everton and Liverpool, with Manchester City the one team of note they are yet to face.
The Blues will certainly be tested when they head to Wembley for this intriguing London derby against a Tottenham side who sit just a point behind them in the standings at this stage.
Mauricio Pochettino's side have taken to the road in eight of their twelve top flight encounters and they've claimed seven away victories which simply cannot be knocked considering they have also been juggling European and EFL Cup obligations.
Not that Spurs will draw on pure home comforts at a Wembley Stadium which continues to act as a temporary base while the creases are smoothed out at the new White Hart Lane and it dilutes home advantage to a reasonable degree.
We're expecting an entertaining and even game between two teams who will both feel confident of landing a top four spot this season, especially with Manchester United and Arsenal currently in more of a state of flux.
Eden Hazard doesn't need an invitation to perform in these sort of games and it will be interesting to see if Marcos Alonso can offer the sort of threat that saw him close to breaking the deadlock several times against Everton in the last match.
Spurs will hope for Dele Alli and Christian Eriksen to make the requisite impact and the midfielders will be shackled by N'Golo Kante and Jorginho, with the draw looking like the most sensible bet.
Neither team will want to lose this clash and, as a result, there might be a little reluctance to bomb forward compared to normal standards.
BETTING TIP
Draw @ 3.40 with bet365

All odds are correct at time of publishing and are subject to change
Published Nov 12, 2018, 16:47 by
Tony Thomas
Team News
Tottenham: 4-2-3-1 (Confirmed Line-ups)
Chelsea: 4-3-3 (Confirmed Line-ups)
Premier League
| # | Team | G | W | D | L | +/- | P |
| --- | --- | --- | --- | --- | --- | --- | --- |
| 1 | Liverpool | 34 | 26 | 7 | 1 | 77:20 | 85 |
| 2 | Manchester City | 33 | 27 | 2 | 4 | 86:22 | 83 |
| 3 | Tottenham | 33 | 22 | 1 | 10 | 64:34 | 67 |
| 4 | Arsenal | 33 | 20 | 6 | 7 | 66:40 | 66 |
| 5 | Chelsea | 34 | 20 | 6 | 8 | 57:36 | 66 |
| 6 | Manchester Unit | 33 | 19 | 7 | 7 | 63:44 | 64 |
| 7 | Leicester | 34 | 14 | 5 | 15 | 46:45 | 47 |
| 8 | Wolverhampton W | 33 | 13 | 8 | 12 | 41:42 | 47 |
| 9 | Everton | 34 | 13 | 7 | 14 | 46:44 | 46 |
| 10 | Watford | 33 | 13 | 7 | 13 | 47:48 | 46 |
| 11 | West Ham | 34 | 12 | 6 | 16 | 42:52 | 42 |
| 12 | Bournemouth | 34 | 12 | 5 | 17 | 49:61 | 41 |
| 13 | Crystal Palace | 34 | 11 | 6 | 17 | 40:46 | 39 |
| 14 | Burnley | 34 | 11 | 6 | 17 | 42:60 | 39 |
| 15 | Newcastle Unite | 34 | 10 | 8 | 16 | 32:43 | 38 |
| 16 | Southampton | 33 | 9 | 9 | 15 | 39:54 | 36 |
| 17 | Brighton | 33 | 9 | 6 | 18 | 32:53 | 33 |
| 18 | Cardiff | 34 | 9 | 4 | 21 | 30:63 | 31 |
| 19 | Fulham | 34 | 5 | 5 | 24 | 32:76 | 20 |
| 20 | Huddersfield | 34 | 3 | 5 | 26 | 19:67 | 14 |