Watford v Fulham Premier League betting preview and tips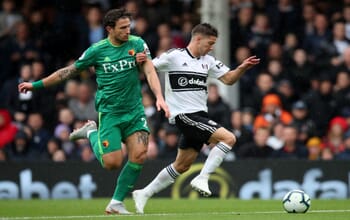 20:45 Tue 02 Apr
Football
We shouldn't pass up the opportunity to back Watford at a decent price, with the Hornets likely to enjoy a victory against a Fulham side who have lost fourteen of their sixteen away games this season.
The Cottagers are doomed and caretaker boss Scott Parker simply wants to restore some pride in playing for the shirt after the ill-fated reign of Claudio Ranieri failed to bring about an improvement in results.
Fulham have conceded forty goals on the road this season and it's a simple case of how motivated Watford will be for this particular match considering they have an FA Cup semi-final the following weekend.
Javi Gracia might make a few changes to his team as a result, although he'll also want to go into Sunday's Wembley showdown with three points on the board and Watford have won a respectable 50% of home encounters.
Defensively, they have been pretty sound in only conceding nineteen goals at Vicarage Road and it's the same number that they have managed to score, with Gracia looking to bolster attacking options in the summer.
Nevertheless, Watford tend to get the job done against the lesser teams at home, with Brighton, Palace, Spurs, Huddersfield, Cardiff, Everton and Leicester all beaten, while Palace were beaten a second time when the sides met in the FA Cup.
Fulham were fairly solid when losing 2-1 at home to Liverpool most recently, although they have lost their past seven matches at the time of writing and the defence are still conceding two or more goals in each game played.
You have to go back to a goalless draw at St James' Park on 22 December to find the last time that Fulham avoided defeat on the road, with six losses coming after that and we're expecting Watford to give their supporters a boost before making the short trip to Wembley Stadium this weekend.
BETTING TIP
Watford @ 1.70 with bet365

All odds are correct at time of publishing and are subject to change
Published Mar 27, 2019, 12:25 by
Tony Thomas
Team News
Watford: 4-4-2 (Confirmed Line-up)
Fulham: 3-4-3 (Confirmed Line-up)
Premier League - League Table
| # | Team | G | W | D | L | +/- | P |
| --- | --- | --- | --- | --- | --- | --- | --- |
| 1 | Liverpool | 34 | 26 | 7 | 1 | 77:20 | 85 |
| 2 | Manchester City | 33 | 27 | 2 | 4 | 86:22 | 83 |
| 3 | Tottenham | 33 | 22 | 1 | 10 | 64:34 | 67 |
| 4 | Arsenal | 33 | 20 | 6 | 7 | 66:40 | 66 |
| 5 | Chelsea | 34 | 20 | 6 | 8 | 57:36 | 66 |
| 6 | Manchester Unit | 33 | 19 | 7 | 7 | 63:44 | 64 |
| 7 | Leicester | 34 | 14 | 5 | 15 | 46:45 | 47 |
| 8 | Wolverhampton W | 33 | 13 | 8 | 12 | 41:42 | 47 |
| 9 | Everton | 34 | 13 | 7 | 14 | 46:44 | 46 |
| 10 | Watford | 33 | 13 | 7 | 13 | 47:48 | 46 |
| 11 | West Ham | 34 | 12 | 6 | 16 | 42:52 | 42 |
| 12 | Bournemouth | 34 | 12 | 5 | 17 | 49:61 | 41 |
| 13 | Crystal Palace | 34 | 11 | 6 | 17 | 40:46 | 39 |
| 14 | Burnley | 34 | 11 | 6 | 17 | 42:60 | 39 |
| 15 | Newcastle Unite | 34 | 10 | 8 | 16 | 32:43 | 38 |
| 16 | Southampton | 33 | 9 | 9 | 15 | 39:54 | 36 |
| 17 | Brighton | 33 | 9 | 6 | 18 | 32:53 | 33 |
| 18 | Cardiff | 34 | 9 | 4 | 21 | 30:63 | 31 |
| 19 | Fulham | 34 | 5 | 5 | 24 | 32:76 | 20 |
| 20 | Huddersfield | 34 | 3 | 5 | 26 | 19:67 | 14 |