Watford v Leicester Premier League betting preview and tips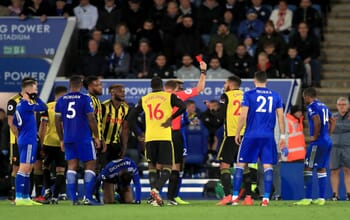 13:00 Sun 03 Mar
Football
Watford have aspirations to finish seventh in the Premier League and the Hornets look like a fantastic punting proposition to win at Vicarage Road on Sunday.
Javi Gracia's side are currently eight points better off than their opponents this weekend, with the Spaniard being rewarded for his sterling work by getting a handsome contract to continue managing the team.
At the time of writing, Watford have won their past three encounters and will look to follow up that magnificent 5-1 win away to Cardiff which showed that the team are playing quality football at the moment.
Gerard Deulofeu bagged a hat-trick in south Wales and Troy Deeney helped himself to two goals against the Bluebirds, with six of the last nine matches ended in victory and they could be facing Leicester at the right time.
While it appears that Brendan Rodgers' arrival at the King Power is imminent, Claude Puel has left the Midlands club and it appears that a new manager will need time to get this talented group of players looking like a quality team again.
Leicester have been in a rut recently, with six defeats in the previous seven games at the time of writing, with a draw at Anfield coming as a big surprise considering the malaise that is currently affecting the team.
Watford continue to demonstrate their ability to scrap out the match in the midfield department, with Abdoulaye Doucoure and Etienne Capoue particularly prominent in terms of winning the ball back.
Will Hughes and Roberto Pereyra provide the skill from wider positions and this could be a match where Deulofeu continues to produce that scoring touch against a team who can effectively write off this season.
BETTING TIP
Watford to win @ 2.20 with bet365

All odds are correct at time of publishing and are subject to change
Published Feb 26, 2019, 15:22 by
Tony Thomas
Team News
Watford: 4-4-2 (Confirmed Line-up)
Leicester: 3-4-2-1 (Confirmed Line-up)
Premier League - League Table
| # | Team | G | W | D | L | +/- | P |
| --- | --- | --- | --- | --- | --- | --- | --- |
| 1 | Liverpool | 34 | 26 | 7 | 1 | 77:20 | 85 |
| 2 | Manchester City | 33 | 27 | 2 | 4 | 86:22 | 83 |
| 3 | Tottenham | 33 | 22 | 1 | 10 | 64:34 | 67 |
| 4 | Arsenal | 33 | 20 | 6 | 7 | 66:40 | 66 |
| 5 | Chelsea | 34 | 20 | 6 | 8 | 57:36 | 66 |
| 6 | Manchester Unit | 33 | 19 | 7 | 7 | 63:44 | 64 |
| 7 | Leicester | 34 | 14 | 5 | 15 | 46:45 | 47 |
| 8 | Wolverhampton W | 33 | 13 | 8 | 12 | 41:42 | 47 |
| 9 | Everton | 34 | 13 | 7 | 14 | 46:44 | 46 |
| 10 | Watford | 33 | 13 | 7 | 13 | 47:48 | 46 |
| 11 | West Ham | 34 | 12 | 6 | 16 | 42:52 | 42 |
| 12 | Bournemouth | 34 | 12 | 5 | 17 | 49:61 | 41 |
| 13 | Crystal Palace | 34 | 11 | 6 | 17 | 40:46 | 39 |
| 14 | Burnley | 34 | 11 | 6 | 17 | 42:60 | 39 |
| 15 | Newcastle Unite | 34 | 10 | 8 | 16 | 32:43 | 38 |
| 16 | Southampton | 33 | 9 | 9 | 15 | 39:54 | 36 |
| 17 | Brighton | 33 | 9 | 6 | 18 | 32:53 | 33 |
| 18 | Cardiff | 34 | 9 | 4 | 21 | 30:63 | 31 |
| 19 | Fulham | 34 | 5 | 5 | 24 | 32:76 | 20 |
| 20 | Huddersfield | 34 | 3 | 5 | 26 | 19:67 | 14 |