Watford
v

Man City Betting Tips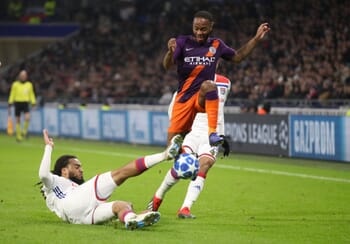 21:00 Tue 04 Dec
Football
Tip: City win to nil
Units: 1/5
Watford have drawn the short straw on Tuesday night when hosting a Manchester City team who are purring nicely under Pep Guardiola this season and looking ruthless every time they take to the playing field in the Premier League.
Team news | League Table | Odds
The Hornets lost this fixture 6-0 last season and Javi Gracia will look for his team to be defensively solid, with the home side actually holding Liverpool for most of a recent match at Vicarage Road before caving in to eventually lost 3-0.
It's clear that City are finding a new level this season which is even more impressive considering that Kevin de Bruyne has barely played and that the team can be missing Bernardo Silva, Leroy Sane and Raheem Sterling yet still rack up the goals.
What's likeable about the team is the central defensive partnership being formed by John Stones and Aymeric Laporte. It's bizarre that the latter hasn't had an international call-up for France yet although that is surely on the cards.
City are crushing teams at the moment and they're also running a tight ship, with Fernandinho the master defensive midfielder who seems to get away with tactical fouls every game and this should be a combustible affair when he goes up against Etienne Capoue.
The way that City move the ball around slickly is a joy to watch and Watford could become the latest team to chase shadows. You can get odds-against that City triumph without conceding and the home side could be running into brick walls for most of the match.
BETTING TIP
Manchester City win to nil @ 2.20 with bet365

Team News
Confirmed Line-up: Watford - Manchester City
Watford
: 4-4-2 (Confirmed Line-up)
Manchester City
: 4-3-3 (Confirmed Line-up)
Watford
4-4-2
Manchester City
4-3-3
Premier League
- League Table
| # | Team | G | W | D | L | +/- | P |
| --- | --- | --- | --- | --- | --- | --- | --- |
| 1 | Arsenal | 0 | 0 | 0 | 0 | 0:0 | 0 |
| 2 | Aston Villa | 0 | 0 | 0 | 0 | 0:0 | 0 |
| 3 | Chelsea | 0 | 0 | 0 | 0 | 0:0 | 0 |
| 4 | Everton | 0 | 0 | 0 | 0 | 0:0 | 0 |
| 5 | Liverpool | 0 | 0 | 0 | 0 | 0:0 | 0 |
| 6 | Manchester City | 0 | 0 | 0 | 0 | 0:0 | 0 |
| 7 | Manchester Unit | 0 | 0 | 0 | 0 | 0:0 | 0 |
| 8 | Newcastle Unite | 0 | 0 | 0 | 0 | 0:0 | 0 |
| 9 | Tottenham | 0 | 0 | 0 | 0 | 0:0 | 0 |
| 10 | West Ham | 0 | 0 | 0 | 0 | 0:0 | 0 |
| 11 | Burnley | 0 | 0 | 0 | 0 | 0:0 | 0 |
| 12 | Crystal Palace | 0 | 0 | 0 | 0 | 0:0 | 0 |
| 13 | Leicester | 0 | 0 | 0 | 0 | 0:0 | 0 |
| 14 | Norwich | 0 | 0 | 0 | 0 | 0:0 | 0 |
| 15 | Sheffield Unite | 0 | 0 | 0 | 0 | 0:0 | 0 |
| 16 | Southampton | 0 | 0 | 0 | 0 | 0:0 | 0 |
| 17 | Watford | 0 | 0 | 0 | 0 | 0:0 | 0 |
| 18 | Wolverhampton W | 0 | 0 | 0 | 0 | 0:0 | 0 |
| 19 | Bournemouth | 0 | 0 | 0 | 0 | 0:0 | 0 |
| 20 | Brighton | 0 | 0 | 0 | 0 | 0:0 | 0 |