Wolverhampton v Brighton Premier League betting preview and tips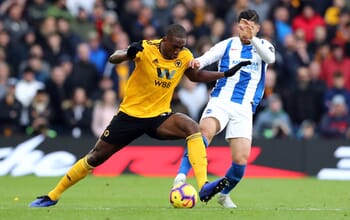 16:00 Sat 20 Apr
Football
It's hard to calculate the type of long-lasting effect that an FA Cup semi-final defeat might have on Wolverhampton Wanderers, especially one which saw the Midlands side take a 2-0 lead before succumbing to Watford in extra-time.
While Wolves have enjoyed an excellent campaign since getting promoted from the Championship, Nuno's side need to pick themselves up and aim to finish the season strongly, with the Wanderers entertaining a Brighton side who are scrapping away and looking for precious points.
While Wolves sit in eighth place, they haven't earned a reputation for being flat-track bullies at Molineux, with last season's Championship title winners having dropped points in 50% of their matches at home despite beating Manchester United and Chelsea.
However, they are a strong team who are defensively stout and Wolves will be up against a Brighton team who have struggled on the road since getting promotion to the Premier League two seasons ago.
Raul Jimenez has recently signed permanently and is looking sharp in front of goal, with Diogo Jota also a tricky customer and the home side offer a much sharper cutting-edge in attack than their opponents.
Chris Hughton's side look as though they'll hoard enough points to remain a Premier League entity for another season, although it has been eleven defeats away from home for a Seagulls team who were also beaten in an FA Cup semi recently.
In truth, Brighton could barely lay a glove on Manchester City in that particular match and won't have been half as disappointed as their opposite number, although Albion have averaged less than one goal per away game this term.
The Sussex team were recently beaten without reply against Southampton and Chelsea, while they also trailed Millwall by two goals in an FA Cup encounter before somehow managing to take the game into extra-time.
BETTING TIP
Wolves @ 1.75 with bet365

All odds are correct at time of publishing and are subject to change
Published Apr 08, 2019, 17:12 by
Tony Thomas
Team News
Wolverhampton: 3-5-2 (Confirmed Line-up)
Brighton: 4-3-3 (Confirmed Line-up)
Premier League - League Table
| # | Team | G | W | D | L | +/- | P |
| --- | --- | --- | --- | --- | --- | --- | --- |
| 1 | Liverpool | 34 | 26 | 7 | 1 | 77:20 | 85 |
| 2 | Manchester City | 33 | 27 | 2 | 4 | 86:22 | 83 |
| 3 | Tottenham | 33 | 22 | 1 | 10 | 64:34 | 67 |
| 4 | Arsenal | 33 | 20 | 6 | 7 | 66:40 | 66 |
| 5 | Chelsea | 34 | 20 | 6 | 8 | 57:36 | 66 |
| 6 | Manchester Unit | 33 | 19 | 7 | 7 | 63:44 | 64 |
| 7 | Leicester | 34 | 14 | 5 | 15 | 46:45 | 47 |
| 8 | Wolverhampton W | 33 | 13 | 8 | 12 | 41:42 | 47 |
| 9 | Everton | 34 | 13 | 7 | 14 | 46:44 | 46 |
| 10 | Watford | 33 | 13 | 7 | 13 | 47:48 | 46 |
| 11 | West Ham | 34 | 12 | 6 | 16 | 42:52 | 42 |
| 12 | Bournemouth | 34 | 12 | 5 | 17 | 49:61 | 41 |
| 13 | Crystal Palace | 34 | 11 | 6 | 17 | 40:46 | 39 |
| 14 | Burnley | 34 | 11 | 6 | 17 | 42:60 | 39 |
| 15 | Newcastle Unite | 34 | 10 | 8 | 16 | 32:43 | 38 |
| 16 | Southampton | 33 | 9 | 9 | 15 | 39:54 | 36 |
| 17 | Brighton | 33 | 9 | 6 | 18 | 32:53 | 33 |
| 18 | Cardiff | 34 | 9 | 4 | 21 | 30:63 | 31 |
| 19 | Fulham | 34 | 5 | 5 | 24 | 32:76 | 20 |
| 20 | Huddersfield | 34 | 3 | 5 | 26 | 19:67 | 14 |