Wolverhampton v Everton Premier League betting preview and tips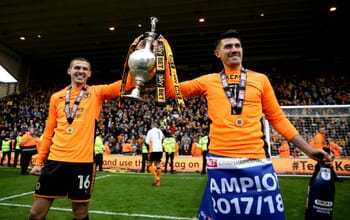 18:30 Sat 11 Aug
Football
Wolves begin life in the Premier League with a clash against an Everton side now managed by Marco Silva.
Wolverhampton Wanderers romped to a Championship victory last season, with the Midlands side clearly the outstanding team in the division despite opening at odds of 16/1 at the start of the season.
Nuno Espirito Santo will now hope that his team can make an impact in the Premier League, with the Portuguese able to hold on to star players such as Diogo Jota and Ruben Neves, while Rui Patricio has also arrived to play between the sticks.
Many are expecting Wolves to be top half material this season and this is a tricky opening clash for an Everton side who are targeting the top six this term after a tricky previous campaign which saw Ronald Koeman leave early.
Sam Allardyce was able to steady the ship although his stint at Goodison Park was always unlikely to continue beyond the end of the season, with Marco Silva now looking to create a new legacy with the Toffees.
The Merseyside team will hope that Jordan Pickford continues to impress as a goalkeeper between the sticks, while plenty will be expected to come from Cenk Tosun, Michael Keane and Mason Holgate.
Wolves are an unknown quantity at this level and they look a bit short in the betting considering that Everton will know that they can weather the storm and create chances of their own.
We wouldn't be surprised to see Wanderers race into a lead only for the visitors to peg them back and it should be noted that Wolves failed to win seven of their games at Molineux last term.
BETTING TIP
Draw @ 3.30 with BetVictor


All odds are correct at time of publishing and are subject to change
Published Jul 16, 2018, 16:44 by
Tony Thomas
Team News
Wolverhampton: 3-4-3 (Confirmed Line-ups)
Everton: 4-2-3-1 (Confirmed Line-ups)
Premier League
| # | Team | G | W | D | L | +/- | P |
| --- | --- | --- | --- | --- | --- | --- | --- |
| 1 | Liverpool | 31 | 23 | 7 | 1 | 70:18 | 76 |
| 2 | Manchester City | 30 | 23 | 3 | 4 | 76:20 | 72 |
| 3 | Tottenham | 30 | 20 | 1 | 9 | 57:32 | 61 |
| 4 | Arsenal | 30 | 18 | 6 | 6 | 63:39 | 60 |
| 5 | Manchester Unit | 30 | 17 | 7 | 6 | 58:40 | 58 |
| 6 | Chelsea | 30 | 17 | 6 | 7 | 50:33 | 57 |
| 7 | Wolverhampton W | 30 | 12 | 8 | 10 | 38:36 | 44 |
| 8 | Watford | 30 | 12 | 7 | 11 | 42:44 | 43 |
| 9 | West Ham | 31 | 12 | 6 | 13 | 41:46 | 42 |
| 10 | Everton | 31 | 11 | 8 | 12 | 42:39 | 41 |
| 11 | Leicester | 31 | 12 | 5 | 14 | 40:43 | 41 |
| 12 | Bournemouth | 31 | 11 | 5 | 15 | 43:56 | 38 |
| 13 | Newcastle Unite | 31 | 9 | 8 | 14 | 31:40 | 35 |
| 14 | Crystal Palace | 30 | 9 | 6 | 15 | 36:41 | 33 |
| 15 | Brighton | 29 | 9 | 6 | 14 | 32:42 | 33 |
| 16 | Southampton | 30 | 7 | 9 | 14 | 34:50 | 30 |
| 17 | Burnley | 31 | 8 | 6 | 17 | 35:59 | 30 |
| 18 | Cardiff | 30 | 8 | 4 | 18 | 27:57 | 28 |
| 19 | Fulham | 31 | 4 | 5 | 22 | 29:70 | 17 |
| 20 | Huddersfield | 31 | 3 | 5 | 23 | 18:57 | 14 |