Wolverhampton
v

Huddersfield Betting Tips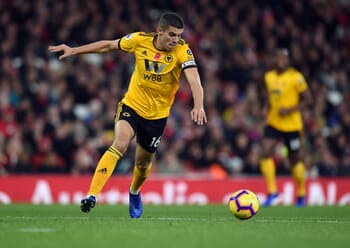 17:00 Sun 25 Nov
Football
Tip: Wolves win to nil
Units: 1/5

Bet Now!
Wolverhampton Wanderers enjoyed such a strong start to the season that onlookers started to consider them part of the Premier League furniture although we should temper this with the fact that they are still finding their feet.
Team news | League Table | Odds
It explains why they can hold the mighty Manchester City to a draw but lose at home to Watford and Nuno's team only recently ended a three-match losing run when claiming a 1-1 draw at the Emirates Stadium.
It's possible that Wolves will be more comfortable in matches against the big teams in the Premier League this season considering that City, United and Arsenal have all been denied and Spurs ended up scraping home 3-2 at Molineux.
This is the sort of fixture where Wanderers have been priced up pretty short to beat a team who have the advantage of an extra season's experience in the top flight and Huddersfield are always hard to write off when David Wagner is so effective with his tactics.
Wolves are only 2-2-2 at Molineux, with Burnley and Southampton the only sides beaten and the Saints actually had the better chances in the latter game before succumbing to two late goals.
The issue is that they don't score enough goals and there was profligacy against the Gunners when the game was there for the taking, with the Terriers looking to set up defensively strong.
Town claimed a recent 1-0 win over Fulham, with this scoreline followed by a 1-1 draw against West Ham and they're building up a head of steam which means that the visitors will be tough to break down.
However, their lack of goals on the road is a concern and just four have been scored in five away matches, with Wolves remaining defensively solid for the most part and capable of claiming victory without conceding.
BETTING TIP
Wolves win to nil @ 2.10 with bet365

All odds are correct at time of publishing and are subject to change
Team News
Wolverhampton Wanderers: 3-4-3 (Confirmed Line-up)
Huddersfield: 3-5-1-1 (Confirmed Line-up)
Premier League - League Table
| # | Team | G | W | D | L | +/- | P |
| --- | --- | --- | --- | --- | --- | --- | --- |
| 1 | Manchester City | 38 | 32 | 2 | 4 | 95:23 | 98 |
| 2 | Liverpool | 38 | 30 | 7 | 1 | 89:22 | 97 |
| 3 | Chelsea | 38 | 21 | 9 | 8 | 63:39 | 72 |
| 4 | Tottenham | 38 | 23 | 2 | 13 | 67:39 | 71 |
| 5 | Arsenal | 38 | 21 | 7 | 10 | 73:51 | 70 |
| 6 | Manchester Unit | 38 | 19 | 9 | 10 | 65:54 | 66 |
| 7 | Wolverhampton W | 38 | 16 | 9 | 13 | 47:46 | 57 |
| 8 | Everton | 38 | 15 | 9 | 14 | 54:46 | 54 |
| 9 | Leicester | 38 | 15 | 7 | 16 | 51:48 | 52 |
| 10 | West Ham | 38 | 15 | 7 | 16 | 52:55 | 52 |
| 11 | Watford | 38 | 14 | 8 | 16 | 52:59 | 50 |
| 12 | Crystal Palace | 38 | 14 | 7 | 17 | 51:53 | 49 |
| 13 | Newcastle Unite | 38 | 12 | 9 | 17 | 42:48 | 45 |
| 14 | Bournemouth | 38 | 13 | 6 | 19 | 56:70 | 45 |
| 15 | Burnley | 38 | 11 | 7 | 20 | 45:68 | 40 |
| 16 | Southampton | 38 | 9 | 12 | 17 | 45:65 | 39 |
| 17 | Brighton | 38 | 9 | 9 | 20 | 35:60 | 36 |
| 18 | Cardiff | 38 | 10 | 4 | 24 | 34:69 | 34 |
| 19 | Fulham | 38 | 7 | 5 | 26 | 34:81 | 26 |
| 20 | Huddersfield | 38 | 3 | 7 | 28 | 22:76 | 16 |