Wolverhampton v Man Utd Premier League betting preview and tips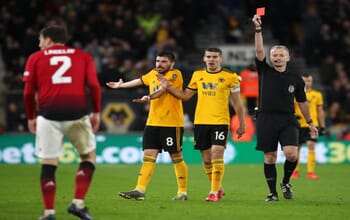 20:45 Tue 02 Apr
Football
After seeing Wolverhampton Wanderers deservedly beat Manchester United in the FA Cup quarter finals, we're slightly surprised to find Nuno's team at a very backable price to win this Premier League encounter at Molineux.
After all, we're likely to see the same kind of teams lining up for this Premier League encounter and Wolves have demonstrated throughout the 2018/19 campaign that they are more than a match for the big teams when it comes to playing home and away.
Raul Jimenez and Diogo Jota are both in excellent form and there is plenty of defensive nous, with several fans calling for Conor Coady to be called up for England, while Ryan Bennett and Willy Boly complete the three-man central defence.
Manchester United have certainly been resuscitated under Ole Gunnar Solskjaer, although they have the small matter of Barcelona in the Champions League and there have been cracks appearing recently after defeats against Arsenal and Wolves.
Player for player, the Red Devils are clearly a stronger team although they are prone to defensive lapses and simply don't have that strong a rearguard operating in front of the usually unflappable David de Gea.
In midfield, Paul Pogba and Jesse Lingard are class moving forward, although Ander Herrera and Nemanja Matic are fairly basic from a technical point-of-view and we might see Wolves create enough chances to win this clash.
The teams played out a 1-1 draw at Old Trafford earlier this season which was regarded as a shock result at the time, although the bottom line is that there are only fourteen points between the sides as we near the end of the campaign.
United have lost five times away from home this season and we're happy to get with Wolves to once again serve it up to opponents who have much better attacking players than defensive ones.
BETTING TIP
Wolves @ 3.50 with bet365

All odds are correct at time of publishing and are subject to change
Published Mar 20, 2019, 16:01 by
Tony Thomas
Team News
Wolverhampton: 3-5-2 (Confirmed Line-up)
Man Utd: 4-3-3 (Confirmed Line-up)
02

Victor Nilsson-Lindelof
Premier League - League Table
| # | Team | G | W | D | L | +/- | P |
| --- | --- | --- | --- | --- | --- | --- | --- |
| 1 | Liverpool | 34 | 26 | 7 | 1 | 77:20 | 85 |
| 2 | Manchester City | 33 | 27 | 2 | 4 | 86:22 | 83 |
| 3 | Tottenham | 33 | 22 | 1 | 10 | 64:34 | 67 |
| 4 | Arsenal | 33 | 20 | 6 | 7 | 66:40 | 66 |
| 5 | Chelsea | 34 | 20 | 6 | 8 | 57:36 | 66 |
| 6 | Manchester Unit | 33 | 19 | 7 | 7 | 63:44 | 64 |
| 7 | Leicester | 34 | 14 | 5 | 15 | 46:45 | 47 |
| 8 | Wolverhampton W | 33 | 13 | 8 | 12 | 41:42 | 47 |
| 9 | Everton | 34 | 13 | 7 | 14 | 46:44 | 46 |
| 10 | Watford | 33 | 13 | 7 | 13 | 47:48 | 46 |
| 11 | West Ham | 34 | 12 | 6 | 16 | 42:52 | 42 |
| 12 | Bournemouth | 34 | 12 | 5 | 17 | 49:61 | 41 |
| 13 | Crystal Palace | 34 | 11 | 6 | 17 | 40:46 | 39 |
| 14 | Burnley | 34 | 11 | 6 | 17 | 42:60 | 39 |
| 15 | Newcastle Unite | 34 | 10 | 8 | 16 | 32:43 | 38 |
| 16 | Southampton | 33 | 9 | 9 | 15 | 39:54 | 36 |
| 17 | Brighton | 33 | 9 | 6 | 18 | 32:53 | 33 |
| 18 | Cardiff | 34 | 9 | 4 | 21 | 30:63 | 31 |
| 19 | Fulham | 34 | 5 | 5 | 24 | 32:76 | 20 |
| 20 | Huddersfield | 34 | 3 | 5 | 26 | 19:67 | 14 |