Wolverhampton v Watford Premier League betting preview and tips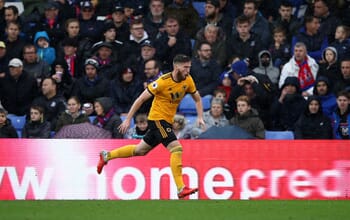 16:00 Sat 20 Oct
Football
Wolverhampton Wanderers were around 16/1 to win the Championship title last season and promptly swept all before them. Nuno has recruited further ahead of a Premier League campaign and the Midlands side go from strength to strength.
Some might think that the Wolves bubble will eventually burst but perhaps they are top half of the table material and they already have fifteen points on the board after eight games played.
The run of games haven't been too difficult although Wanderers have held Manchester City at home and Manchester United away, with the three-man central defence looking sturdy and recently enjoying clean sheets against Southampton and Crystal Palace.
This looks like a good time to be playing Watford considering that the visitors' form has well and truly fallen off a cliff in recent weeks. After a winning start and four consecutive victories on the board, there has been one draw and three defeats.
Javi Gracia admits that his team didn't perform to the right level at home to Bournemouth before the international break as the visitors ran riot and recorded a 4-0 victory against a side whose confidence has started to ebb away.
Watford haven't kept a clean sheet since the opening day and have now gone nearly three Premier League games without a goal, suggesting that more creativity is required despite the appearance of Pereyra and Hughes.
The visitors would be happy with a draw out of this one and might adopt a defensive strategy but we're confident that Wolves can find a way to win before the final whistle is blown.
BETTING TIP
Wolves to win @ 1.83 with bet365

All odds are correct at time of publishing and are subject to change
Published Oct 12, 2018, 08:09 by
Tony Thomas
Team News
Wolverhampton: 3-4-3 (Confirmed Line-ups)
Watford: 4-2-3-1 (Confirmed Line-ups)
Premier League
| # | Team | G | W | D | L | +/- | P |
| --- | --- | --- | --- | --- | --- | --- | --- |
| 1 | Liverpool | 31 | 23 | 7 | 1 | 70:18 | 76 |
| 2 | Manchester City | 30 | 23 | 3 | 4 | 76:20 | 72 |
| 3 | Tottenham | 30 | 20 | 1 | 9 | 57:32 | 61 |
| 4 | Arsenal | 30 | 18 | 6 | 6 | 63:39 | 60 |
| 5 | Manchester Unit | 30 | 17 | 7 | 6 | 58:40 | 58 |
| 6 | Chelsea | 30 | 17 | 6 | 7 | 50:33 | 57 |
| 7 | Wolverhampton W | 30 | 12 | 8 | 10 | 38:36 | 44 |
| 8 | Watford | 30 | 12 | 7 | 11 | 42:44 | 43 |
| 9 | West Ham | 31 | 12 | 6 | 13 | 41:46 | 42 |
| 10 | Everton | 31 | 11 | 8 | 12 | 42:39 | 41 |
| 11 | Leicester | 31 | 12 | 5 | 14 | 40:43 | 41 |
| 12 | Bournemouth | 31 | 11 | 5 | 15 | 43:56 | 38 |
| 13 | Newcastle Unite | 31 | 9 | 8 | 14 | 31:40 | 35 |
| 14 | Crystal Palace | 30 | 9 | 6 | 15 | 36:41 | 33 |
| 15 | Brighton | 29 | 9 | 6 | 14 | 32:42 | 33 |
| 16 | Southampton | 30 | 7 | 9 | 14 | 34:50 | 30 |
| 17 | Burnley | 31 | 8 | 6 | 17 | 35:59 | 30 |
| 18 | Cardiff | 30 | 8 | 4 | 18 | 27:57 | 28 |
| 19 | Fulham | 31 | 4 | 5 | 22 | 29:70 | 17 |
| 20 | Huddersfield | 31 | 3 | 5 | 23 | 18:57 | 14 |