DraftKings - THE LEADING FANTASY SPORTS SITE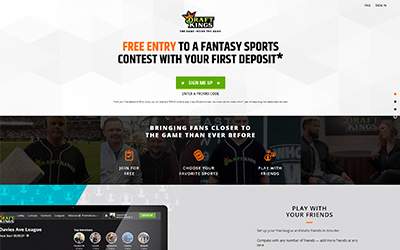 DraftKings was born in America, with this operator proving popular for sports fans wanting to compete against each other across sports like American football, baseball, basketball and hockey. They have now created a UK and European-facing site which specialises in giving football fans a chance to compete.

How Do You Play?
Firstly, you need to register an account with DraftKings, something which is completely free of charge. You can then head to the lobby and choose a game to play, some of which have a guaranteed prize pool and some which have a non-guaranteed prize pool.
Like online poker, there is a buy-in or entry fee to play a particular game. That money goes into a pot which then distributes prize money to the best performing players of that particular game.

What games can I play?

As you'll see from the lobby, you have a wide variety of available games which are in order of starting time. Some of the entry fees are as little as $4 while there are also high-roller tournaments and total prize funds which can be as big as £1 million.

The tournaments cover a range of different sports and you can click on each game to get more information, along with the full rules and scoring. It's worth playing a small stakes tournament to familiarise yourself with how it works.

What promotions are available?

When you have made a first deposit with DraftKings, you can then enjoy a free entry to a paid contest. There is no season-long commitment to playing any game and DraftKings have paid over $3 billion in cash prizes since they were founded.

More reasons to join DraftKings

You can play one-day Fantasy Football with DraftKings, with players given a fictional salary cap of $50,000 that can be used to draft an eight-player team. Once you have selected your team, you then score points for various things like goals, assists, clean sheets and shots on goal.

You can also create your own contest between friends should you want to have a private tournament, with everyone putting a stake into the pot and then playing for prizes.