Team news including fixtures & standings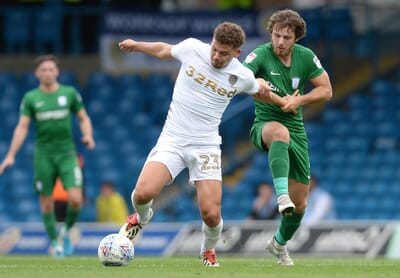 The English Championship is a competitive division, with two teams getting automatically promoted to the Premier League, while the teams in the next four positions enter the play-offs at the end of the season.
Three teams are relegated to League One in May and you can find the latest Championship standings at SportsGambler.com where teams jostle for positions in their bid to finish as high up the table as possible.
Each Championship team plays forty-six matches throughout the season and we present the latest fixtures for this division. You can also get the latest results which can be used as a form guide along with the latest standings as several teams challenge for promotion each campaign.

Championship
Fixtures & Standings
FIXTURES
Friday 03 August 2018
Saturday 04 August 2018
Wigan

3 - 2

Sheffield Wednesday

West Bromwich

1 - 2

Bolton

Preston

1 - 0

Queens Park Rangers

Millwall

2 - 2

Middlesbrough

Ipswich

2 - 2

Blackburn

Bristol City

1 - 1

Nottingham Forest

Brentford

5 - 1

Rotherham

Birmingham

2 - 2

Norwich

Sheffield United

1 - 2

Swansea
Sunday 05 August 2018
Monday 06 August 2018
Tuesday 07 August 2018
Nottingham Forest

1 - 1

West Bromwich

Middlesbrough

3 - 0

Sheffield United
Saturday 11 August 2018
Norwich

3 - 4

West Bromwich

Middlesbrough

1 - 0

Birmingham

Bolton

2 - 2

Bristol City

Blackburn

0 - 0

Millwall

Swansea

1 - 0

Preston

Aston Villa

3 - 2

Wigan

Stoke

1 - 1

Brentford

Sheffield Wednesday

1 - 1

Hull

Rotherham

1 - 0

Ipswich

Queens Park Rangers

1 - 2

Sheffield United

Nottingham Forest

1 - 0

Reading

Derby

1 - 4

Leeds
Friday 17 August 2018
Saturday 18 August 2018
Millwall

2 - 1

Derby

Leeds

2 - 0

Rotherham

Ipswich

1 - 1

Aston Villa

Hull

0 - 1

Blackburn

Bristol City

0 - 2

Middlesbrough

Wigan

2 - 2

Nottingham Forest

West Bromwich

7 - 1

Queens Park Rangers

Sheffield United

2 - 1

Norwich

Reading

0 - 1

Bolton

Preston

2 - 2

Stoke
Sunday 19 August 2018
Brentford

2 - 0

Sheffield Wednesday
Tuesday 21 August 2018
Swansea

2 - 2

Leeds

Rotherham

2 - 3

Hull

Queens Park Rangers

0 - 3

Bristol City

Derby

2 - 0

Ipswich
Wednesday 22 August 2018
Norwich

2 - 0

Preston

Blackburn

2 - 2

Reading

Aston Villa

2 - 2

Brentford

Sheffield Wednesday

2 - 1

Millwall

Stoke

0 - 3

Wigan

Bolton

1 - 0

Birmingham
Friday 24 August 2018
Middlesbrough

1 - 0

West Bromwich
Saturday 25 August 2018
Derby

2 - 0

Preston

Bolton

0 - 3

Sheffield United

Blackburn

1 - 0

Brentford

Swansea

0 - 1

Bristol City

Aston Villa

1 - 1

Reading

Stoke

2 - 0

Hull

Sheffield Wednesday

2 - 1

Ipswich

Queens Park Rangers

1 - 0

Wigan

Norwich

0 - 3

Leeds

Nottingham Forest

2 - 2

Birmingham
Sunday 26 August 2018
Friday 31 August 2018
Leeds

0 - 0

Middlesbrough
Saturday 01 September 2018
Brentford

2 - 1

Nottingham Forest

Wigan

1 - 0

Rotherham

Birmingham

0 - 0

Queens Park Rangers

West Bromwich

2 - 1

Stoke

Sheffield United

4 - 1

Aston Villa

Reading

1 - 2

Sheffield Wednesday

Preston

2 - 2

Bolton

Hull

1 - 2

Derby

Millwall

1 - 2

Swansea
Sunday 02 September 2018
Ipswich

1 - 1

Norwich

Bristol City

4 - 1

Blackburn
Friday 14 September 2018
Birmingham

1 - 1

West Bromwich
Saturday 15 September 2018
Preston

2 - 3

Reading

Norwich

1 - 0

Middlesbrough

Millwall

1 - 1

Leeds

Hull

2 - 0

Ipswich

Bristol City

1 - 0

Sheffield United

Brentford

2 - 0

Wigan

Bolton

1 - 2

Queens Park Rangers

Swansea

0 - 0

Nottingham Forest

Sheffield Wednesday

2 - 2

Stoke

Rotherham

1 - 0

Derby

Blackburn

1 - 1

Aston Villa
Tuesday 18 September 2018
Ipswich

1 - 1

Brentford

Aston Villa

2 - 0

Rotherham

Wigan

2 - 1

Hull

Leeds

3 - 0

Preston

Derby

0 - 0

Blackburn

West Bromwich

4 - 2

Bristol City

Stoke

1 - 0

Swansea
Wednesday 19 September 2018
Sheffield United

0 - 0

Birmingham

Queens Park Rangers

2 - 0

Millwall

Nottingham Forest

2 - 1

Sheffield Wednesday

Middlesbrough

2 - 0

Bolton

Reading

1 - 2

Norwich
Friday 21 September 2018
Saturday 22 September 2018
Nottingham Forest

1 - 0

Rotherham

Middlesbrough

0 - 0

Swansea

Leeds

1 - 2

Birmingham

Ipswich

0 - 0

Bolton

Derby

3 - 1

Brentford

Aston Villa

1 - 2

Sheffield Wednesday

West Bromwich

2 - 0

Millwall

Stoke

2 - 3

Blackburn

Sheffield United

3 - 2

Preston

Reading

3 - 0

Hull

Queens Park Rangers

0 - 1

Norwich
Friday 28 September 2018
Bristol City

1 - 1

Aston Villa

Sheffield Wednesday

1 - 1

Leeds
Saturday 29 September 2018
Preston

2 - 3

West Bromwich

Norwich

1 - 0

Wigan

Millwall

2 - 3

Sheffield United

Hull

1 - 1

Middlesbrough

Brentford

2 - 2

Reading

Bolton

1 - 0

Derby

Blackburn

2 - 2

Nottingham Forest

Swansea

3 - 0

Queens Park Rangers

Birmingham

2 - 2

Ipswich

Rotherham

2 - 2

Stoke
Tuesday 02 October 2018
Ipswich

0 - 2

Middlesbrough

Brentford

1 - 1

Birmingham

Aston Villa

3 - 3

Preston

Hull

0 - 1

Leeds

Wigan

0 - 0

Swansea

Stoke

2 - 0

Bolton

Reading

0 - 1

Queens Park Rangers
Wednesday 03 October 2018
Sheffield Wednesday

2 - 2

West Bromwich

Rotherham

0 - 0

Bristol City

Nottingham Forest

2 - 2

Millwall

Derby

1 - 1

Norwich

Blackburn

0 - 2

Sheffield United
Saturday 06 October 2018
Leeds

1 - 1

Brentford

Birmingham

3 - 1

Rotherham

Swansea

2 - 3

Ipswich

Sheffield United

1 - 0

Hull

Queens Park Rangers

1 - 1

Derby

Preston

4 - 0

Wigan

Norwich

0 - 1

Stoke

Millwall

2 - 1

Aston Villa

Middlesbrough

0 - 2

Nottingham Forest

West Bromwich

4 - 1

Reading

Bolton

0 - 1

Blackburn
Sunday 07 October 2018
Bristol City

1 - 2

Sheffield Wednesday
Friday 19 October 2018
Sheffield Wednesday

1 - 2

Middlesbrough
Saturday 20 October 2018
Blackburn

2 - 1

Leeds

Brentford

0 - 1

Bristol City

Aston Villa

1 - 0

Swansea

Hull

1 - 1

Preston

Wigan

1 - 0

West Bromwich

Stoke

0 - 1

Birmingham

Rotherham

1 - 1

Bolton

Reading

3 - 1

Millwall

Nottingham Forest

1 - 2

Norwich

Ipswich

0 - 2

Queens Park Rangers

Derby

2 - 1

Sheffield United
Tuesday 23 October 2018
Birmingham

2 - 1

Reading

Queens Park Rangers

3 - 0

Sheffield Wednesday

Norwich

2 - 1

Aston Villa

Millwall

2 - 1

Wigan

Middlesbrough

0 - 0

Rotherham

Swansea

3 - 1

Blackburn

Sheffield United

1 - 1

Stoke
Wednesday 24 October 2018
Preston

4 - 3

Brentford

Leeds

2 - 0

Ipswich

Bristol City

1 - 0

Hull

Bolton

0 - 3

Nottingham Forest

West Bromwich

1 - 4

Derby
Friday 26 October 2018
Queens Park Rangers

1 - 0

Aston Villa
Saturday 27 October 2018
Middlesbrough

1 - 1

Derby

Bristol City

0 - 1

Stoke

Bolton

0 - 1

Hull

Birmingham

3 - 1

Sheffield Wednesday

Swansea

2 - 0

Reading

Sheffield United

4 - 2

Wigan

Preston

1 - 1

Rotherham

Norwich

1 - 0

Brentford

Millwall

3 - 0

Ipswich

West Bromwich

1 - 1

Blackburn

Leeds

1 - 1

Nottingham Forest
Friday 02 November 2018
Saturday 03 November 2018
Sheffield Wednesday

0 - 4

Norwich

Rotherham

2 - 1

Swansea

Reading

3 - 2

Bristol City

Nottingham Forest

1 - 0

Sheffield United

Ipswich

1 - 1

Preston

Hull

1 - 0

West Bromwich

Derby

3 - 1

Birmingham

Brentford

2 - 0

Millwall

Blackburn

1 - 0

Queens Park Rangers

Stoke

0 - 0

Middlesbrough
Sunday 04 November 2018
Friday 09 November 2018
Sheffield United

0 - 0

Sheffield Wednesday
Saturday 10 November 2018
Reading

2 - 2

Ipswich

Queens Park Rangers

3 - 2

Brentford

Nottingham Forest

0 - 0

Stoke

Norwich

4 - 3

Millwall

Middlesbrough

2 - 0

Wigan

Derby

0 - 3

Aston Villa

Bristol City

0 - 1

Preston

Bolton

0 - 1

Swansea

Blackburn

1 - 1

Rotherham

Birmingham

3 - 3

Hull

West Bromwich

4 - 1

Leeds
Wednesday 24 October 2018
West Bromwich

21:00

Aston Villa
Friday 23 November 2018
Ipswich

20:45

West Bromwich
Saturday 24 November 2018
Rotherham

13:30

Sheffield United

Wigan

16:00

Reading

Swansea

16:00

Norwich

Stoke

16:00

Queens Park Rangers

Sheffield Wednesday

16:00

Derby

Preston

16:00

Blackburn

Millwall

16:00

Bolton

Leeds

16:00

Bristol City

Hull

16:00

Nottingham Forest

Brentford

18:30

Middlesbrough
Sunday 25 November 2018
Aston Villa

13:00

Birmingham
Tuesday 27 November 2018
Rotherham

20:45

Queens Park Rangers

Millwall

20:45

Birmingham

Hull

20:45

Norwich

Leeds

20:45

Reading

Brentford

20:45

Sheffield United
Wednesday 28 November 2018
Ipswich

20:45

Bristol City

Aston Villa

20:45

Nottingham Forest

Sheffield Wednesday

20:45

Bolton

Preston

20:45

Middlesbrough

Wigan

20:45

Blackburn

Swansea

20:45

West Bromwich

Stoke

21:00

Derby
Saturday 01 December 2018
Nottingham Forest

16:00

Ipswich

Norwich

16:00

Rotherham

Middlesbrough

16:00

Aston Villa

Derby

16:00

Swansea

Bristol City

16:00

Millwall

Bolton

16:00

Wigan

Blackburn

16:00

Sheffield Wednesday

West Bromwich

16:00

Brentford

Birmingham

16:00

Preston

Sheffield United

16:00

Leeds

Reading

16:00

Stoke

Queens Park Rangers

16:00

Hull
Saturday 08 December 2018
Millwall

16:00

Hull

Middlesbrough

16:00

Blackburn

Leeds

16:00

Queens Park Rangers

Brentford

16:00

Swansea

Wigan

16:00

Derby

Birmingham

16:00

Bristol City

West Bromwich

16:00

Aston Villa

Stoke

16:00

Ipswich

Sheffield Wednesday

16:00

Rotherham

Reading

16:00

Sheffield United

Nottingham Forest

16:00

Preston

Norwich

16:00

Bolton
Saturday 15 December 2018
Sheffield United

16:00

West Bromwich

Rotherham

16:00

Reading

Queens Park Rangers

16:00

Middlesbrough

Swansea

16:00

Sheffield Wednesday

Bristol City

16:00

Norwich

Bolton

16:00

Leeds

Blackburn

16:00

Birmingham

Aston Villa

16:00

Stoke

Preston

16:00

Millwall

Ipswich

16:00

Wigan

Hull

16:00

Brentford

Derby

16:00

Nottingham Forest
Saturday 22 December 2018
Hull

16:00

Swansea

Derby

16:00

Bristol City

Brentford

16:00

Bolton

Blackburn

16:00

Norwich

Wigan

16:00

Birmingham

Aston Villa

16:00

Leeds

Stoke

16:00

Millwall

Sheffield Wednesday

16:00

Preston

Rotherham

16:00

West Bromwich

Reading

16:00

Middlesbrough

Nottingham Forest

16:00

Queens Park Rangers

Ipswich

16:00

Sheffield United
Wednesday 26 December 2018
Middlesbrough

16:00

Sheffield Wednesday

Leeds

16:00

Blackburn

Bristol City

16:00

Brentford

Bolton

16:00

Rotherham

West Bromwich

16:00

Wigan

Birmingham

16:00

Stoke

Swansea

16:00

Aston Villa

Sheffield United

16:00

Derby

Queens Park Rangers

16:00

Ipswich

Preston

16:00

Hull

Norwich

16:00

Nottingham Forest

Millwall

16:00

Reading
Saturday 29 December 2018
Sheffield United

16:00

Blackburn

Queens Park Rangers

16:00

Reading

Preston

16:00

Aston Villa

Norwich

16:00

Derby

Millwall

16:00

Nottingham Forest

Middlesbrough

16:00

Ipswich

Leeds

16:00

Hull

Bristol City

16:00

Rotherham

Bolton

16:00

Stoke

West Bromwich

16:00

Sheffield Wednesday

Swansea

16:00

Wigan
Tuesday 01 January 2019
Brentford

16:00

Norwich

Blackburn

16:00

West Bromwich

Aston Villa

16:00

Queens Park Rangers

Ipswich

16:00

Millwall

Hull

16:00

Bolton

Derby

16:00

Middlesbrough

Wigan

16:00

Sheffield United

Stoke

16:00

Bristol City

Sheffield Wednesday

16:00

Birmingham

Rotherham

16:00

Preston

Reading

16:00

Swansea

Nottingham Forest

16:00

Leeds
Saturday 12 January 2019
Ipswich

16:00

Rotherham

Hull

16:00

Sheffield Wednesday

Bristol City

16:00

Bolton

Brentford

16:00

Stoke

Wigan

16:00

Aston Villa

Birmingham

16:00

Middlesbrough

West Bromwich

16:00

Norwich

Sheffield United

16:00

Queens Park Rangers

Reading

16:00

Nottingham Forest

Preston

16:00

Swansea

Millwall

16:00

Blackburn

Leeds

16:00

Derby
Saturday 19 January 2019
Derby

16:00

Reading

Bolton

16:00

West Bromwich

Blackburn

16:00

Ipswich

Swansea

16:00

Sheffield United

Aston Villa

16:00

Hull

Stoke

16:00

Leeds

Sheffield Wednesday

16:00

Wigan

Rotherham

16:00

Brentford

Queens Park Rangers

16:00

Preston

Nottingham Forest

16:00

Bristol City

Norwich

16:00

Birmingham

Middlesbrough

16:00

Millwall
Saturday 26 January 2019
Bolton

16:00

Reading

Blackburn

16:00

Hull

Swansea

16:00

Birmingham

Aston Villa

16:00

Ipswich

Stoke

16:00

Preston

Sheffield Wednesday

16:00

Brentford

Rotherham

16:00

Leeds

Queens Park Rangers

16:00

West Bromwich

Nottingham Forest

16:00

Wigan

Norwich

16:00

Sheffield United

Middlesbrough

16:00

Bristol City

Derby

16:00

Millwall
Saturday 02 February 2019
Birmingham

16:00

Nottingham Forest

Ipswich

16:00

Sheffield Wednesday

Hull

16:00

Stoke

Bristol City

16:00

Swansea

Brentford

16:00

Blackburn

Wigan

16:00

Queens Park Rangers

West Bromwich

16:00

Middlesbrough

Sheffield United

16:00

Bolton

Reading

16:00

Aston Villa

Preston

16:00

Derby

Millwall

16:00

Rotherham

Leeds

16:00

Norwich
Saturday 09 February 2019
Bolton

16:00

Preston

Blackburn

16:00

Bristol City

Aston Villa

16:00

Sheffield United

Middlesbrough

16:00

Leeds

Derby

16:00

Hull

Swansea

16:00

Millwall

Stoke

16:00

West Bromwich

Sheffield Wednesday

16:00

Reading

Rotherham

16:00

Wigan

Queens Park Rangers

16:00

Birmingham

Nottingham Forest

16:00

Brentford

Norwich

16:00

Ipswich
Tuesday 12 February 2019
Birmingham

20:45

Bolton

Preston

20:45

Norwich

Ipswich

20:45

Derby

Hull

20:45

Rotherham

West Bromwich

21:00

Nottingham Forest
Wednesday 13 February 2019
Leeds

20:45

Swansea

Bristol City

20:45

Queens Park Rangers

Brentford

20:45

Aston Villa

Wigan

20:45

Stoke

Sheffield United

20:45

Middlesbrough

Millwall

20:45

Sheffield Wednesday

Reading

21:00

Blackburn
Saturday 16 February 2019
Rotherham

16:00

Sheffield Wednesday

Queens Park Rangers

16:00

Leeds

Preston

16:00

Nottingham Forest

Ipswich

16:00

Stoke

Hull

16:00

Millwall

Derby

16:00

Wigan

Bristol City

16:00

Birmingham

Bolton

16:00

Norwich

Blackburn

16:00

Middlesbrough

Swansea

16:00

Brentford

Aston Villa

16:00

West Bromwich

Sheffield United

16:00

Reading
Saturday 23 February 2019
Birmingham

16:00

Blackburn

Norwich

16:00

Bristol City

Millwall

16:00

Preston

Middlesbrough

16:00

Queens Park Rangers

Leeds

16:00

Bolton

Brentford

16:00

Hull

Wigan

16:00

Ipswich

West Bromwich

16:00

Sheffield United

Stoke

16:00

Aston Villa

Sheffield Wednesday

16:00

Swansea

Reading

16:00

Rotherham

Nottingham Forest

16:00

Derby
Saturday 02 March 2019
Ipswich

16:00

Reading

Hull

16:00

Birmingham

Brentford

16:00

Queens Park Rangers

Wigan

16:00

Middlesbrough

Aston Villa

16:00

Derby

Swansea

16:00

Bolton

Stoke

16:00

Nottingham Forest

Sheffield Wednesday

16:00

Sheffield United

Rotherham

16:00

Blackburn

Preston

16:00

Bristol City

Millwall

16:00

Norwich

Leeds

16:00

West Bromwich
Saturday 09 March 2019
Reading

16:00

Wigan

Queens Park Rangers

16:00

Stoke

Nottingham Forest

16:00

Hull

Norwich

16:00

Swansea

Middlesbrough

16:00

Brentford

Derby

16:00

Sheffield Wednesday

Bristol City

16:00

Leeds

Bolton

16:00

Millwall

Blackburn

16:00

Preston

West Bromwich

16:00

Ipswich

Birmingham

16:00

Aston Villa

Sheffield United

16:00

Rotherham
Tuesday 12 March 2019
Sheffield United

20:45

Brentford

Nottingham Forest

20:45

Aston Villa

Bristol City

20:45

Ipswich

Blackburn

20:45

Wigan

Birmingham

20:45

Millwall

Reading

21:00

Leeds

Bolton

21:00

Sheffield Wednesday
Wednesday 13 March 2019
Queens Park Rangers

20:45

Rotherham

Norwich

20:45

Hull

Middlesbrough

20:45

Preston

Derby

20:45

Stoke

West Bromwich

21:00

Swansea
Saturday 16 March 2019
Ipswich

16:00

Nottingham Forest

Hull

16:00

Queens Park Rangers

Brentford

16:00

West Bromwich

Aston Villa

16:00

Middlesbrough

Stoke

16:00

Reading

Sheffield Wednesday

16:00

Blackburn

Rotherham

16:00

Norwich

Preston

16:00

Birmingham

Millwall

16:00

Bristol City

Leeds

16:00

Sheffield United

Wigan

16:00

Bolton

Swansea

16:00

Derby
Saturday 30 March 2019
Aston Villa

16:00

Blackburn

Derby

16:00

Rotherham

Wigan

16:00

Brentford

West Bromwich

16:00

Birmingham

Stoke

16:00

Sheffield Wednesday

Sheffield United

16:00

Bristol City

Reading

16:00

Preston

Queens Park Rangers

16:00

Bolton

Nottingham Forest

16:00

Swansea

Middlesbrough

16:00

Norwich

Leeds

16:00

Millwall

Ipswich

16:00

Hull
Saturday 06 April 2019
Bristol City

16:00

Wigan

Brentford

16:00

Derby

Bolton

16:00

Ipswich

Blackburn

16:00

Stoke

Swansea

16:00

Middlesbrough

Birmingham

16:00

Leeds

Sheffield Wednesday

16:00

Aston Villa

Rotherham

16:00

Nottingham Forest

Preston

16:00

Sheffield United

Norwich

16:00

Queens Park Rangers

Millwall

16:00

West Bromwich

Hull

16:00

Reading
Tuesday 09 April 2019
Preston

20:45

Leeds

Norwich

20:45

Reading

Bristol City

20:45

West Bromwich

Blackburn

20:45

Derby

Swansea

20:45

Stoke

Sheffield Wednesday

20:45

Nottingham Forest

Bolton

21:00

Middlesbrough
Wednesday 10 April 2019
Rotherham

20:45

Aston Villa

Millwall

20:45

Queens Park Rangers

Hull

20:45

Wigan

Brentford

20:45

Ipswich

Birmingham

20:45

Sheffield United
Saturday 13 April 2019
Nottingham Forest

16:00

Blackburn

Middlesbrough

16:00

Hull

Leeds

16:00

Sheffield Wednesday

Wigan

16:00

Norwich

West Bromwich

16:00

Preston

Stoke

16:00

Rotherham

Sheffield United

16:00

Millwall

Reading

16:00

Brentford

Queens Park Rangers

16:00

Swansea

Derby

16:00

Bolton

Aston Villa

16:00

Bristol City

Ipswich

16:00

Birmingham
Friday 19 April 2019
West Bromwich

16:00

Hull

Birmingham

16:00

Derby

Swansea

16:00

Rotherham

Sheffield United

16:00

Nottingham Forest

Queens Park Rangers

16:00

Blackburn

Preston

16:00

Ipswich

Norwich

16:00

Sheffield Wednesday

Millwall

16:00

Brentford

Middlesbrough

16:00

Stoke

Leeds

16:00

Wigan

Bristol City

16:00

Reading

Bolton

16:00

Aston Villa
Monday 22 April 2019
Wigan

16:00

Preston

Stoke

16:00

Norwich

Derby

16:00

Queens Park Rangers

Brentford

16:00

Leeds

Blackburn

16:00

Bolton

Aston Villa

16:00

Millwall

Sheffield Wednesday

16:00

Bristol City

Rotherham

16:00

Birmingham

Reading

16:00

West Bromwich

Nottingham Forest

16:00

Middlesbrough

Ipswich

16:00

Swansea

Hull

16:00

Sheffield United
Saturday 27 April 2019
Queens Park Rangers

16:00

Nottingham Forest

Preston

16:00

Sheffield Wednesday

Norwich

16:00

Blackburn

Millwall

16:00

Stoke

Middlesbrough

16:00

Reading

Leeds

16:00

Aston Villa

Bristol City

16:00

Derby

Bolton

16:00

Brentford

West Bromwich

16:00

Rotherham

Birmingham

16:00

Wigan

Swansea

16:00

Hull

Sheffield United

16:00

Ipswich
Sunday 05 May 2019
Reading

13:30

Birmingham

Nottingham Forest

13:30

Bolton

Ipswich

13:30

Leeds

Hull

13:30

Bristol City

Derby

13:30

West Bromwich

Brentford

13:30

Preston

Blackburn

13:30

Swansea

Wigan

13:30

Millwall

Aston Villa

13:30

Norwich

Stoke

13:30

Sheffield United

Sheffield Wednesday

13:30

Queens Park Rangers

Rotherham

13:30

Middlesbrough
| # | Team | G | W | D | L | +/- | P |
| --- | --- | --- | --- | --- | --- | --- | --- |
| 1 | Norwich | 17 | 10 | 3 | 4 | 28:20 | 33 |
| 2 | Middlesbrough | 17 | 8 | 7 | 2 | 19:8 | 31 |
| 3 | Leeds | 17 | 8 | 6 | 3 | 29:17 | 30 |
| 4 | Sheffield Unite | 17 | 9 | 3 | 5 | 27:19 | 30 |
| 5 | West Bromwich A | 17 | 8 | 4 | 5 | 37:25 | 28 |
| 6 | Derby | 17 | 8 | 4 | 5 | 25:20 | 28 |
| 7 | Nottingham Fore | 17 | 6 | 9 | 2 | 23:16 | 27 |
| 8 | Swansea | 17 | 7 | 5 | 5 | 19:13 | 26 |
| 9 | Blackburn | 17 | 6 | 8 | 3 | 20:21 | 26 |
| 10 | Queens Park Ran | 17 | 8 | 2 | 7 | 18:22 | 26 |
| 11 | Aston Villa | 17 | 6 | 6 | 5 | 27:23 | 24 |
| 12 | Birmingham | 17 | 5 | 9 | 3 | 23:20 | 24 |
| 13 | Bristol City | 17 | 6 | 4 | 7 | 20:19 | 22 |
| 14 | Stoke | 17 | 5 | 7 | 5 | 19:20 | 22 |
| 15 | Brentford | 17 | 5 | 6 | 6 | 27:23 | 21 |
| 16 | Wigan | 17 | 6 | 2 | 9 | 19:26 | 20 |
| 17 | Sheffield Wedne | 17 | 5 | 5 | 7 | 21:30 | 20 |
| 18 | Preston | 17 | 4 | 6 | 7 | 26:30 | 18 |
| 19 | Rotherham | 17 | 4 | 6 | 7 | 14:23 | 18 |
| 20 | Reading | 17 | 4 | 4 | 9 | 24:29 | 16 |
| 21 | Millwall | 17 | 4 | 4 | 9 | 22:29 | 16 |
| 22 | Hull | 17 | 4 | 4 | 9 | 16:24 | 16 |
| 23 | Bolton | 17 | 4 | 4 | 9 | 11:23 | 16 |
| 24 | Ipswich | 17 | 1 | 8 | 8 | 14:28 | 11 |