Team news including fixtures & standings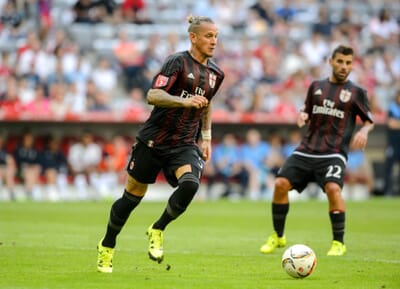 Who is top of Serie A right now? This page gives you that answer along with the overall standings for every team in the Italian top flight. You can also survey the latest Italian fixtures to help you plan your weekend accumulator.
We also have all the Serie A results from the past few weeks so that you can see which Italian teams are in the best form coming into their next match. Several Serie A games are televised which means fantastic In-Play opportunities, with bookmakers offering over 50 markets.

You can also find out the predicted Serie A line-ups and also the confirmed teams once the managers have announced this information leading up to kick-off.
Serie A
Fixtures & Standings
FIXTURES
Saturday 18 August 2018
Chievo

2 - 3

Juventus

Lazio

1 - 2

SSC Napoli
Sunday 19 August 2018
Torino

0 - 1

Roma

Bologna

0 - 1

Spal

Sassuolo

1 - 0

Inter

Parma

2 - 2

Udinese

Empoli

2 - 0

Cagliari
Monday 20 August 2018
Saturday 25 August 2018
Juventus

2 - 0

Lazio

SSC Napoli

3 - 2

AC Milan
Sunday 26 August 2018
Spal

1 - 0

Parma

Fiorentina

6 - 1

Chievo

Cagliari

2 - 2

Sassuolo

Udinese

1 - 0

Sampdoria

Inter

2 - 2

Torino

Genoa

2 - 1

Empoli

Frosinone

0 - 0

Bologna
Monday 27 August 2018
Friday 31 August 2018
Saturday 01 September 2018
Bologna

0 - 3

Inter

Parma

1 - 2

Juventus
Sunday 02 September 2018
Fiorentina

1 - 0

Udinese

Chievo

0 - 0

Empoli

Atalanta

0 - 1

Cagliari

Torino

1 - 0

Spal

Sassuolo

5 - 3

Genoa

Sampdoria

3 - 0

SSC Napoli

Lazio

1 - 0

Frosinone
Saturday 15 September 2018
Inter

0 - 1

Parma

SSC Napoli

1 - 0

Fiorentina

Frosinone

0 - 5

Sampdoria
Sunday 16 September 2018
Roma

2 - 2

Chievo

Genoa

1 - 0

Bologna

Udinese

1 - 1

Torino

Juventus

2 - 1

Sassuolo

Empoli

0 - 1

Lazio

Cagliari

1 - 1

AC Milan
Monday 17 September 2018
Wednesday 19 September 2018
Sampdoria

1 - 1

Fiorentina
Friday 21 September 2018
Saturday 22 September 2018
Parma

2 - 0

Cagliari

Fiorentina

3 - 0

Spal

Sampdoria

0 - 1

Inter
Sunday 23 September 2018
Torino

1 - 3

SSC Napoli

Chievo

0 - 2

Udinese

Bologna

2 - 0

Roma

Lazio

4 - 1

Genoa

AC Milan

2 - 2

Atalanta

Frosinone

0 - 2

Juventus
Tuesday 25 September 2018
Wednesday 26 September 2018
Udinese

1 - 2

Lazio

Genoa

2 - 0

Chievo

Cagliari

0 - 0

Sampdoria

Atalanta

0 - 0

Torino

Roma

4 - 0

Frosinone

SSC Napoli

3 - 0

Parma

Juventus

2 - 0

Bologna
Thursday 27 September 2018
Spal

0 - 2

Sassuolo

Empoli

1 - 1

AC Milan
Saturday 29 September 2018
Roma

3 - 1

Lazio

Juventus

3 - 1

SSC Napoli

Inter

2 - 0

Cagliari
Sunday 30 September 2018
Bologna

2 - 1

Udinese

Frosinone

1 - 2

Genoa

Fiorentina

2 - 0

Atalanta

Chievo

0 - 1

Torino

Parma

1 - 0

Empoli

Sassuolo

1 - 4

AC Milan
Monday 01 October 2018
Friday 05 October 2018
Saturday 06 October 2018
Cagliari

2 - 0

Bologna

Udinese

0 - 2

Juventus

Empoli

0 - 2

Roma
Sunday 07 October 2018
Genoa

1 - 3

Parma

Lazio

1 - 0

Fiorentina

Atalanta

0 - 1

Sampdoria

AC Milan

3 - 1

Chievo

SSC Napoli

2 - 0

Sassuolo

Spal

1 - 2

Inter
Saturday 20 October 2018
Roma

0 - 2

Spal

Juventus

1 - 1

Genoa

Udinese

0 - 3

SSC Napoli
Sunday 21 October 2018
Frosinone

3 - 3

Empoli

Parma

0 - 2

Lazio

Chievo

1 - 5

Atalanta

Bologna

2 - 2

Torino

Fiorentina

1 - 1

Cagliari

Inter

1 - 0

AC Milan
Monday 22 October 2018
Saturday 27 October 2018
Atalanta

3 - 0

Parma

Empoli

1 - 2

Juventus

Torino

1 - 1

Fiorentina
Sunday 28 October 2018
Sassuolo

2 - 2

Bologna

Spal

0 - 3

Frosinone

Genoa

2 - 2

Udinese

Cagliari

2 - 1

Chievo

AC Milan

3 - 2

Sampdoria

SSC Napoli

1 - 1

Roma
Monday 29 October 2018
Wednesday 31 October 2018
Friday 02 November 2018
Saturday 03 November 2018
Inter

5 - 0

Genoa

Fiorentina

1 - 1

Roma

Juventus

3 - 1

Cagliari
Sunday 04 November 2018
Lazio

4 - 1

Spal

Sampdoria

1 - 4

Torino

Parma

0 - 0

Frosinone

Chievo

0 - 2

Sassuolo

Bologna

1 - 2

Atalanta

Udinese

0 - 1

AC Milan
Friday 09 November 2018
Frosinone

1 - 1

Fiorentina
Saturday 10 November 2018
Torino

1 - 2

Parma

Spal

2 - 2

Cagliari

Genoa

1 - 2

SSC Napoli
Sunday 11 November 2018
Atalanta

4 - 1

Inter

Empoli

2 - 1

Udinese

Chievo

2 - 2

Bologna

Roma

4 - 1

Sampdoria

Sassuolo

1 - 1

Lazio

AC Milan

0 - 2

Juventus
Saturday 24 November 2018
Udinese

1 - 0

Roma

Juventus

2 - 0

Spal

Inter

3 - 0

Frosinone
Sunday 25 November 2018
Parma

2 - 1

Sassuolo

SSC Napoli

0 - 0

Chievo

Empoli

3 - 2

Atalanta

Bologna

0 - 0

Fiorentina

Lazio

1 - 1

AC Milan

Genoa

1 - 1

Sampdoria
Monday 26 November 2018
Saturday 01 December 2018
Spal

2 - 2

Empoli

Fiorentina

0 - 3

Juventus

Sampdoria

4 - 1

Bologna
Sunday 02 December 2018
AC Milan

2 - 1

Parma

Torino

2 - 1

Genoa

Sassuolo

0 - 0

Udinese

Frosinone

1 - 1

Cagliari

Chievo

1 - 1

Lazio

Roma

2 - 2

Inter
Monday 03 December 2018
Atalanta

1 - 2

SSC Napoli
Friday 07 December 2018
Saturday 08 December 2018
SSC Napoli

4 - 0

Frosinone

Cagliari

2 - 2

Roma

Lazio

2 - 2

Sampdoria
Sunday 09 December 2018
Sassuolo

3 - 3

Fiorentina

Udinese

1 - 3

Atalanta

Parma

1 - 1

Chievo

Empoli

2 - 1

Bologna

Genoa

1 - 1

Spal

AC Milan

0 - 0

Torino
Saturday 15 December 2018
Sunday 16 December 2018
Spal

12:30

Chievo

Sampdoria

15:00

Parma

Frosinone

15:00

Sassuolo

Fiorentina

15:00

Empoli

Cagliari

18:00

SSC Napoli

Roma

20:30

Genoa
Monday 17 December 2018
Tuesday 18 December 2018
Saturday 22 December 2018
Empoli

15:00

Sampdoria

Chievo

15:00

Inter

AC Milan

15:00

Fiorentina

Udinese

15:00

Frosinone

Sassuolo

15:00

Torino

Parma

15:00

Bologna

SSC Napoli

15:00

Spal

Lazio

15:00

Cagliari

Juventus

15:00

Roma

Genoa

15:00

Atalanta
Wednesday 26 December 2018
Bologna

15:00

Lazio

Atalanta

15:00

Juventus

Roma

15:00

Sassuolo

Torino

15:00

Empoli

Spal

15:00

Udinese

Sampdoria

15:00

Chievo

Inter

15:00

SSC Napoli

Frosinone

15:00

AC Milan

Fiorentina

15:00

Parma

Cagliari

15:00

Genoa
Saturday 29 December 2018
Genoa

15:00

Fiorentina

Empoli

15:00

Inter

Chievo

15:00

Frosinone

AC Milan

15:00

Spal

Udinese

15:00

Cagliari

Sassuolo

15:00

Atalanta

Parma

15:00

Roma

SSC Napoli

15:00

Bologna

Lazio

15:00

Torino

Juventus

15:00

Sampdoria
Sunday 20 January 2019
Genoa

15:00

AC Milan

Frosinone

15:00

Atalanta

Fiorentina

15:00

Sampdoria

Cagliari

15:00

Empoli

Roma

15:00

Torino

Udinese

15:00

Parma

Spal

15:00

Bologna

SSC Napoli

15:00

Lazio

Juventus

15:00

Chievo

Inter

15:00

Sassuolo
Sunday 27 January 2019
Sassuolo

15:00

Cagliari

Sampdoria

15:00

Udinese

Parma

15:00

Spal

Lazio

15:00

Juventus

Empoli

15:00

Genoa

Chievo

15:00

Fiorentina

Bologna

15:00

Frosinone

Atalanta

15:00

Roma

AC Milan

15:00

SSC Napoli

Torino

15:00

Inter
Sunday 03 February 2019
Inter

15:00

Bologna

Genoa

15:00

Sassuolo

Frosinone

15:00

Lazio

Empoli

15:00

Chievo

Cagliari

15:00

Atalanta

Roma

15:00

AC Milan

Udinese

15:00

Fiorentina

Spal

15:00

Torino

SSC Napoli

15:00

Sampdoria

Juventus

15:00

Parma
Sunday 10 February 2019
Parma

15:00

Inter

Lazio

15:00

Empoli

Fiorentina

15:00

SSC Napoli

Chievo

15:00

Roma

Bologna

15:00

Genoa

Atalanta

15:00

Spal

AC Milan

15:00

Cagliari

Torino

15:00

Udinese

Sassuolo

15:00

Juventus

Sampdoria

15:00

Frosinone
Sunday 17 February 2019
Juventus

15:00

Frosinone

Inter

15:00

Sampdoria

Genoa

15:00

Lazio

Empoli

15:00

Sassuolo

Cagliari

15:00

Parma

Atalanta

15:00

AC Milan

Roma

15:00

Bologna

Udinese

15:00

Chievo

Spal

15:00

Fiorentina

SSC Napoli

15:00

Torino
Sunday 24 February 2019
Sampdoria

15:00

Cagliari

Parma

15:00

SSC Napoli

Lazio

15:00

Udinese

Frosinone

15:00

Roma

Fiorentina

15:00

Inter

Chievo

15:00

Genoa

Bologna

15:00

Juventus

AC Milan

15:00

Empoli

Torino

15:00

Atalanta

Sassuolo

15:00

Spal
Friday 01 March 2019
Sunday 03 March 2019
Torino

15:00

Chievo

Spal

15:00

Sampdoria

SSC Napoli

15:00

Juventus

Lazio

15:00

Roma

Genoa

15:00

Frosinone

Empoli

15:00

Parma

Cagliari

15:00

Inter

Atalanta

15:00

Fiorentina

AC Milan

15:00

Sassuolo

Udinese

15:00

Bologna
Sunday 10 March 2019
Sampdoria

15:00

Atalanta

Parma

15:00

Genoa

Juventus

15:00

Udinese

Inter

15:00

Spal

Frosinone

15:00

Torino

Fiorentina

15:00

Lazio

Chievo

15:00

AC Milan

Bologna

15:00

Empoli

Roma

15:00

Empoli

Sassuolo

15:00

SSC Napoli
Sunday 17 March 2019
Cagliari

00:00

Fiorentina

Torino

15:00

Bologna

Spal

15:00

Roma

Sassuolo

15:00

Sampdoria

SSC Napoli

15:00

Udinese

Lazio

15:00

Parma

Genoa

15:00

Juventus

Empoli

15:00

Frosinone

Atalanta

15:00

Chievo

AC Milan

15:00

Inter
Sunday 31 March 2019
Udinese

15:00

Genoa

Sampdoria

15:00

AC Milan

Parma

15:00

Atalanta

Juventus

15:00

Empoli

Inter

15:00

Lazio

Frosinone

15:00

Spal

Fiorentina

15:00

Torino

Chievo

15:00

Cagliari

Bologna

15:00

Sassuolo

Roma

15:00

SSC Napoli
Wednesday 03 April 2019
AC Milan

15:00

Udinese

Torino

15:00

Sampdoria

Spal

15:00

Lazio

Sassuolo

15:00

Chievo

Genoa

15:00

Inter

Frosinone

15:00

Parma

Empoli

15:00

SSC Napoli

Cagliari

15:00

Juventus

Atalanta

15:00

Bologna

Roma

15:00

Fiorentina
Sunday 07 April 2019
Bologna

15:00

Chievo

Udinese

15:00

Empoli

Sampdoria

15:00

Roma

Parma

15:00

Torino

SSC Napoli

15:00

Genoa

Lazio

15:00

Sassuolo

Juventus

15:00

AC Milan

Inter

15:00

Atalanta

Fiorentina

15:00

Frosinone

Cagliari

15:00

Spal
Sunday 14 April 2019
Roma

15:00

Udinese

AC Milan

15:00

Lazio

Torino

15:00

Cagliari

Spal

15:00

Juventus

Sassuolo

15:00

Parma

Sampdoria

15:00

Genoa

Frosinone

15:00

Inter

Fiorentina

15:00

Bologna

Chievo

15:00

SSC Napoli

Atalanta

15:00

Empoli
Saturday 20 April 2019
Empoli

15:00

Spal

Cagliari

15:00

Frosinone

Bologna

15:00

Sampdoria

Udinese

15:00

Sassuolo

Parma

15:00

AC Milan

SSC Napoli

15:00

Atalanta

Lazio

15:00

Chievo

Juventus

15:00

Fiorentina

Inter

15:00

Roma

Genoa

15:00

Torino
Sunday 28 April 2019
Bologna

15:00

Empoli

Atalanta

15:00

Udinese

Roma

15:00

Cagliari

Torino

15:00

AC Milan

Spal

15:00

Genoa

Sampdoria

15:00

Lazio

Inter

15:00

Juventus

Frosinone

15:00

SSC Napoli

Fiorentina

15:00

Sassuolo

Chievo

15:00

Parma
Sunday 05 May 2019
Genoa

15:00

Roma

Empoli

15:00

Fiorentina

Chievo

15:00

Spal

AC Milan

15:00

Bologna

Udinese

15:00

Inter

Sassuolo

15:00

Frosinone

Parma

15:00

Sampdoria

SSC Napoli

15:00

Cagliari

Lazio

15:00

Atalanta

Juventus

15:00

Torino
Sunday 12 May 2019
Fiorentina

15:00

AC Milan

Cagliari

15:00

Lazio

Bologna

15:00

Parma

Atalanta

15:00

Genoa

Roma

15:00

Juventus

Torino

15:00

Sassuolo

Spal

15:00

SSC Napoli

Sampdoria

15:00

Empoli

Inter

15:00

Chievo

Frosinone

15:00

Udinese
Sunday 19 May 2019
Lazio

15:00

Bologna

Juventus

15:00

Atalanta

Genoa

15:00

Cagliari

Empoli

15:00

Torino

Chievo

15:00

Sampdoria

AC Milan

15:00

Frosinone

Udinese

15:00

Spal

Sassuolo

15:00

Roma

Parma

15:00

Fiorentina

SSC Napoli

15:00

Inter
Sunday 26 May 2019
Frosinone

15:00

Chievo

Fiorentina

15:00

Genoa

Cagliari

15:00

Udinese

Bologna

15:00

SSC Napoli

Atalanta

15:00

Sassuolo

Roma

15:00

Parma

Torino

15:00

Lazio

Spal

15:00

AC Milan

Sampdoria

15:00

Juventus

Inter

15:00

Empoli
| # | Team | G | W | D | L | +/- | P |
| --- | --- | --- | --- | --- | --- | --- | --- |
| 1 | Juventus | 15 | 14 | 1 | 0 | 32:8 | 43 |
| 2 | SSC Napoli | 15 | 11 | 2 | 2 | 32:14 | 35 |
| 3 | Inter | 15 | 9 | 2 | 4 | 27:13 | 29 |
| 4 | AC Milan | 15 | 7 | 5 | 3 | 24:18 | 26 |
| 5 | Lazio | 15 | 7 | 4 | 4 | 22:18 | 25 |
| 6 | Torino | 15 | 5 | 7 | 3 | 19:16 | 22 |
| 7 | Atalanta | 15 | 6 | 3 | 6 | 29:20 | 21 |
| 8 | Roma | 15 | 5 | 6 | 4 | 26:20 | 21 |
| 9 | Sassuolo | 15 | 5 | 6 | 4 | 24:22 | 21 |
| 10 | Parma | 15 | 6 | 3 | 6 | 16:19 | 21 |
| 11 | Sampdoria | 15 | 5 | 5 | 5 | 23:19 | 20 |
| 12 | Fiorentina | 15 | 4 | 7 | 4 | 21:16 | 19 |
| 13 | Cagliari | 15 | 3 | 8 | 4 | 15:19 | 17 |
| 14 | Empoli | 15 | 4 | 4 | 7 | 19:26 | 16 |
| 15 | Genoa | 15 | 4 | 4 | 7 | 20:30 | 16 |
| 16 | Spal | 15 | 4 | 3 | 8 | 14:24 | 15 |
| 17 | Udinese | 15 | 3 | 4 | 8 | 13:21 | 13 |
| 18 | Bologna | 15 | 2 | 5 | 8 | 13:24 | 11 |
| 19 | Frosinone | 15 | 1 | 5 | 9 | 11:33 | 8 |
| 20 | Chievo | 15 | 0 | 6 | 9 | 12:32 | 6 |