Team news including fixtures & standings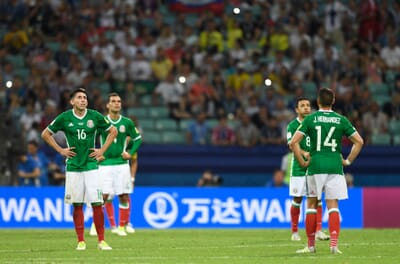 Check out the latest Liga MX fixtures for the next few weeks and months, with the Mexican top division featuring eighteen teams and there are nine rounds of fixtures for each game week. They compete every week and several bookmakers cover the action In-Play while there is also streaming available.
You can also view the Liga MX standings to understand where each team is placed after a certain number of games and previous results will act as a form guide as to which clubs are performing the best right now.
We provide data relating to the latest injuries and suspensions, while you can also access the predicted and confirmed Liga MX line-ups as they become available.

Liga MX
Fixtures & Standings
FIXTURES
Saturday 21 July 2018
Veracruz

0 - 2

Pumas

Atlas

0 - 0

Queretaro FC
Sunday 22 July 2018
Cruz Azul

3 - 0

Puebla

Pachuca

0 - 1

Monterrey

Tigres

2 - 0

Leon

Tijuana

2 - 1

CD Guadalajara

Toluca

2 - 0

Morelia
Monday 23 July 2018
Santos

2 - 1

Lobos de la BUAP

Necaxa

2 - 1

CF America
Saturday 28 July 2018
Morelia

3 - 1

Santos

Puebla

2 - 1

Toluca
Sunday 29 July 2018
Queretaro FC

1 - 0

Pachuca

CF America

3 - 0

Atlas

CD Guadalajara

0 - 1

Cruz Azul

Pumas

5 - 3

Necaxa

Lobos de la BUAP

2 - 0

Veracruz
Monday 30 July 2018
Tigres

1 - 0

Tijuana

Leon

0 - 2

Monterrey
Saturday 04 August 2018
Veracruz

2 - 2

Morelia

Atlas

0 - 3

Pumas
Sunday 05 August 2018
Necaxa

1 - 0

Lobos de la BUAP

Pachuca

1 - 3

CF America

Cruz Azul

1 - 0

Tigres

Monterrey

2 - 1

Queretaro FC

Toluca

2 - 2

CD Guadalajara
Monday 06 August 2018
Santos

2 - 0

Puebla

Tijuana

1 - 1

Leon
Saturday 11 August 2018
Puebla

1 - 2

Veracruz

Morelia

2 - 1

Necaxa
Sunday 12 August 2018
Lobos de la BUAP

0 - 0

Atlas

Tigres

1 - 2

Toluca

Leon

4 - 0

Queretaro FC

CF America

3 - 0

Monterrey

Pumas

0 - 0

Pachuca
Monday 13 August 2018
CD Guadalajara

1 - 2

Santos

Tijuana

1 - 1

Cruz Azul
Saturday 18 August 2018
Veracruz

0 - 2

CD Guadalajara

Atlas

0 - 1

Morelia
Sunday 19 August 2018
Cruz Azul

3 - 0

Leon

Pachuca

3 - 0

Lobos de la BUAP

Queretaro FC

1 - 1

CF America

Necaxa

2 - 2

Puebla

Monterrey

1 - 0

Pumas

Toluca

3 - 0

Tijuana
Monday 20 August 2018
Wednesday 22 August 2018
Morelia

1 - 1

Pachuca

Pumas

0 - 1

Queretaro FC

CD Guadalajara

1 - 0

Necaxa

Puebla

2 - 0

Atlas
Thursday 23 August 2018
Leon

2 - 0

CF America

Cruz Azul

1 - 0

Toluca

Tigres

4 - 0

Veracruz

Lobos de la BUAP

1 - 2

Monterrey

Tijuana

2 - 2

Santos
Saturday 25 August 2018
Atlas

0 - 1

CD Guadalajara
Sunday 26 August 2018
Pachuca

2 - 0

Puebla

CF America

2 - 2

Pumas

Veracruz

1 - 0

Tijuana

Necaxa

1 - 1

Tigres

Monterrey

2 - 2

Morelia

Queretaro FC

2 - 0

Lobos de la BUAP

Toluca

1 - 2

Leon
Monday 27 August 2018
Saturday 01 September 2018
Morelia

1 - 4

Queretaro FC

Puebla

2 - 1

Monterrey

Tijuana

1 - 0

Necaxa
Sunday 02 September 2018
Cruz Azul

4 - 1

Veracruz

Tigres

3 - 1

Atlas

Leon

1 - 2

Pumas

CD Guadalajara

1 - 3

Pachuca

Toluca

2 - 1

Santos

Lobos de la BUAP

0 - 2

CF America
Saturday 15 September 2018
Sunday 16 September 2018
Queretaro FC

0 - 1

Puebla

Pachuca

1 - 1

Tigres

CF America

2 - 1

Morelia

Necaxa

2 - 0

Cruz Azul

Monterrey

2 - 4

CD Guadalajara

Pumas

4 - 2

Lobos de la BUAP

Santos

3 - 0

Leon
Monday 17 September 2018
Saturday 22 September 2018
Morelia

0 - 0

Pumas

Puebla

2 - 3

CF America
Sunday 23 September 2018
Toluca

3 - 2

Necaxa

Leon

0 - 1

Lobos de la BUAP

Cruz Azul

2 - 0

Atlas

Tijuana

1 - 0

Pachuca

CD Guadalajara

1 - 1

Queretaro FC
Monday 24 September 2018
Santos

1 - 1

Veracruz

Tigres

0 - 0

Monterrey
Saturday 29 September 2018
Veracruz

0 - 4

Leon

Atlas

2 - 0

Toluca
Sunday 30 September 2018
Queretaro FC

0 - 2

Tigres

Pachuca

3 - 1

Cruz Azul

Monterrey

3 - 0

Tijuana

Necaxa

0 - 1

Santos

Pumas

2 - 2

Puebla

Lobos de la BUAP

3 - 1

Morelia
Monday 01 October 2018
CF America

1 - 1

CD Guadalajara
Saturday 06 October 2018
Santos

3 - 1

Atlas

Veracruz

0 - 0

Necaxa
Sunday 07 October 2018
Cruz Azul

2 - 1

Monterrey

Tigres

2 - 3

CF America

Leon

1 - 2

Morelia

CD Guadalajara

1 - 2

Pumas

Tijuana

1 - 1

Queretaro FC

Toluca

2 - 1

Pachuca
Monday 08 October 2018
Puebla

2 - 2

Lobos de la BUAP
Saturday 20 October 2018
Sunday 21 October 2018
Queretaro FC

2 - 0

Cruz Azul

Pachuca

1 - 1

Santos

CF America

3 - 0

Tijuana

Monterrey

2 - 1

Toluca

Necaxa

0 - 2

Leon

Lobos de la BUAP

1 - 1

CD Guadalajara

Pumas

3 - 3

Tigres
Monday 22 October 2018
Saturday 27 October 2018
Santos

1 - 0

Monterrey

Veracruz

2 - 3

Pachuca
Sunday 28 October 2018
Necaxa

2 - 2

Atlas

Tigres

2 - 2

Lobos de la BUAP

CD Guadalajara

1 - 2

Morelia

Cruz Azul

0 - 0

CF America

Tijuana

0 - 1

Pumas

Toluca

4 - 0

Queretaro FC
Monday 29 October 2018
Saturday 03 November 2018
Morelia

0 - 2

Tigres

Puebla

2 - 2

CD Guadalajara
Sunday 04 November 2018
Pachuca

6 - 2

Necaxa

CF America

1 - 1

Toluca

Monterrey

2 - 0

Veracruz

Lobos de la BUAP

3 - 1

Tijuana

Pumas

1 - 2

Cruz Azul

Queretaro FC

2 - 1

Santos
Monday 05 November 2018
Saturday 10 November 2018
Veracruz

2 - 2

Queretaro FC

Atlas

0 - 0

Pachuca
Sunday 11 November 2018
Cruz Azul

2 - 1

Lobos de la BUAP

Tigres

6 - 1

Puebla

Leon

0 - 1

CD Guadalajara

Tijuana

2 - 3

Morelia

Necaxa

1 - 1

Monterrey

Toluca

0 - 1

Pumas
Monday 12 November 2018
Saturday 24 November 2018
Morelia

02:00

Cruz Azul

Puebla

04:00

Tijuana
Sunday 25 November 2018
Queretaro FC

00:00

Necaxa

CF America

02:00

Veracruz

Pachuca

02:00

Leon

CD Guadalajara

04:00

Tigres

Monterrey

04:00

Atlas

Pumas

19:00

Santos

Lobos de la BUAP

23:00

Toluca
| # | Team | G | W | D | L | +/- | P |
| --- | --- | --- | --- | --- | --- | --- | --- |
| 1 | Cruz Azul | 16 | 10 | 3 | 3 | 24:13 | 33 |
| 2 | CF America | 16 | 8 | 6 | 2 | 29:16 | 30 |
| 3 | Pumas | 16 | 8 | 5 | 3 | 28:18 | 29 |
| 4 | Santos | 16 | 8 | 5 | 3 | 26:17 | 29 |
| 5 | Monterrey | 16 | 8 | 3 | 5 | 22:18 | 27 |
| 6 | Tigres | 16 | 7 | 5 | 4 | 31:18 | 26 |
| 7 | Toluca | 16 | 8 | 2 | 6 | 27:20 | 26 |
| 8 | Morelia | 16 | 7 | 4 | 5 | 23:24 | 25 |
| 9 | Pachuca | 16 | 6 | 5 | 5 | 25:17 | 23 |
| 10 | Queretaro FC | 16 | 6 | 5 | 5 | 18:20 | 23 |
| 11 | CD Guadalajara | 16 | 5 | 5 | 6 | 21:21 | 20 |
| 12 | Puebla | 16 | 5 | 4 | 7 | 23:30 | 19 |
| 13 | Leon | 16 | 5 | 2 | 9 | 17:22 | 17 |
| 14 | Lobos de la BUA | 16 | 4 | 4 | 8 | 19:25 | 16 |
| 15 | Tijuana | 16 | 4 | 4 | 8 | 13:24 | 16 |
| 16 | Necaxa | 16 | 3 | 5 | 8 | 19:28 | 14 |
| 17 | Atlas | 16 | 2 | 5 | 9 | 10:24 | 11 |
| 18 | Veracruz | 16 | 2 | 4 | 10 | 16:36 | 10 |