Team news including fixtures & standings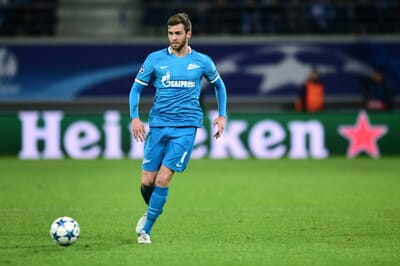 It's always important to know what football matches are about to take place and the Russian Premier League games are published weeks in advance at SportsGambler.com while you can also view the previous results and the latest league table.
You can get lots of team news at this site relating to the top flight in Russia. Some players for each club will be injured or suspended for each match and you can find out the length of the injuries.
It's also great to get up-to-date team news and we will publish the latest line-ups when they are announced closer to kick-off. Beforehand, you are able to view our predicted line-ups based on previous matches.

Russia Premier League
Fixtures & Standings
FIXTURES
Saturday 28 July 2018
Ural S.R

0 - 1

Anzhi Makhachkala

Spartak Moscow

1 - 0

Gazovik Orenburg

FK Rostov

1 - 0

Terek Grozny
Sunday 29 July 2018
FC Yenisey Krasnoyarsk

0 - 2

Zenit Petersburg

Arsenal Tula

0 - 0

Dinamo Moscow

Rubin Kazan

0 - 0

FC Krasnodar
Monday 30 July 2018
FC Ufa

0 - 0

Lokomotiv Moskva
Tuesday 31 July 2018
Krylya Sovetov Samara

0 - 0

CSKA Moscow
Friday 03 August 2018
Dinamo Moscow

1 - 1

Rubin Kazan
Saturday 04 August 2018
Ural S.R

1 - 2

FC Krasnodar

Zenit Petersburg

1 - 0

Arsenal Tula

Lokomotiv Moskva

0 - 0

Spartak Moscow
Sunday 05 August 2018
Krylya Sovetov Samara

0 - 3

Gazovik Orenburg

CSKA Moscow

0 - 1

FK Rostov

Terek Grozny

1 - 0

FC Yenisey Krasnoyarsk
Monday 06 August 2018
FC Ufa

3 - 0

Anzhi Makhachkala
Friday 10 August 2018
Ural S.R

1 - 1

Dinamo Moscow
Saturday 11 August 2018
FC Yenisey Krasnoyarsk

1 - 1

CSKA Moscow

Spartak Moscow

1 - 0

Anzhi Makhachkala

FK Rostov

0 - 1

Krylya Sovetov Samara
Sunday 12 August 2018
Gazovik Orenburg

1 - 0

Lokomotiv Moskva

Arsenal Tula

3 - 1

Terek Grozny
Monday 13 August 2018
FC Ufa

0 - 1

FC Krasnodar

Rubin Kazan

0 - 1

Zenit Petersburg
Friday 17 August 2018
Anzhi Makhachkala

1 - 3

Gazovik Orenburg
Saturday 18 August 2018
CSKA Moscow

3 - 0

Arsenal Tula

FC Krasnodar

0 - 1

Spartak Moscow

Terek Grozny

1 - 1

Rubin Kazan
Sunday 19 August 2018
Krylya Sovetov Samara

0 - 1

Lokomotiv Moskva

Zenit Petersburg

4 - 1

Ural S.R

FK Rostov

4 - 0

FC Yenisey Krasnoyarsk
Monday 20 August 2018
Dinamo Moscow

3 - 0

FC Ufa
Friday 24 August 2018
Arsenal Tula

0 - 1

FK Rostov
Saturday 25 August 2018
Ural S.R

2 - 1

Terek Grozny

Rubin Kazan

1 - 1

CSKA Moscow

Spartak Moscow

2 - 1

Dinamo Moscow
Sunday 26 August 2018
Gazovik Orenburg

1 - 1

FC Krasnodar

FC Ufa

0 - 2

Zenit Petersburg

Lokomotiv Moskva

2 - 1

Anzhi Makhachkala
Monday 27 August 2018
FC Yenisey Krasnoyarsk

1 - 0

Krylya Sovetov Samara
Friday 31 August 2018
FK Rostov

1 - 1

Rubin Kazan
Saturday 01 September 2018
Krylya Sovetov Samara

1 - 0

Anzhi Makhachkala

CSKA Moscow

4 - 0

Ural S.R

FC Krasnodar

0 - 0

Lokomotiv Moskva
Sunday 02 September 2018
FC Yenisey Krasnoyarsk

0 - 0

Arsenal Tula

Dinamo Moscow

2 - 0

Gazovik Orenburg

Zenit Petersburg

0 - 0

Spartak Moscow

Terek Grozny

2 - 1

FC Ufa
Friday 14 September 2018
Lokomotiv Moskva

1 - 1

Dinamo Moscow
Saturday 15 September 2018
Rubin Kazan

1 - 0

FC Yenisey Krasnoyarsk

FC Ufa

0 - 3

CSKA Moscow

Arsenal Tula

4 - 0

Krylya Sovetov Samara
Sunday 16 September 2018
Gazovik Orenburg

1 - 2

Zenit Petersburg

Anzhi Makhachkala

0 - 4

FC Krasnodar

Spartak Moscow

1 - 2

Terek Grozny
Monday 17 September 2018
Saturday 22 September 2018
FC Yenisey Krasnoyarsk

1 - 2

Ural S.R

Dinamo Moscow

0 - 0

Anzhi Makhachkala

Arsenal Tula

2 - 2

Rubin Kazan

FK Rostov

0 - 0

FC Ufa

Terek Grozny

1 - 1

Gazovik Orenburg
Sunday 23 September 2018
Zenit Petersburg

5 - 3

Lokomotiv Moskva

CSKA Moscow

1 - 1

Spartak Moscow
Monday 24 September 2018
Krylya Sovetov Samara

0 - 3

FC Krasnodar
Friday 28 September 2018
Gazovik Orenburg

0 - 1

CSKA Moscow
Saturday 29 September 2018
Ural S.R

4 - 1

Arsenal Tula

FC Ufa

2 - 1

FC Yenisey Krasnoyarsk

Lokomotiv Moskva

2 - 0

Terek Grozny
Sunday 30 September 2018
Anzhi Makhachkala

2 - 1

Zenit Petersburg

FC Krasnodar

3 - 0

Dinamo Moscow

Spartak Moscow

0 - 1

FK Rostov
Monday 01 October 2018
Rubin Kazan

2 - 1

Krylya Sovetov Samara
Friday 05 October 2018
Arsenal Tula

1 - 1

FC Ufa
Saturday 06 October 2018
Krylya Sovetov Samara

1 - 0

Dinamo Moscow

FK Rostov

0 - 1

Gazovik Orenburg

Rubin Kazan

1 - 0

Ural S.R
Sunday 07 October 2018
FC Yenisey Krasnoyarsk

2 - 3

Spartak Moscow

Terek Grozny

0 - 0

Anzhi Makhachkala

Zenit Petersburg

2 - 1

FC Krasnodar

CSKA Moscow

0 - 1

Lokomotiv Moskva
Friday 19 October 2018
Anzhi Makhachkala

0 - 2

CSKA Moscow

Lokomotiv Moskva

2 - 1

FK Rostov
Saturday 20 October 2018
Gazovik Orenburg

0 - 0

FC Yenisey Krasnoyarsk

Ural S.R

1 - 1

Krylya Sovetov Samara

FC Ufa

0 - 0

Rubin Kazan
Sunday 21 October 2018
Dinamo Moscow

1 - 0

Zenit Petersburg

Spartak Moscow

2 - 3

Arsenal Tula

FC Krasnodar

0 - 1

Terek Grozny
Saturday 27 October 2018
Ural S.R

1 - 1

FC Ufa

Arsenal Tula

2 - 2

Gazovik Orenburg

FK Rostov

1 - 0

Anzhi Makhachkala
Sunday 28 October 2018
FC Yenisey Krasnoyarsk

0 - 3

Lokomotiv Moskva

Terek Grozny

0 - 0

Dinamo Moscow

CSKA Moscow

1 - 2

FC Krasnodar
Monday 29 October 2018
Krylya Sovetov Samara

0 - 1

Zenit Petersburg

Rubin Kazan

1 - 1

Spartak Moscow
Saturday 03 November 2018
Lokomotiv Moskva

3 - 1

Arsenal Tula

Dinamo Moscow

0 - 0

CSKA Moscow
Sunday 04 November 2018
Zenit Petersburg

1 - 0

Terek Grozny

FC Krasnodar

2 - 2

FK Rostov

Spartak Moscow

1 - 2

Ural S.R
Monday 05 November 2018
Gazovik Orenburg

1 - 0

Rubin Kazan

FC Ufa

1 - 2

Krylya Sovetov Samara

Anzhi Makhachkala

2 - 1

FC Yenisey Krasnoyarsk
Friday 09 November 2018
Arsenal Tula

2 - 0

Anzhi Makhachkala
Saturday 10 November 2018
Ural S.R

2 - 1

Gazovik Orenburg

Krylya Sovetov Samara

1 - 2

Terek Grozny

FK Rostov

0 - 0

Dinamo Moscow
Sunday 11 November 2018
FC Ufa

2 - 0

Spartak Moscow

FC Krasnodar

0 - 0

FC Yenisey Krasnoyarsk

Rubin Kazan

0 - 0

Lokomotiv Moskva

CSKA Moscow

2 - 0

Zenit Petersburg
Friday 23 November 2018
Terek Grozny

16:00

CSKA Moscow

Lokomotiv Moskva

18:30

Ural S.R
Saturday 24 November 2018
Dinamo Moscow

12:00

FC Yenisey Krasnoyarsk

Gazovik Orenburg

14:30

FC Ufa

Anzhi Makhachkala

17:00

Rubin Kazan
Sunday 25 November 2018
Spartak Moscow

12:00

Krylya Sovetov Samara

FC Krasnodar

14:30

Arsenal Tula

Zenit Petersburg

17:00

FK Rostov
Friday 30 November 2018
Rubin Kazan

17:30

Dinamo Moscow
Saturday 01 December 2018
FC Yenisey Krasnoyarsk

12:00

Terek Grozny

Gazovik Orenburg

14:30

Krylya Sovetov Samara

Anzhi Makhachkala

17:00

FC Ufa
Sunday 02 December 2018
FC Krasnodar

12:00

Ural S.R

FK Rostov

14:30

CSKA Moscow

Spartak Moscow

17:00

Lokomotiv Moskva
Monday 03 December 2018
Arsenal Tula

17:30

Zenit Petersburg
Saturday 08 December 2018
Krylya Sovetov Samara

10:30

FK Rostov

CSKA Moscow

13:00

FC Yenisey Krasnoyarsk

Lokomotiv Moskva

15:30

Gazovik Orenburg

Anzhi Makhachkala

18:00

Spartak Moscow
Sunday 09 December 2018
Dinamo Moscow

12:00

Ural S.R

FC Krasnodar

14:30

FC Ufa

Zenit Petersburg

17:00

Rubin Kazan
Monday 10 December 2018
Terek Grozny

17:30

Arsenal Tula
Sunday 03 March 2019
Ural S.R

15:00

Zenit Petersburg

FC Ufa

15:00

Dinamo Moscow

Spartak Moscow

15:00

FC Krasnodar

Rubin Kazan

15:00

Terek Grozny

Gazovik Orenburg

15:00

Anzhi Makhachkala

Lokomotiv Moskva

15:00

Krylya Sovetov Samara

Arsenal Tula

15:00

CSKA Moscow

FC Yenisey Krasnoyarsk

15:00

FK Rostov
Sunday 10 March 2019
Terek Grozny

15:00

Ural S.R

Zenit Petersburg

15:00

FC Ufa

FC Krasnodar

15:00

Gazovik Orenburg

FK Rostov

15:00

Arsenal Tula

Krylya Sovetov Samara

15:00

FC Yenisey Krasnoyarsk

Anzhi Makhachkala

15:00

Lokomotiv Moskva

Dinamo Moscow

15:00

Spartak Moscow

CSKA Moscow

15:00

Rubin Kazan
Sunday 17 March 2019
Arsenal Tula

15:00

FC Yenisey Krasnoyarsk

Ural S.R

15:00

CSKA Moscow

FC Ufa

15:00

Terek Grozny

Spartak Moscow

15:00

Zenit Petersburg

Rubin Kazan

15:00

FK Rostov

Gazovik Orenburg

15:00

Dinamo Moscow

Lokomotiv Moskva

15:00

FC Krasnodar

Anzhi Makhachkala

15:00

Krylya Sovetov Samara
Sunday 31 March 2019
Dinamo Moscow

15:00

Lokomotiv Moskva

CSKA Moscow

15:00

FC Ufa

Terek Grozny

15:00

Spartak Moscow

Zenit Petersburg

15:00

Gazovik Orenburg

FC Yenisey Krasnoyarsk

15:00

Rubin Kazan

FC Krasnodar

15:00

Anzhi Makhachkala

FK Rostov

15:00

Ural S.R

Krylya Sovetov Samara

15:00

Arsenal Tula
Sunday 07 April 2019
Lokomotiv Moskva

15:00

Zenit Petersburg

FC Krasnodar

15:00

Krylya Sovetov Samara

Anzhi Makhachkala

15:00

Dinamo Moscow

Ural S.R

15:00

FC Yenisey Krasnoyarsk

FC Ufa

15:00

FK Rostov

Spartak Moscow

15:00

CSKA Moscow

Rubin Kazan

15:00

Arsenal Tula

Gazovik Orenburg

15:00

Terek Grozny
Sunday 14 April 2019
Dinamo Moscow

15:00

FC Krasnodar

CSKA Moscow

15:00

Gazovik Orenburg

Arsenal Tula

15:00

Ural S.R

Terek Grozny

15:00

Lokomotiv Moskva

Zenit Petersburg

15:00

Anzhi Makhachkala

FC Yenisey Krasnoyarsk

15:00

FC Ufa

FK Rostov

15:00

Spartak Moscow

Krylya Sovetov Samara

15:00

Rubin Kazan
Sunday 21 April 2019
FC Ufa

15:00

Arsenal Tula

Spartak Moscow

15:00

FC Yenisey Krasnoyarsk

Gazovik Orenburg

15:00

FK Rostov

Lokomotiv Moskva

15:00

CSKA Moscow

FC Krasnodar

15:00

Zenit Petersburg

Anzhi Makhachkala

15:00

Terek Grozny

Dinamo Moscow

15:00

Krylya Sovetov Samara

Ural S.R

15:00

Rubin Kazan
Tuesday 23 April 2019
CSKA Moscow

15:00

Anzhi Makhachkala

Arsenal Tula

15:00

Spartak Moscow

Terek Grozny

15:00

FC Krasnodar

Zenit Petersburg

15:00

Dinamo Moscow

FC Yenisey Krasnoyarsk

15:00

Gazovik Orenburg

Rubin Kazan

15:00

FC Ufa

FK Rostov

15:00

Lokomotiv Moskva

Krylya Sovetov Samara

15:00

Ural S.R
Sunday 28 April 2019
Spartak Moscow

15:00

Rubin Kazan

Gazovik Orenburg

15:00

Arsenal Tula

Lokomotiv Moskva

15:00

FC Yenisey Krasnoyarsk

FC Krasnodar

15:00

CSKA Moscow

Anzhi Makhachkala

15:00

FK Rostov

Dinamo Moscow

15:00

Terek Grozny

Zenit Petersburg

15:00

Krylya Sovetov Samara

FC Ufa

15:00

Ural S.R
Sunday 05 May 2019
Arsenal Tula

15:00

Lokomotiv Moskva

Terek Grozny

15:00

Zenit Petersburg

FC Yenisey Krasnoyarsk

15:00

Anzhi Makhachkala

Ural S.R

15:00

Spartak Moscow

Rubin Kazan

15:00

Gazovik Orenburg

FK Rostov

15:00

FC Krasnodar

Krylya Sovetov Samara

15:00

FC Ufa

CSKA Moscow

15:00

Dinamo Moscow
Sunday 12 May 2019
FC Yenisey Krasnoyarsk

09:30

FC Krasnodar

Terek Grozny

15:00

Krylya Sovetov Samara

Zenit Petersburg

15:00

CSKA Moscow

Spartak Moscow

15:00

FC Ufa

Gazovik Orenburg

15:00

Ural S.R

Lokomotiv Moskva

15:00

Rubin Kazan

Anzhi Makhachkala

15:00

Arsenal Tula

Dinamo Moscow

15:00

FK Rostov
Sunday 19 May 2019
Arsenal Tula

15:00

FC Krasnodar

FC Yenisey Krasnoyarsk

15:00

Dinamo Moscow

Ural S.R

15:00

Lokomotiv Moskva

FC Ufa

15:00

Gazovik Orenburg

Rubin Kazan

15:00

Anzhi Makhachkala

FK Rostov

15:00

Zenit Petersburg

Krylya Sovetov Samara

15:00

Spartak Moscow

CSKA Moscow

15:00

Terek Grozny
Sunday 26 May 2019
Anzhi Makhachkala

15:00

Ural S.R

Dinamo Moscow

15:00

Arsenal Tula

CSKA Moscow

15:00

Krylya Sovetov Samara

Terek Grozny

15:00

FK Rostov

Zenit Petersburg

15:00

FC Yenisey Krasnoyarsk

Gazovik Orenburg

15:00

Spartak Moscow

Lokomotiv Moskva

15:00

FC Ufa

FC Krasnodar

15:00

Rubin Kazan
| # | Team | G | W | D | L | +/- | P |
| --- | --- | --- | --- | --- | --- | --- | --- |
| 1 | Zenit Petersbur | 14 | 10 | 1 | 3 | 22:11 | 31 |
| 2 | Lokomotiv Moskv | 14 | 7 | 5 | 2 | 18:10 | 26 |
| 3 | CSKA Moscow | 14 | 6 | 5 | 3 | 19:7 | 23 |
| 4 | FK Rostov | 14 | 6 | 5 | 3 | 14:8 | 23 |
| 5 | FC Krasnodar | 13 | 6 | 4 | 3 | 19:9 | 22 |
| 6 | Gazovik Orenbur | 14 | 5 | 4 | 5 | 15:13 | 19 |
| 7 | Spartak Moscow | 14 | 5 | 4 | 5 | 14:15 | 19 |
| 8 | Terek Grozny | 14 | 5 | 4 | 5 | 12:14 | 19 |
| 9 | Ural S.R | 14 | 5 | 4 | 5 | 18:21 | 19 |
| 10 | Rubin Kazan | 14 | 3 | 9 | 2 | 11:10 | 18 |
| 11 | Dinamo Moscow | 14 | 3 | 8 | 3 | 10:9 | 17 |
| 12 | Arsenal Tula | 14 | 4 | 5 | 5 | 19:20 | 17 |
| 13 | FC Ufa | 14 | 3 | 5 | 6 | 11:16 | 14 |
| 14 | Krylya Sovetov | 14 | 4 | 2 | 8 | 8:19 | 14 |
| 15 | Anzhi Makhachka | 14 | 3 | 2 | 9 | 7:21 | 11 |
| 16 | FC Yenisey Kras | 13 | 1 | 3 | 9 | 7:21 | 6 |