Team news including fixtures & standings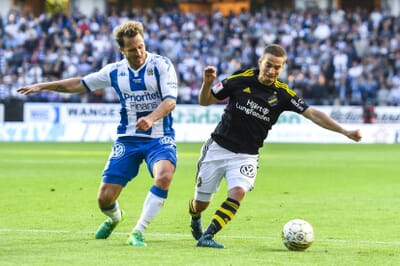 The Allsvenskan in Sweden is the top professional football club in this country and we have all the fixtures available. You can see the matches that will take place over the next week, month or even the entire season and it's great if you're following a particular team.
There is plenty of team news available for each game week. You can assess how many injuries each team has for any given match, while there is also suspension information relating to yellow and red cards received previously.
If you want to get the forecasted line-ups for a particular game, then you can see how each team might look and this is then supplemented by the confirmed line-ups which are published seconds after the teams are fully announced.

Allsvenskan
Fixtures & Standings
FIXTURES
Sunday 01 April 2018
Hacken

1 - 0

Kalmar FF

Hammarby

3 - 1

Sirius

Ostersunds FK

0 - 1

Djurgaarden

Trelleborgs FF

1 - 3

IFK Gothenburg
Monday 02 April 2018
Norrkoping

2 - 1

Brommapojkarna

AIK

2 - 0

Dalkurd FF

Elfsborg

1 - 2

Malmo FF

GIF Sundsvall

0 - 0

Orebro
Saturday 07 April 2018
Sunday 08 April 2018
Djurgaarden

1 - 1

Trelleborgs FF

Kalmar FF

1 - 0

Elfsborg

Dalkurd FF

3 - 0

Ostersunds FK
Monday 09 April 2018
Malmo FF

1 - 1

AIK

Brommapojkarna

2 - 0

Hacken
Tuesday 10 April 2018
IFK Gothenburg

1 - 2

Hammarby
Friday 13 April 2018
GIF Sundsvall

2 - 2

Malmo FF

Trelleborgs FF

1 - 2

Orebro
Saturday 14 April 2018
Elfsborg

0 - 1

Sirius

Hacken

3 - 0

Dalkurd FF
Sunday 15 April 2018
AIK

2 - 0

Djurgaarden

Norrkoping

3 - 1

Kalmar FF

Ostersunds FK

2 - 1

IFK Gothenburg
Monday 16 April 2018
Hammarby

4 - 0

Brommapojkarna
Tuesday 17 April 2018
GIF Sundsvall

1 - 0

Trelleborgs FF
Wednesday 18 April 2018
Kalmar FF

1 - 1

Ostersunds FK

Djurgaarden

3 - 0

Malmo FF

Orebro

1 - 1

AIK

Sirius

0 - 0

Hacken
Thursday 19 April 2018
Brommapojkarna

0 - 2

Elfsborg

Hammarby

2 - 1

Norrkoping

IFK Gothenburg

1 - 0

Dalkurd FF
Saturday 21 April 2018
Ostersunds FK

0 - 2

Orebro
Sunday 22 April 2018
Hacken

2 - 2

Hammarby

Dalkurd FF

2 - 2

GIF Sundsvall

AIK

2 - 0

IFK Gothenburg

Trelleborgs FF

0 - 1

Kalmar FF
Monday 23 April 2018
Elfsborg

2 - 2

Djurgaarden

Malmo FF

3 - 1

Brommapojkarna

Norrkoping

1 - 0

Sirius
Friday 27 April 2018
Saturday 28 April 2018
IFK Gothenburg

2 - 1

Hacken
Sunday 29 April 2018
Djurgaarden

1 - 2

Hammarby

GIF Sundsvall

2 - 1

Elfsborg

Kalmar FF

3 - 0

Malmo FF

Norrkoping

1 - 2

Trelleborgs FF
Monday 30 April 2018
Brommapojkarna

0 - 4

Ostersunds FK

Orebro

3 - 2

Dalkurd FF
Wednesday 02 May 2018
Thursday 03 May 2018
Malmo FF

1 - 0

Djurgaarden
Saturday 05 May 2018
Hammarby

4 - 3

GIF Sundsvall

Ostersunds FK

0 - 2

Norrkoping
Sunday 06 May 2018
Brommapojkarna

1 - 0

Djurgaarden

Dalkurd FF

1 - 2

Kalmar FF

Elfsborg

0 - 0

AIK

Trelleborgs FF

0 - 3

Hacken
Monday 07 May 2018
Sirius

2 - 4

Orebro

Malmo FF

1 - 2

IFK Gothenburg
Saturday 12 May 2018
GIF Sundsvall

3 - 0

Brommapojkarna
Sunday 13 May 2018
IFK Gothenburg

0 - 2

Norrkoping

Djurgaarden

1 - 0

Dalkurd FF

Orebro

1 - 2

Hammarby

Trelleborgs FF

1 - 0

Malmo FF
Monday 14 May 2018
Hacken

5 - 0

Elfsborg

Kalmar FF

1 - 0

Sirius

AIK

1 - 1

Ostersunds FK
Wednesday 16 May 2018
Thursday 17 May 2018
Friday 18 May 2018
Brommapojkarna

2 - 1

Kalmar FF
Saturday 19 May 2018
GIF Sundsvall

2 - 3

Ostersunds FK

Sirius

1 - 1

Trelleborgs FF

Norrkoping

4 - 2

Dalkurd FF
Sunday 20 May 2018
Hammarby

0 - 1

AIK

Malmo FF

2 - 0

Hacken
Monday 21 May 2018
Elfsborg

1 - 1

IFK Gothenburg
Tuesday 22 May 2018
Wednesday 23 May 2018
Ostersunds FK

5 - 2

Sirius

Hacken

1 - 1

AIK

Norrkoping

1 - 0

GIF Sundsvall
Thursday 24 May 2018
Trelleborgs FF

2 - 1

Brommapojkarna

Dalkurd FF

1 - 4

Elfsborg

IFK Gothenburg

1 - 3

Djurgaarden
Saturday 26 May 2018
AIK

3 - 3

Norrkoping

Ostersunds FK

2 - 0

Hacken
Sunday 27 May 2018
Kalmar FF

1 - 1

Hammarby

Malmo FF

1 - 1

Dalkurd FF

GIF Sundsvall

2 - 0

IFK Gothenburg

Sirius

1 - 4

Djurgaarden

Elfsborg

2 - 1

Trelleborgs FF

Brommapojkarna

0 - 0

Orebro
Tuesday 03 July 2018
Sirius

1 - 3

GIF Sundsvall
Saturday 07 July 2018
Sirius

0 - 4

Malmo FF

Dalkurd FF

3 - 0

Brommapojkarna

Hacken

3 - 0

GIF Sundsvall

Trelleborgs FF

1 - 4

AIK
Sunday 08 July 2018
IFK Gothenburg

1 - 3

Kalmar FF

Djurgaarden

1 - 1

Norrkoping

Orebro

1 - 2

Elfsborg
Monday 09 July 2018
Hammarby

1 - 2

Ostersunds FK
Saturday 14 July 2018
Malmo FF

1 - 1

Ostersunds FK

Brommapojkarna

0 - 1

Sirius

Dalkurd FF

2 - 2

Trelleborgs FF

IFK Gothenburg

2 - 0

Orebro
Sunday 15 July 2018
Kalmar FF

0 - 1

Djurgaarden

GIF Sundsvall

0 - 1

AIK

Norrkoping

2 - 1

Hacken
Monday 16 July 2018
Saturday 21 July 2018
Orebro

1 - 2

Malmo FF

Ostersunds FK

4 - 1

Trelleborgs FF

Kalmar FF

0 - 2

GIF Sundsvall
Sunday 22 July 2018
AIK

5 - 1

Brommapojkarna

Djurgaarden

2 - 1

Hacken

Sirius

3 - 2

IFK Gothenburg
Monday 23 July 2018
Hammarby

4 - 1

Dalkurd FF

Norrkoping

1 - 0

Elfsborg
Saturday 28 July 2018
IFK Gothenburg

3 - 0

Brommapojkarna

Ostersunds FK

1 - 0

Elfsborg

Malmo FF

2 - 1

Norrkoping

Dalkurd FF

1 - 3

Sirius
Sunday 29 July 2018
AIK

1 - 0

Kalmar FF

Djurgaarden

1 - 1

GIF Sundsvall

Hacken

1 - 1

Orebro
Monday 30 July 2018
Trelleborgs FF

1 - 3

Hammarby
Saturday 04 August 2018
Brommapojkarna

2 - 1

Dalkurd FF

Kalmar FF

2 - 1

IFK Gothenburg
Sunday 05 August 2018
Hammarby

1 - 0

Trelleborgs FF

Orebro

1 - 2

Hacken
Monday 06 August 2018
GIF Sundsvall

1 - 1

Norrkoping

Elfsborg

0 - 2

Ostersunds FK
Friday 10 August 2018
IFK Gothenburg

2 - 3

Sirius

Dalkurd FF

0 - 1

Malmo FF
Saturday 11 August 2018
Orebro

0 - 1

Brommapojkarna
Sunday 12 August 2018
Ostersunds FK

2 - 0

Kalmar FF

Hacken

5 - 0

Djurgaarden

AIK

1 - 0

Elfsborg
Monday 13 August 2018
Trelleborgs FF

1 - 6

GIF Sundsvall

Norrkoping

0 - 0

Hammarby
Friday 17 August 2018
Saturday 18 August 2018
Malmo FF

3 - 0

Trelleborgs FF
Sunday 19 August 2018
GIF Sundsvall

0 - 2

Hacken

Elfsborg

0 - 1

Norrkoping

Djurgaarden

0 - 2

Kalmar FF

Brommapojkarna

0 - 2

AIK
Monday 20 August 2018
Hammarby

2 - 0

Orebro

IFK Gothenburg

2 - 1

Ostersunds FK
Sunday 26 August 2018
Hacken

6 - 0

Brommapojkarna

Malmo FF

5 - 0

Sirius

Ostersunds FK

1 - 2

GIF Sundsvall

AIK

2 - 0

Trelleborgs FF

Djurgaarden

2 - 2

Elfsborg
Monday 27 August 2018
Dalkurd FF

2 - 3

Hammarby

Norrkoping

2 - 1

IFK Gothenburg

Kalmar FF

0 - 1

Orebro
Friday 31 August 2018
Trelleborgs FF

1 - 1

Norrkoping
Saturday 01 September 2018
AIK

3 - 0

Hacken

Orebro

2 - 1

Ostersunds FK
Sunday 02 September 2018
Brommapojkarna

0 - 3

Malmo FF

Dalkurd FF

1 - 1

IFK Gothenburg

Hammarby

1 - 3

Djurgaarden

GIF Sundsvall

4 - 0

Sirius

Elfsborg

1 - 1

Kalmar FF
Saturday 15 September 2018
Orebro

2 - 1

GIF Sundsvall

Ostersunds FK

2 - 3

Malmo FF
Sunday 16 September 2018
Norrkoping

2 - 0

AIK

IFK Gothenburg

2 - 2

Elfsborg

Djurgaarden

0 - 1

Brommapojkarna
Monday 17 September 2018
Hacken

2 - 1

Trelleborgs FF

Kalmar FF

0 - 0

Dalkurd FF

Sirius

1 - 1

Hammarby
Friday 21 September 2018
Brommapojkarna

1 - 3

GIF Sundsvall
Saturday 22 September 2018
Sirius

0 - 1

Ostersunds FK

Elfsborg

1 - 0

Orebro

Trelleborgs FF

0 - 3

Djurgaarden

Dalkurd FF

0 - 2

Norrkoping
Sunday 23 September 2018
AIK

1 - 0

Hammarby

Malmo FF

4 - 0

Kalmar FF
Monday 24 September 2018
Hacken

4 - 1

IFK Gothenburg
Tuesday 25 September 2018
Wednesday 26 September 2018
Trelleborgs FF

0 - 1

Dalkurd FF

Hammarby

0 - 1

Elfsborg

GIF Sundsvall

1 - 1

Djurgaarden

Norrkoping

3 - 1

Malmo FF

Ostersunds FK

3 - 1

Brommapojkarna
Thursday 27 September 2018
IFK Gothenburg

0 - 2

AIK

Kalmar FF

1 - 2

Hacken
Saturday 29 September 2018
Sunday 30 September 2018
Kalmar FF

1 - 1

Brommapojkarna

Dalkurd FF

0 - 4

AIK

Djurgaarden

0 - 2

Ostersunds FK

Malmo FF

0 - 0

GIF Sundsvall
Monday 01 October 2018
Orebro

4 - 0

Trelleborgs FF

Hammarby

3 - 0

IFK Gothenburg

Elfsborg

0 - 3

Hacken
Friday 05 October 2018
Ostersunds FK

3 - 0

Dalkurd FF
Saturday 06 October 2018
Sirius

4 - 2

Elfsborg

IFK Gothenburg

2 - 2

Trelleborgs FF
Sunday 07 October 2018
Hacken

1 - 1

Malmo FF

Norrkoping

1 - 1

Djurgaarden

AIK

1 - 1

Orebro

Brommapojkarna

2 - 4

Hammarby
Monday 08 October 2018
GIF Sundsvall

2 - 0

Kalmar FF
Saturday 20 October 2018
Malmo FF

2 - 1

Hammarby

Dalkurd FF

1 - 0

Orebro
Sunday 21 October 2018
Hacken

2 - 0

Ostersunds FK

Djurgaarden

0 - 0

AIK

Elfsborg

2 - 0

GIF Sundsvall

Kalmar FF

1 - 2

Norrkoping

Trelleborgs FF

1 - 2

Sirius
Monday 22 October 2018
Brommapojkarna

0 - 2

IFK Gothenburg
Friday 26 October 2018
IFK Gothenburg

1 - 2

GIF Sundsvall

Trelleborgs FF

2 - 2

Elfsborg
Saturday 27 October 2018
Sunday 28 October 2018
Hammarby

0 - 0

Kalmar FF

Orebro

1 - 1

Djurgaarden

Sirius

4 - 2

Brommapojkarna

Norrkoping

4 - 2

Ostersunds FK
Monday 29 October 2018
Tuesday 30 October 2018
Elfsborg

0 - 0

Dalkurd FF
Wednesday 31 October 2018
Kalmar FF

2 - 1

Trelleborgs FF

Djurgaarden

2 - 0

IFK Gothenburg

Brommapojkarna

0 - 1

Norrkoping

GIF Sundsvall

2 - 3

Hammarby

Hacken

2 - 1

Sirius
Thursday 01 November 2018
Ostersunds FK

1 - 2

AIK

Malmo FF

4 - 0

Orebro
Sunday 04 November 2018
Norrkoping

3 - 2

Orebro

IFK Gothenburg

0 - 3

Malmo FF

Hammarby

1 - 0

Hacken

AIK

0 - 0

GIF Sundsvall
Monday 05 November 2018
Elfsborg

1 - 2

Brommapojkarna

Trelleborgs FF

0 - 1

Ostersunds FK

Dalkurd FF

1 - 2

Djurgaarden

Sirius

1 - 1

Kalmar FF
Sunday 11 November 2018
Brommapojkarna

3 - 0

Trelleborgs FF

GIF Sundsvall

0 - 1

Dalkurd FF

Hacken

0 - 1

Norrkoping

Malmo FF

2 - 0

Elfsborg

Kalmar FF

0 - 1

AIK

Djurgaarden

1 - 0

Sirius

Orebro

1 - 3

IFK Gothenburg

Ostersunds FK

3 - 3

Hammarby
Sunday 05 August 2018
Sirius

19:00

AIK

Malmo FF

19:00

Djurgaarden
| # | Team | G | W | D | L | +/- | P |
| --- | --- | --- | --- | --- | --- | --- | --- |
| 1 | AIK | 30 | 19 | 10 | 1 | 50:16 | 67 |
| 2 | Norrkoping | 30 | 19 | 8 | 3 | 51:27 | 65 |
| 3 | Malmo FF | 30 | 17 | 7 | 6 | 57:29 | 58 |
| 4 | Hammarby | 30 | 17 | 7 | 6 | 56:35 | 58 |
| 5 | Hacken | 30 | 16 | 5 | 9 | 58:27 | 53 |
| 6 | Ostersunds FK | 30 | 15 | 4 | 11 | 51:39 | 49 |
| 7 | Djurgaarden | 30 | 13 | 9 | 8 | 39:31 | 48 |
| 8 | GIF Sundsvall | 30 | 12 | 8 | 10 | 47:35 | 44 |
| 9 | Orebro | 30 | 9 | 8 | 13 | 34:40 | 35 |
| 10 | Kalmar FF | 30 | 9 | 7 | 14 | 27:35 | 34 |
| 11 | IFK Gothenburg | 30 | 9 | 4 | 17 | 38:53 | 31 |
| 12 | Elfsborg | 30 | 7 | 9 | 14 | 29:41 | 30 |
| 13 | Sirius | 30 | 8 | 6 | 16 | 37:60 | 30 |
| 14 | Brommapojkarna | 30 | 8 | 2 | 20 | 25:64 | 26 |
| 15 | Dalkurd FF | 30 | 6 | 6 | 18 | 30:57 | 24 |
| 16 | Trelleborgs FF | 30 | 3 | 6 | 21 | 24:64 | 15 |